Covid-19 Announcement
Most international flights have been cancelled.
There is no ETA for out-of-stock items that come from Japan.
Shipments to overseas buyers will take longer than normal - possibly much longer. Patience is a virtue - especially in fishing.

---
Dr Slick Mitten Clamp

The Dr Slick Mitten Clamp is an excellent alternative to sticky forceps or hemostats. If you fish smaller mountain streams - the kind for which tenkara is ideal - you will catch wild fish. Most wild fish, particularly in the smaller streams, tend to be small. To remove a hook from a small fish it really helps to have a tool and flyfishermen generally use a pair of hemostats (also called forceps, although I think that may be technically incorrect).
For some time now, I've been using a pair that were very cheap, very effective and very, very shiny. Cheap and effective is good, shiny isn't. To replace them, I turned to industry leader Dr. Slick.
I was told I was the only person to ever return an order of Dr. Slick hemostats to Hareline Dubbin. The catch mechanism was so strong I couldn't free it to open the hemos with one hand. The last thing I want to do when trying to unhook and release a slick, squirmy little wild trout is have to take two hands to work the stupid hemostats.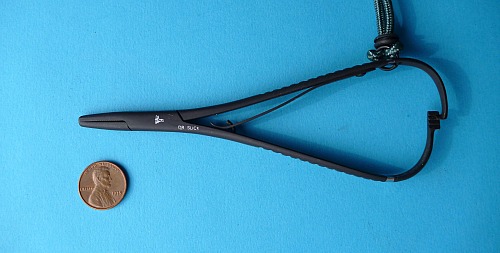 The solution was the Dr Slick Mitten Clamp. I love it - and I have to say it's not just for mittens! Someone showed me one once and at that time I thought it was, dare I say it, pretty slick. Of course then I started catching fish or something and forgot all about it until just recently.
| | |
| --- | --- |
| Like the whole ethos of tenkara, the Dr Slick Mitten Clamp is simple. Just squeeze. The squeeze tightens the clamp and engages the teeth that hold it shut. | Catch |
| | |
| --- | --- |
| There's no "stopper" though, so if you keep squeezing, the catch goes past all the teeth and that releases the clamp. The clamp has a spring that will open the jaws by just relaxing your grip, but the catching mechanism now slides behind the back side of the teeth so they don't engage. | And release |
The Dr Slick Mitten Clamp comes with a ring to which a short cord loop is attached. I suppose you could slide your hand through the loop like a wrist strap, but that isn't simple. I think I'll just hook them to a zinger and not have to worry about them.
They do come in "shiny" as well as matte black, but if you want shiny you'll have to get them somewhere else. Also, the clamps come in 5 1/2" and 6 1/2" lengths. I have only the 5 1/2" clamps.
Dr. Slick Mitten Clamps - $20
---
Payment
Payment is through PayPal but you don't need to have a PayPal account. You can use your credit card.
Domestic Shipping

Domestic shipping is $3, via USPS first class mail (2-5 day delivery). The charge will be added to the order automatically

International Shipping

International shipments require an additional $6 to Canada or $11 to other countries. The charge is not added automatically. If you do not click on the button below when you place your order, your shipment will be delayed. Shipping is by USPS international first class mail. Expected delivery is two weeks to over a month depending on the destination country's customs department.

---
TenkaraBum Home > Tenkara Accessories > Dr. Slick Mitten Clamp

---
"The bitterness of poor quality remains long after the sweetness of low price is forgotten" – Benjamin Franklin
"Be sure in casting, that your fly fall first into the water, for if the line fall first, it scares or frightens the fish..." Col. Robert Venables 1662
As age slows my pace, I will become more like the heron.

---
Warning:
The hooks are sharp.
The coffee's hot.
The fish are slippery when wet.
Beware of the Dogma

---