Daiwa Tenkara Starter Kit

Sold Out

The Daiwa Tenkara Starter Kit is for people who come to tenkara from a background in fly fishing. The kit presents a style of fishing that will not be a major leap from what they are used to. Aside from the rod being longer than their fly rod, and not having a reel and guides, fishing with this kit will feel very familiar.
The kit comes with a choice of rods, either a 3.3 meter rod (almost 11') or a 3.6 meter rod (right at 12'). Currently only the 3.3m rod is in stock. They are not bad rods for a starter kit, and share some features with Daiwa's top of the line Expert tenkara rods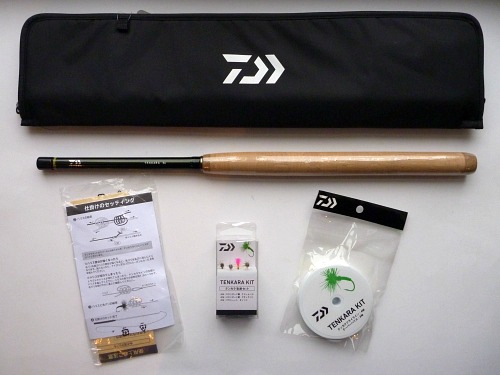 Clockwise from center: tenkara rod, case, line, flies, instruction booklet.
Instead of an ultralight level fluorocarbon line, which some beginners find hard to cast, the Daiwa Tenkara Starter Kit comes with Daiwa's Tenkara Fly Line, which is essentially a regular floating fly line.
Casting it does feel very much like casting a fly line. Attached to the 4 meter (roughly 13') fly line is a 3 meter (almost 10') knotless tapered nylon leader. If fishing with a floating fly line and a 10' tapered leader sounds a lot like fly fishing, it is. It will be a very easy transition.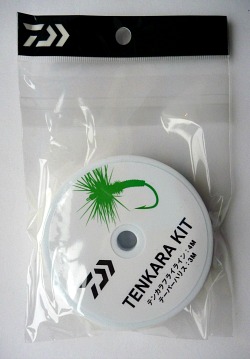 A 4m floating line with a 3m tapered leader? About now a tenkara purist would sniff "that's not tenkara."
However, I can assure you this is not a dumbed-down kit aimed at Americans who don't know any better.
This is a kit put together by Daiwa, a Japanese company that was making tenkara rods long before the purists had ever heard of tenkara. The kit is not made for the American market.
This is a tenkara kit made for anglers IN JAPAN who are interested in learning tenkara. Want proof? The instruction booklet that comes in the kit is written in Japanese (and only in Japanese).
Using a floating fly line for tenkara is not a concept thought up by an American with no regard for Japanese traditions. There have been tenkara anglers in Japan - very well known and very well respected tenkara anglers - who used floating lines.
The late Keigu Horie was a professional tenkara instructor. Tenkara no Oni wrote that Keigu Horie "led the tenkara community in Japan for years" and Oni credits him with the popularity of tenkara today. Keigu Horie used floating fly line.
Some years ago, Yuzo Sebata, who is revered in the Japanese tenkara community, recommended that beginners start with a fly fishing running line (which is essentially what the Daiwa Tenkara Fly line is). Using a floating line may not be the Ishigaki school of tenkara, or the Oni school of tenkara, but that doesn't mean it isn't tenkara.
There are four flies included in the Daiwa Tenkara Starter Kit. None of them are the reverse hackle "sakasa kebari" that so many in the West think of as the iconic tenkara fly. Three have what we would view as a standard wet fly hackle, what the Japanese call regular hackle.
One is a parachute dry fly. And before the purists get started again, it might be wise to consider that Keigu Horie used dry flies as well as wets. Tenkara is a lot broader and more inclusive than some would have you believe.
To put icing on the cake, the instruction booklet shows several species of fish for which the kit is appropriate. They aren't all trout! They don't all live in mountain streams!

I think it is pretty clear that the folks at Daiwa do not take a narrow view of tenkara. They have put together a kit that may not be quite what a number of outspoken Western tenkara critics would consider authentic (despite having been assembled by a Japanese company for Japanese tenkara anglers). More importantly, if a floating fly line and a dry fly was good enough for Keigu Horie, it's good enough for you and me and anyone else who wants an easy transition from fly fishing to tenkara.
If you do want to try a level fluorocarbon line, either initially or in the future, either of the rods will cast a size 3.5 level line quite nicely. Fluorocarbon line is a bit harder to cast, but it does offer a couple advantages. It is easier to hold off the water, so you can get better drifts. Also, with a whole spool of line, you can cut several lines of different lengths. Particularly for fishing the shorter rod on a smaller stream, a shorter line and shorter tippet will be easier to handle.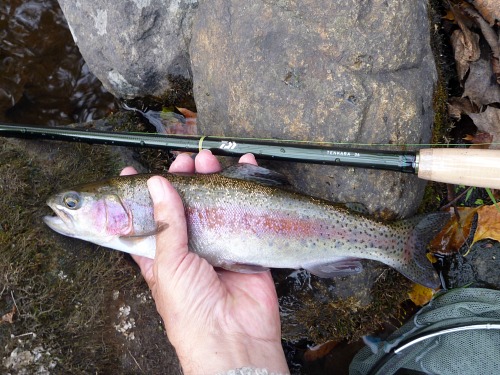 Daiwa 36 (starter kit rod)
Daiwa Tenkara Starter Kit Rod Features


The 3.3m and 3.6m rods in the Daiwa Tenkara Starter Kit have surprisingly long grips. At almost 11 1/2 inches, the grip it is just as long as the grips on the premium Daiwa Expert Tenkara series. The cork isn't quite the same quality, but I suppose that is to be expected in a kit rod compared to Daiwa's top of the line rods. The grip is straight rather than having the familiar two hump "camel" shape.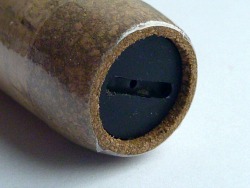 Both ends of the grip are the common rubber/cork composite, which is more durable than cork and is also found on the Expert Tenkara rods. The grip screw cap when fully seated is recessed a bit from the end of the rod. That may protect the plastic from being scratched up, but it leaves a narrow ring of grip material, which will likely get chewed up a bit by rocks, etc over time. The grip screw cap has a coin slot for loosening and tightening, and also has a ventilation hole.

The tip plug has the same deep fluting seen on the tip plugs for the Expert Tenkara Rods. It will be very easy to insert the plug when the line is still attached. This is a nice safety feature which definitely helps to protect rod tips.
I would highly recommend inserting the tip plug any time the rod is collapsed, and especially if the line is still attached.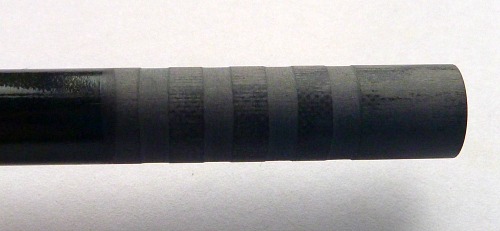 The butt ends of the sections feature the milled rings which are found only on Daiwa rods, and which reduce the likelihood of stuck sections.

The rods that come in the Daiwa Tenkara Starter Kit have two other signature Daiwa features: 1) the lillian is attached by a micro swivel, which serves to reduce line twist, and 2) the lillian is devilishly short.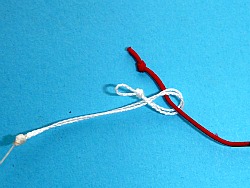 Girth hitch attachment. (For illustration purposes only. Not the Daiwa Starter Kit line or rod).
Because the line included with the kit ends in a loop, requiring a girth hitch to attach it to the lillian, you will need to tie an overhand knot in the end of the lillian.
That will not be an easy task. I would highly recommend doing it sitting down at a table, with the entire tip section (but only the tip section) extended beyond the grip section. The grip section must be held between two objects (books, etc) to prevent it from rolling. You must be extremely careful to not bend the rod tip while tying the overhand knot.
It can be done, but it will be a good test of your dexterity. (And after this, tying size 20 flies will be a piece of cake).

Model
Lenth Extended
Length Collapsed
Weight (w/o plug)
Pennies

Rods made in Vietnam
All in all, the Daiwa Tenkara Starter Kit would be a reasonable choice for someone who wants to try a tenkara rod but doesn't want to abandon the familiarity of a floating fly line.

TenkaraBum Home > Starter Kits > Daiwa Tenkara Starter Kit

---
"The bitterness of poor quality remains long after the sweetness of low price is forgotten" – Benjamin Franklin
"Study to be quiet." - Izaak Walton 1653

"Be sure in casting, that your fly fall first into the water, for if the line fall first, it scares or frightens the fish..." Col. Robert Venables 1662
As age slows my pace, I will become more like the heron.

---
Warning:
The hooks are sharp.
The coffee's hot.
The fish are slippery when wet.
Beware of the Dogma

---