Daiwa Tenkara Floating Line
The Daiwa Tenkara Floating Line is a bright yellow PVC floating fly line that casts well and is still relatively light. It is nice for fishing panfish poppers or for breezy days. 
The first time I tried a floating line with a tenkara rod was several years ago. It was a .024" diameter monofilament core PVC floating shooting line. I found that it cast very well and wasn't nearly as heavy as I had expected. Still, I preferred fluorocarbon and I decided against buying the line in bulk and making up tenkara lines from it.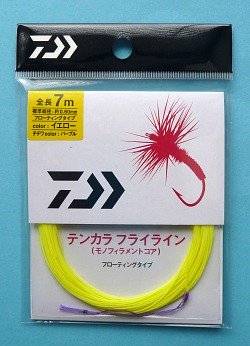 Daiwa recently came out with a floating tenkara line (they call it Tenkara Fly Line) that is the same .024" diameter and is also a monofilamant core PVC line. The Daiwa tenkara floating line is a bright yellow so it is easier to see. It is just as light as the line I tried years ago. It casts just as well and floats just as well (and I don't have to cut it and package it myself!).
The tippet end of the line is not finished. The back of the package suggests a nail knot to attach the tippet or a figure 8 knot in the end of line and a loop in the end of the tippet to make a girth hitch around the line (just as you use a girth hitch to attach the line to the lillian).

I tried the 7m line with a Suntech Keiryu Sawanobori 53. Although I generally fish a relatively short line with the two handed keiryu rods, the 7m Daiwa Floating Tenkara line cast magnificently with the 5.3m rod. If you are fishing pocket water with lots of tricky currents, I would still recommend a shorter line, but if you are fishing a lake or a river with glassy pools or unbroken riffles, the longer floating line could work very nicely for you.
If you are fishing on a breezy day (and I think ALL the days are breezy in Montana) having a floating line gives you the option of anchoring the line in the surface. You'll still have drag to contend with, and may have to review how to mend a line, but the water-induced drag might be a lot less than the wind-induced drag!
I could see the Daiwa Floating Tenkara Line as being THE line to use when fishing hoppers, or hopper/droppers or panfish poppers. And, I shouldn't forget bass bugs!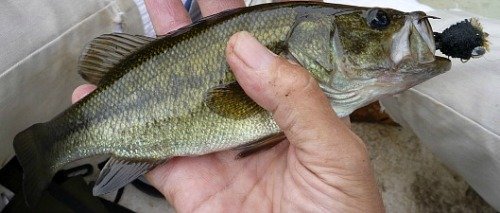 The line is just heavy enough to cast them nicely, and it floats so you can let the bug sit until all the ripples dissipate. Then just a twitch is often all it takes to induce a strike.
Even for die hard level line fans, there are times when a floating line makes a lot of sense. The Daiwa Tenkara Floating Line is a good choice.
Do not let any self styled experts tell you that fishing a floating line "isn't tenkara." One of the most revered names in Japanese tenkara is Keigu Horie. Mr. Horie was a professional tenkara instructor. Part of tenkara's current popularity can be traced directly to him. He fished a floating line. Also, when Dr. Ishigaki organized the first tenkara Summit (in Japan, a few years before TenkaraUSA started holding summits here in the US), he brought together the renowned "masters." One of them was Kazuya Shimoda. His YouTube videos (now all taken down) were some of the first I watched when I was initially trying to learn tenkara casting. He, too, fished a floating line. Put it this way, if a floating line was good enough for the masters, it's good enough to be called tenkara.
Daiwa Tenkara Floating Line, 7m - $24
---
Shipping
Domestic shipping is via USPS First Class Mail (unless ordered with an item that must go via Priority Mail, and which has a higher shipping charge). Rates are $4 for packages that weigh under 8 ounces and $6 for packages that weigh over 8 ounces. The charge is added to your order automatically.
Please note: All packages are shipped via USPS. If you have a PO Box, please list ONLY the PO Box in your address, not the PO Box and your street address.
The charge for international shipping depends on the destination country, the weight of the package, the overall length of the package and the value of the package.
International shipments

International purchases may be subject to import duties and taxes. I cannot keep track of all import regulations in all countries written in all languages. Understanding and paying import duties and taxes is the responsibility of the buyer.
Russia
TenkaraBum.com no longer ships to Russia.

UK

TenkaraBum.com no longer ships to the UK. The new VAT regulations are too onerous for a one-man shop that rarely ships anything to the UK anyway. I apologize.

New Zealand

The US Postal Service has suspended all shipments to New Zealand.

TenkaraBum Home > Tenkara Line > Daiwa Tenkara Floating Line

---
---
"The bitterness of poor quality remains long after the sweetness of low price is forgotten" - Benjamin Franklin
"Be sure in casting, that your fly fall first into the water, for if the line fall first, it scares or frightens the fish..." -
Col. Robert Venables 1662
"There is a time to go long. There is a time to go short. And there is a time to go fishing." - Jesse Livermore

---
Warning:
The hooks are sharp.
The coffee's hot.
The fish are slippery when wet.
Beware of the Dogma

---