Covid-19 Announcement
Some shipments are still delayed. If you are planning a trip, please order well in advance.
---
Daiwa Soyokaze
Daiwa Soyokaze Rods are very light, very sensitive rods ideally suited for tenkara fishing in small, overgrown streams. When I first decided to import them, my intention was to get rods for microfishing - fishing for very small fish. It soon became clear, though, that the rods can cast a light tenkara line extremely well. By far, most of the people who have bought these rods use them for tenkara fishing. If you read the testimonials down the right side of the page, you'll discover that the people who have them love them. They are wonderful little rods.

I'd have to say these rods are very cleverly designed. The extremely soft tip not only allows you to cast an extremely light line, it will also react to the fight of a small fish. However, the rods have all the backbone you'll need to land almost any fish you're likely to hook in smaller streams or while fishing for smaller fish.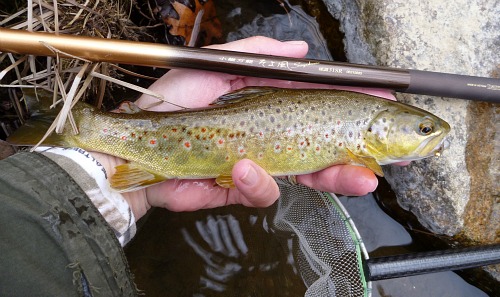 The rods can land medium sized fish without a problem. The photo above is a brown trout of about a 10 1/2", which was the largest of several fish I caught on my first outing with the Daiwa Soyokaze. It handled them all beautifully. The rod had a pretty deep bend in it, but I never felt undergunned. I've caught bass when fishing for bluegills, and I've received comments that the 9' Soyokaze has landed 15" and 16" rainbows and even larger browns.
Aside from not having a cork grip, the Daiwa Soyokaze rods will be very familiar to tenkara anglers. The grip is basically just the widened out blank of the rod, but it has a nice nonskid finish and the rod weighs so little that you won't feel that cork is even needed.
At the butt of the rod is a screw cap that keeps the rod together - or allows you to take it apart to dry after use. The screw cap is plastic, with a rubber O-ring so that you can tighten it and it will stay tight. There is a ventilation hole in the cap in case you neglect to take the rod apart to dry. The grip section flares from the narrow diameter of the rod blank up to a wider grip area. Even with the flared grip section, the Fuji EZ Keepers work just fine.
At the other end of the grip section is a rubber plug to keep the sections in place when the rod is collapsed.
Although the plug is rubber rather than the nice wood used in Daiwa's tenkara rods, it is still designed with fluted sides so that the tip plug can be inserted when the line is still attached.

It is said that the normal progression of a fly fisherman is to go from wanting to catch any fish, to wanting to catch lots of fish, to wanting to catch big fish, to wanting to catch big, challenging, hard to catch fish. Tenkara is for people who have no need to catch big fish either because they have gotten over it or because they have never gotten into it. I truly believe that. Fishing 7 lb browns is not what I think of when I think of tenkara. I think of small wild fish in small wild streams.
Tenkara fishing with a short rod in tight conditions for skittish wild fish can present all the challenge any angler could possibly want. The fact that most tenkara rods in Japan are longer is probably only because the mountain streams there are not choked with willows or rhododendron. The streams in Japan are more open than many of the streams in the eastern and southeastern US. If the streams there were like the streams here, rods shorter than 3 meters would not be seen as heretical. Out of the mainstream? Sure. But out of the headwaters? No way.
Speaking of headwaters, I have gotten several questions about whether the rods would be good for ultralight backpackers. I would have to say "Definitely!" The rod weighs 1.6 oz. It is certainly capable of handling the fish you'll find in most small streams. It doesn't collapse to quite as short a length as the Shimano Kozuka but it is lighter, and if the additional 4.5" in collapsed length is not that critical, it is a very nice, very light weight rod that would certainly meet most ultralight backpackers' needs.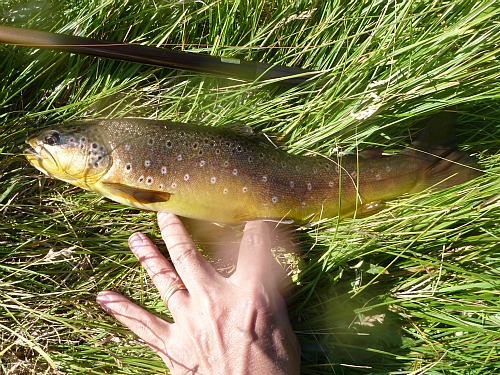 15" Utah brown trout caught on a Daiwa Soyokaze

But is it a tenkara rod? Tenkara is a method. You can use that method with this rod. What's more, you can do it better than with some rods that were called tenkara rods by their manufacturer. So does it really matter what the rod is called?
They will cast a light tenkara line beautifully. I think perhaps the most practical line for them is a size 3 level line. If there is a bit of a breeze, a size 4 level line is certainly not too heavy. I've been using a line length about a foot longer than the rod, to which I add about 3.5' of tippet. I think the Varivas 6X is about right.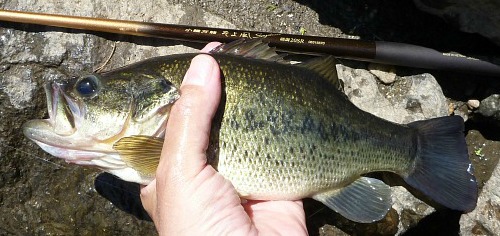 Don't think they are just for trout. The 9' length may be a bit short for fishing on ponds and lakes, but bluegills and modest bass are often in the shallows. Sunfish are found in streams. Yellow perch are found, well, perch are where you find them.
One of the best things about the Daiwa Soyokaze rods is that they are not to long or too heavy for kids. (Parents who are looking for even shorter rods for younger children could consider the Kid's Tenkara Starter Kit, which includes a Kiyotaki rod.) A kid will "get it" almost immediately. They'll be fishing for kid sized fish and will have fun catching them because the rod will bend and wiggle with every wiggle of the fish. One of the second best things is that replacement parts are available, because kids - even fully grown ones - may lose the tip plug or put the rod down and step on it. All is not lost. Any part is replaceable.
When I suggested these were great rods for kids and that they'd be catching kid sized fish, I really didn't expect to get photos like the one below of Noah S. and his brown trout. Still, they really are great rods for kids (and if your kids outfish you, you'll just have to get your own Soyokaze).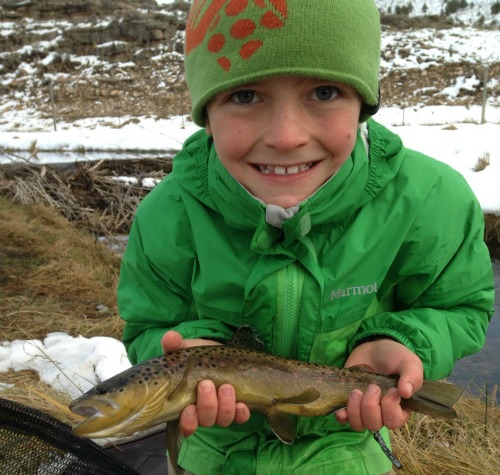 I'm pretty sure you'll like these rods. As near as I can tell, there really is no other rod that can make extremely small fish this much fun to catch and yet still have the backbone to land 12 to 15 inchers (or larger - Noah's first fish on his new Soyokaze was over 16").

Daiwa Soyokaze
Model
Extended
Sections
Collapsed
Weight
Carbon
Number
Length
Length
(ounces)
Percent
27SR
9'0"
7
19"
1.6
55
The Soyokaze rods are completely sold out. They have been discontinued by Daiwa and I will not be able to get any more. There are two rods that I do have in stock to replace them. The less expensive of the two is the Nissin Fine Mode Kosansui 270. The Nissin Air Stage 240 and 290 seiryu rods are more expensive but nicer.

Return from Daiwa Soyokaze Rods to Tenkara Rods

Return from Daiwa Soyokaze Rods to TenkaraBum Home


---
"The bitterness of poor quality remains long after the sweetness of low price is forgotten" - Benjamin Franklin
"Be sure in casting, that your fly fall first into the water, for if the line fall first, it scares or frightens the fish..." -
Col. Robert Venables 1662
As age slows my pace, I will become more like the heron.

---
Warning:
The hooks are sharp.
The coffee's hot.
The fish are slippery when wet.
Beware of the Dogma

---