Daiwa Enshou LT44SF

Covid-19 announcement:
TenkaraBum.com is located in New York City, which is essentially locked down. Up until March 23, the USPS still picked up my shipments each day.
Package pickup has been suspended. My neighborhood post office is still open, but I am going outside as little as possible because I am in an "at risk" group.
For now, I plan to take packages to the post office only when I have to go out anyway to get groceries.

TenkaraBum.com is still open, but shipments will be much slower than normal.
Most international flights have been cancelled, so there is no ETA for out-of-stock items that come from Japan.

---
---
The Daiwa Enshou LT44SF is back in stock!
As far as I can tell, Daiwa has discontinued the LT44SF. I was sure I would never again be able to offer them. Then I got an email from a guy who had bought a tackle company and found a bunch of tenkara rods in the warehouse. Lo and behold, they were Daiwa LT44SF rods! After a little negotiation (and getting one in hand to examine) I bought them all.
Why would I go out on a limb and not only buy a discontinued rod but buy every last one of them? The answer is really pretty simple. There's no other rod like it.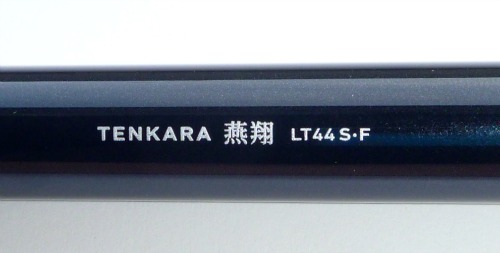 In my opinion, the Daiwa Enshou LT44SF is the best big water / big fish tenkara rod in the world, bar none. In the past year, there's been a lot of oo-ing and ah-ing over the Nissin Zerosum Oni Honryu 450. My understanding is that John Vetterli and Erik Ostrander of the Tenkara Guides, when visiting Tenkara no Oni in Japan, encouraged him to market a rod that he showed them, a rod that was longer and more capable than his standard Oni rods. They thought it would be very attractive to American anglers fishing big waters for big fish. The result was the Nissin Zerosum Oni Honryu 450. It is a great rod and I've sold a bunch of them.
A year or so earlier, Zen Tenkara made a bit of a splash with their Kyojin, which they marketed as being a big fish rod. People have indeed caught big fish with them, including carp and even Alaskan salmon.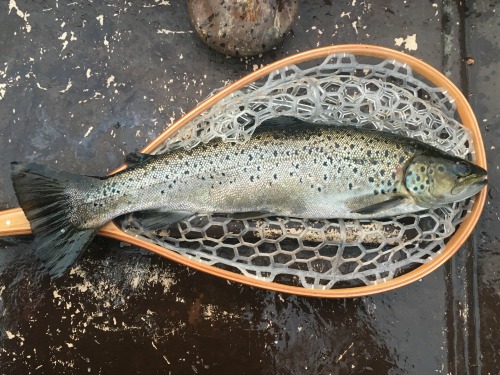 Michel Terheggen's brown trout, caught with an LT44SF on a Muddler Zonker.
For a big water / big fish rod I would take the Daiwa Enshou LT44SF over either of those two rods in a heartbeat. The Zerosum Oni Honryu is optimized for light lines and unweighted flies. After all, it is an Oni rod and that's the way he fishes.  And although it is certainly a capable rod, it measures just 20 pennies.
I have not measured the Kyojin, but I did get the chance to cast one at the first Appalachian Tenkara Jam. It is a 12 foot rod and it is seriously stiff. Although it is certainly extremely capable, it is much stiffer and much shorter (and much heavier!) than I would want in a big water rod.

I'm sure by now readers of TenkaraBum.com know that for fishing big water I prefer two handed rods. However, I know that most tenkara anglers still prefer one handed rods, even for big rivers. A 14 1/2 foot tenkara rod is about as much as you can comfortably cast one handed. That's why honryu tenkara rods are 14 1/2 feet long!

The Daiwa Enshou LT44SF is indeed 14 1/2 feet long and measures 33 pennies. It has the backbone you need for big trout or big bass without being so stiff that it's no fun to cast.
When I first fished with one in late 2011, I actually thought it was a bit stiffer than I liked. At that time, I was enthralled by the slow, smooth casting stroke of the Daiwa 5:5 level line rods. It wasn't until I had the rod up in Maine for some smallmouth fishing that it dawned on me that the LT44SF was one seriously nice rod! It cast big bass flies effortlessly and handled the smallies with ease. (Somehow the only photo I took was of a largemouth, though, caught while bouncing the bottom with a big weighted muddler minnow.)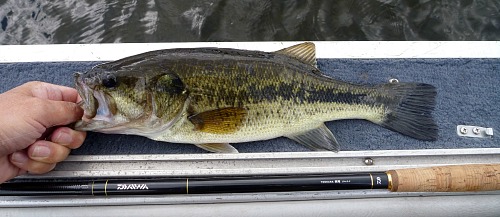 The rod also casts the big ugly streamers that Erik Ostrander fishes. It was no surprise to me that he chose the Daiwa Enshou LT44SF to try to repeat his team's win of the Green River One Fly competition (think big water, long lines and big fish).
If you wanted to fish a big Kelly Galloup Zoo Cougar with a tenkara rod, this is the rod to use. Similarly, if you wanted to throw mouse flies for big browns with a tenkara rod rather than a big, beefy keiryu rod, the LT44SF would be my choice without question.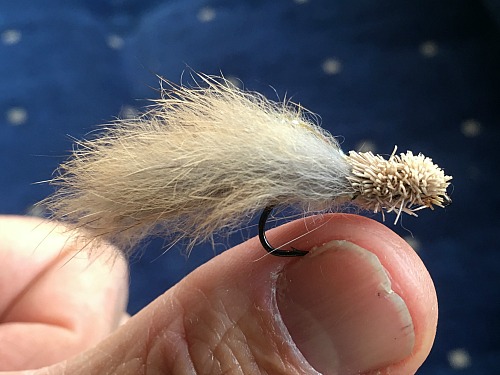 Michel Terheggen's Muddler Zonker.
Big streamers like that absorb a lot of water and get heavy. You need a rod with quite a bit of backbone to cast them well. Even for a hopper/dropper or a weighted nymph, the LT44SF has the stiffness in the midsection that you need to cast and fish those flies effectively.

The Nissin PALS SP Pro 4.5m tapered twisted fluorocarbon line would be an ideal match with the Daiwa Enshou LT44SF, as would the 6m line if you prefer longer lines on bigger water. If you want to stay with level lines, either a size 4 or 4.5 would be my choice.

I had a customer not long ago ask which tenkara or keiryu rod would come closest to the rods used for pesca mosca Valsesiana. I immediately thought of the Daiwa Enshou LT44SF. If you wanted to make a Valsesian horsehair line, one that tapers from 4 hairs at the tippet end up to 16 at the rod end, the Daiwa Enshou LT44SF would cast it as if it was designed for it. Fished with a cast of 4 Valsesian (sakasa kebari style) flies (if 4 flies are legal where you fish) it would come as close as you could get without flying to Italy. It would probably also catch a lot of fish!

Daiwa LT44SF Features


The Daiwa Enshou LT44SF grip has the familiar camel shape that provides several gripping options. It is long enough (over 11 1/2") that if you wanted to cast with two hands you could. Both ends of the grip have cork composite for durability.


The lillian is attached to the rod with a micro swivel that easily passes through the second section. People have told me the Daiwa lillians are too short, to which I respond that Daiwa has been making tenkara rods for decades. They make some of the best tenkara rods in the world. They know what they are doing.
If you fish furled lines or the Nissin PALS SP Pro lines, you'll want to put an overhand knot in the lillian. Do it carefully.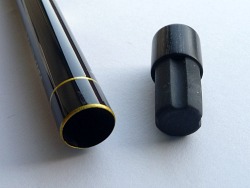 The tip plug is wood and rubber, and has a very snug fit. It will never fall out by itself, as happens with the plugs on some other rods.  One of the very nice design features is the fluting in the rubber part of the plug.
This fluting is easily large enough to insert the plug when the rod is collapsed with the line still attached.
Inserting the tip plug when the rod is collapsed is highly recommended - whether you are walking along a stream-side trail or driving to a different stream or carrying a second rod in a backpack. I know of rods that have been broken in each of those three situations - and in each situation, having a the tip plug in would have saved the rod.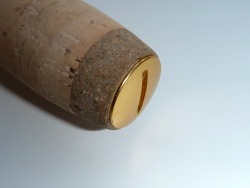 The grip cap screws into a metal fitting. The edge of the screw cap tightens against the cork grip, producing the same effect as a rubber washer. It snugs up and stays put. To tighten or loosen the screw cap, there is a slot into which a quarter fits nicely. In the unlikely event that the cap is loose, you can hear the rattle of the loose threads so you have a warning to tighten it before it is lost. The inside end of the screw has a rubber insert so there isn't the annoying clicking sound of rod sections hitting the screw when the rod is collapsed.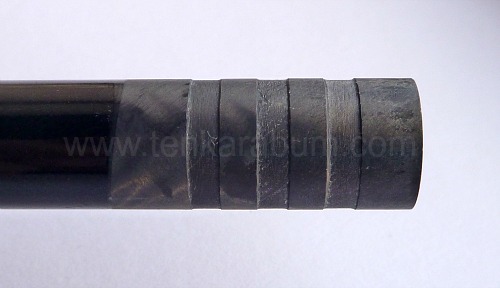 The Enshou series has what Daiwa calls a "V Joint." The end of each section where it snugs up inside of the next larger one has rings machined into it. This does two things. First, it allows the joint to flex more, minimizing the "dead spots" of the rod curve at the joints where two sections overlap. The second thing the machined rings do is make it much less likely that you will ever get a stuck section. The sections seat easily when extending the rod. When it comes time to collapse the rod, they give way just as easily.
After having fished with dozens of different rods, and after having extended and collapsed hundreds (if not thousands), I really do appreciate the "V Joint." It's one of those design elements that you don't see. The machined rings are completely hidden whether the rod is collapsed or extended. They're obviously not for show. They're there because they make the rod better, and the Daiwa tenkara rods are the only ones that have them.
Another feature that isn't obvious but which I certainly appreciate is the very slight reinforcement - a thickening of the blank right at the junction between sections. I've seen rods break right where a section exits from the next larger section, but never a Daiwa.
The Daiwa Enshou rods are not fancy. There's little ornamentation, with a stylized "D" near the winding check, narrow gold bands at the end of the segments, and the stylized Daiwa logo at the end of the grip section. Daiwa tenkara rods just look classy. Understated elegance.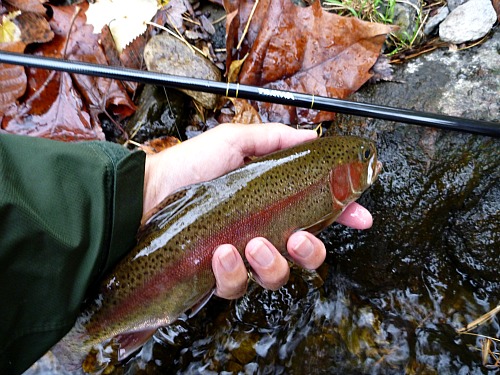 As with all the other Japanese rods, the Daiwa tenkara rods do not come with a hard rod case. The Enshou rods do come with a limited warranty but warranties do not feature highly in Japanese anglers' decisions on what rods to buy. They buy quality, not warranty.
Even though the rods have been discontinued, replacement parts will still be available from Daiwa for years to come. (Very few of my customers have needed them).
Length extended - 14'6"
Length collapsed - 23.25"
Weight without tip plug - 3.5 oz
Sections - 9
Tip Diameter - .8mm
Recommended tippet - Daiwa does not give a tippet recommendation.
I would use 5X - 4X.
Pennies - 33

Update: I have sold my last Daiwa LT44SF. I do not think I will ever be able to get more.

Rods made in China.

Shipping
A shipping charge of $10 will be added to all orders.
TenkaraBum.com does not ship to the European Union or the European Economic Area.

---
Payment
Payment is processed by PayPal but you don't need to have a PayPal account. You can use your credit card.
---
TenkaraBum Home> Tenkara Rods> Daiwa Enshou LT44SF
---
"The bitterness of poor quality remains long after the sweetness of low price is forgotten" – Benjamin Franklin
"Be sure in casting, that your fly fall first into the water, for if the line fall first, it scares or frightens the fish..." Col. Robert Venables 1662
As age slows my pace, I will become more like the heron.

---
Warning:
The hooks are sharp.
The coffee's hot.
The fish are slippery when wet.
Beware of the Dogma

---