Covid-19 Announcement
Most international flights have been cancelled.
There is no ETA for out-of-stock items that come from Japan.
Shipments to overseas buyers will take longer than normal - possibly much longer. Patience is a virtue - especially in fishing.

---
C&F Light Weight Fly Case
The C&F Light Weight Fly Case was going to replace the small Morell box in the TenkaraBum store. (I've since decided to keep the Morell box in stock as well.) The C&F case isn't quite as light and it isn't quite as large, but it has two significant advantages over the Morell box.
First and foremost, it uses the C&F split foam method for holding flies. To me, that is a much better approach than sticking the fly into the foam of the Morell box. If you use barbed hooks, eventually the foam gets torn up. If you use barbless flies, the flies don't always stay where you put them. You definitely do not want to open your fly box and have a few flies drop out into the current and get washed away (even if they do for once achieve a perfect drag-free drift).
The second major advantage is that the C&F Light Weight Fly Case has a place to attach a lanyard or a zinger. For the minimalist who fishes without a vest, not having to dig into a pocket is a definite plus.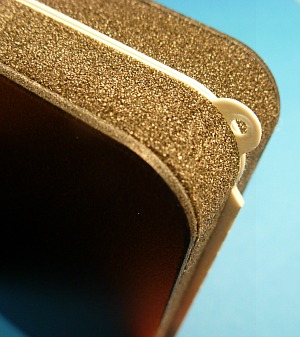 The box is compact, measuring just 3" x 4.25" x 1" so if you do want to carry it in a shirt pocket it fits handily. It also easily fits into the BW Sports Tippet Fly Pouch.
The C&F Light Weight Fly Case may not hold as many flies as the boxes you carry now, but the boxes you carry now almost certainly hold more flies than you need. I'm neither a proponent nor an adherent to the "one fly" school of tenkara, but this box holds more flies (or more patterns) than I need - and by a good measure
The case is a study in simple design. It is a sandwich of a hard plastic outer layer, foam (for spacing and flotation) a thin, hard plastic layer that creates the hinge and the lanyard attachment, and then the foam and finally the hard outer layer of the other side. The result is a fly box that is light, durable, functional and attractive.
C&F Light Weight Fly Case - $31
---
Payment
Payment is through PayPal but you don't need to have a PayPal account. You can use your credit card.
Domestic Shipping

Domestic shipping  is via USPS First Class mail (2-5 day delivery). The $3 charge is automatically added to each order. Most small items can be combined and shipped together without additional charge.
International Shipping

International shipping is via USPS International First Class mail (2-5 week delivery). Additional postage is required but is not added automatically. Please click on the button below to add international postage. Postage is based on weight, so please add postage for the largest or heaviest item.
---
TenkaraBum Home > Tenkara Accessories > C&F Light Weight Fly Case
---
"The bitterness of poor quality remains long after the sweetness of low price is forgotten" – Benjamin Franklin
"Be sure in casting, that your fly fall first into the water, for if the line fall first, it scares or frightens the fish..." Col. Robert Venables 1662
As age slows my pace, I will become more like the heron.

---
Warning:
The hooks are sharp.
The coffee's hot.
The fish are slippery when wet.
Beware of the Dogma

---