Acorn Floats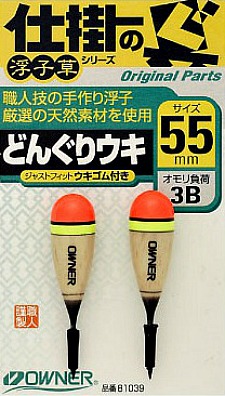 Owner's Acorn Floats can be used for keiryu fishing in place of yarn markers.  You could use them anywhere you would use a yarn indicator or thingamabobber (or just plain ol' bobber). The stem and tubing makes them very easy to adjust - just thread your line through the tubing and then insert the stem into the tubing to hold the line in place. The fluorescent orange top makes them quite visible.
Constructed of balsa wood, they are naturally buoyant and never require any floatant or treatment. They will easily support a tungsten beadhead nymph or a Dinsmore BB shot - or both, for that matter. (Some weight is needed to get them to float properly.)

They are two inches from top to tip and a half inch wide. They're a bit big for micros (the Micro Fishing Floats are better for that) but they'd be just right for trout or panfish.
Owner Acorn Floats - $6.00 for two
---
---
---
Shipping
Standard shipping is via USPS First Class mail.
A shipping/handling charge of $4 will be added to all orders.
If you live outside the US, you must add more postage unless the items on this page are mailed with a rod!
Please note: The buttons below only add the postage, they are not for the product AND the postage. You must click on the product button above also.

TenkaraBum.com does not ship to Norway or any other countries of the European Union or the European Economic Area.

---
Where do you live?


---

USA


Add this amount for shipping.


---

No additional postage required for First Class mail.
(Total charge $4)

---

Canada or Mexico


---

Additional $6 postage required. (Total charge $10)

---

Other Country


---

Additional $10 postage required. (Total charge $14)
---
---
Priority Mail Upgrade - U.S. Only

2-3 day shipping (U.S. only)
First Class should be just as fast for people living east of the Mississippi.
Do Not click if your order includes a rod, wader gaiters, 3x5 Photo Tank or Daiwa Keiryu Damo. They already go via Priority Mail.
Domestic Priority Mail Upgrade - Additional $3
---
---
Payment
Payment is processed by PayPal but you don't need to have a PayPal account. You can use your credit card.
---
TenkaraBum Home > Keiryu Accessories > Acorn Floats
---
"The bitterness of poor quality remains long after the sweetness of low price is forgotten" – Benjamin Franklin
"Study to be quiet." - Izaak Walton 1653

"Be sure in casting, that your fly fall first into the water, for if the line fall first, it scares or frightens the fish..." Col. Robert Venables 1662

---
Warning:
The hooks are sharp.
The coffee's hot.
The fish are slippery when wet.
Beware of the Dogma

---