Covid-19 Announcement
Some shipments are still delayed. If you are planning a trip, please order well in advance.
---
StreamPack
The StreamPack from TrailLite Designs is a day pack specifically designed for tenkara anglers. It will hold your rods, gear, lunch, water a light jacket and small first aid kit. Even though I started out the Ebira page with the comment that if it doesn't fit in the Ebira, you don't need it, it turns out that isn't quite true. You need water, you need lunch, and if you're fishing in Rocky Mountain National Park, you need a light rain jacket - no matter what the weatherman said that morning. Hopefully, you'll never need a first aid kit, but it would be wise to have at least a small one with you.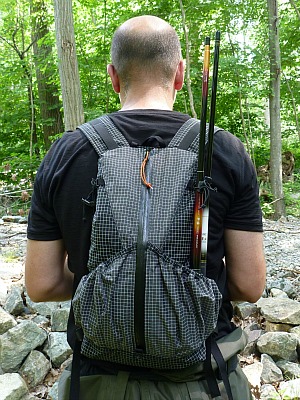 The StreamPack is made from the same Dyneema X fabric as the Ebira rod quivers. Not only is the fabric quite strong, it is extremely light in weight. The pack has a 700 cubic inch capacity, yet it weighs only 10.5 ounces.
A single vertical zipper provides access to one large compartment. Two large external pockets will each hold two tenkara rods quite securely. There are wide elastic bands inside the pockets to hold the rod grips, leaving the pockets open and uncluttered. Shock cords with cord locks hold the upper part of the rods. Of course, a compact rod like the Kiyose will fit entirely inside the pack for the ultimate in security.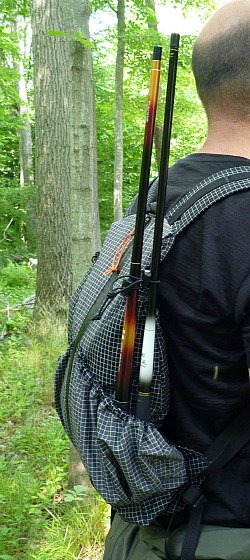 The StreamPack comes with a gear pouch that attaches to one of the adjustable shoulder straps. A second pouch for the other strap is available. The pouches are deep enough and wide enough to carry several lines, tippet spools, etc, even a larger than necessary fly box. (The C&F 1504 fits, and I know some anglers consider it absolutely necessary.)
There is also a waist strap and chest strap (so you'll have someplace handy to clip your forceps) and the chest strap buckle has a built in emergency whistle. The pack itself has a very narrow profile, so there is no binding whatsoever when casting or reaching out to net a fish.
Netting a fish, though, brings to mind the only thing I don't love about the pack. If you carry a water bottle in one of the outside pockets, where it is most convenient, it can fall out when you lean over to unhook fish. Managing a long rod, a net, a slick, squirmy fish and trying to rescue a water bottle that just fell into the current requires more hands than I have. I ended up carrying my water bottle inside the pack. Trust me, it is easier to get a water bottle from inside the pack than it is to get one that's already 10' downstream. If you have a better system for unhooking a fish than I do, or carry your water in a hydration bladder inside the pack (something I did not try) it may not be a problem for you.
On the whole, though, it is a very nice, very light weight, very functional daypack designed with the tenkara angler in mind.
TrailLite Designs StreamPack - $155
(rods sold separately)

Second Gear Pouch - $20

Return from StreamPack to Tenkara Accessories

Return from StreamPack to TenkaraBum Home


---
"The bitterness of poor quality remains long after the sweetness of low price is forgotten" - Benjamin Franklin
"Be sure in casting, that your fly fall first into the water, for if the line fall first, it scares or frightens the fish..." -
Col. Robert Venables 1662
As age slows my pace, I will become more like the heron.

---
Warning:
The hooks are sharp.
The coffee's hot.
The fish are slippery when wet.
Beware of the Dogma

---