---
Please Note: PayPal is having a problem with the Handling Charge, which should be $4 for every order. For some reason, a few orders are not getting the charge. I have contacted PayPal, but until the problem is corrected I will send a PayPal invoice following any order that does not reflect the $4 handling charge.
When you place your order, please look at the PayPal shopping cart contents to see if the $4 Handling charge is included. If not, please click on the button below. That will make a separate PayPal invoice unnecessary (saving time for both of us).
Handling charge - $4
---
Wild Rainbows
by JJ Mathes
(Georgia)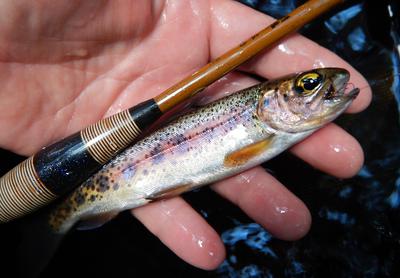 I had passed over this section of creek in North GA a week earlier, it's tight, overgrown and barely 5-feet wide. On this day I returned with a 4-foot Nissin Sasuke and caught seven wild rainbows 5"-7".

Walk softly and carry a long stick. - Teddy Roosevelt (almost)

Tenkara has no strict rules. Enjoy tenkara in your own way.
- Eiji Yamakawa
"The bitterness of poor quality remains long after the sweetness of low price is forgotten" – Benjamin Franklin