---
Please Note: PayPal is having a problem with the Handling Charge, which should be $4 for every order. For some reason, a few orders are not getting the charge. I have contacted PayPal, but until the problem is corrected I will send a PayPal invoice following any order that does not reflect the $4 handling charge.
When you place your order, please look at the PayPal shopping cart contents to see if the $4 Handling charge is included. If not, please click on the button below. That will make a separate PayPal invoice unnecessary (saving time for both of us).
Handling charge - $4
---
Titanium line
by Mike
(Boulder, CO)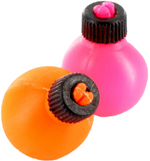 SOS Indicator
Discussions about "drag" usually relate to "drag" from water current. However, I feel that drag from the wind blowing from upstream is equally problematic. With tenkara, drag from water currents is nearly absent, but a wind can sometimes pick up a flouro line out of the water (yeah, yeah, I should just sit it out, but I don't). With a Ti line, that problem is solved.

I live in Colorado where the winds are often strong enough to be a problem. Recently, I have been using a 14'6" Daiwa 43MF that I use with a 1/2" thingamabobber to fish Deckers and Blue River -- tail waters. In that kind of water, I am not casting straight ahead. It is drift sideways, drift, drift, quick set, flip back upstream.

Most of the time, I use Chris's orange tenkara line because it is so easy to manage. A couple of casts and the kinks are out. But when the wind blows hard enough, i use the Ti line. The only resistance I feel is the thingamabobber being blown by the wind as I cast it. However, once the cast is completed, the thingamabobber does "anchor" the line, otherwise, with 14' 6" out there, a strong wind can blow hard enough to move the rod around!

Chris mentioned using a Ti line for Czech nymphing because the Ti lines sinks quickly and doesn't drag in the water. I like his idea. However, there are times when I still like using floats and adjust it based on the depth of the water. Sometimes I want to remove the float. Floats such as a thingamabobber and some yarn indicators would kink a titanium line and ruin it. I found a float called an SOS indicator that looks and floats as a thingamabobber, but does not kink it. The SOS indicator can be easily installed or removed as well, on a Ti line or any kind of line. It also has the advantage of not slipping. I enclose a photo of what it looks like.

I will write about using that combination when I have a chance to try it out on the river.
Walk softly and carry a long stick. - Teddy Roosevelt (almost)

Tenkara has no strict rules. Enjoy tenkara in your own way.
- Eiji Yamakawa
"The bitterness of poor quality remains long after the sweetness of low price is forgotten" – Benjamin Franklin