---
Please Note: PayPal is having a problem with the Handling Charge, which should be $4 for every order. For some reason, a few orders are not getting the charge. I have contacted PayPal, but until the problem is corrected I will send a PayPal invoice following any order that does not reflect the $4 handling charge.

---
TenkaraBum Winter Challenge
2 inch Ozark Sculpin
#26 bead head Utah Killer Bug
by Alan Luecke
(Kansas City, MO)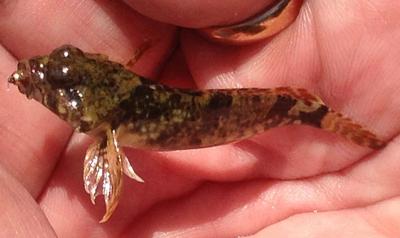 1.5 inch Ozark Sculpin
I played hooky on Friday and went down to the Roaring River Trout Park near Cassville, Mo. This was my first outing in quite a while. I had lots of plans for various flies and fish but things started slowly. The trout were not interested in much of anything so I decided to go after some shiners hanging out at the edge of the pool. The shiners would descend on the fly in a cloud but to little effect. Then I felt a solid take and popped this little guy out of the crowd. I did not see the take and had not noticed any sculpins till this one was on the hook.

Measuring the creases in my hand and using my ring as a gauge I feel pretty good about the 2 inch measurement. Roaring River is a spring fed stream in the White River drainage. This, along with the strong black bands make for a good ID.

Walk softly and carry a long stick. - Teddy Roosevelt (almost)

Tenkara has no strict rules. Enjoy tenkara in your own way.
- Eiji Yamakawa
"The bitterness of poor quality remains long after the sweetness of low price is forgotten" – Benjamin Franklin