TenkaraBum Winter Challenge
13 1/2" #30
by Tim Homesley
(S.W. Missouri)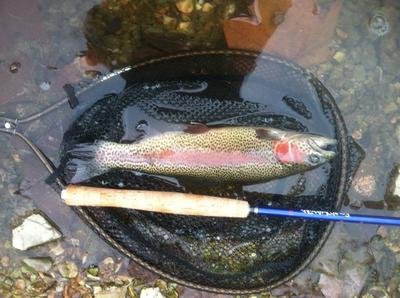 Caught several trout this morning on the #30 fly this morning, had a couple hooked up that were probably 16" but they got away :)
Biggest was this 13 1/2" rainbow on the #30 fly.
That is 24 #30's on the dime.
Walk softly and carry a long stick. - Teddy Roosevelt (almost)

"The bitterness of poor quality remains long after the sweetness of low price is forgotten" – Benjamin Franklin
---
Warning:
The hooks are sharp.
The coffee's hot.
The fish are slippery when wet.

---