TenkaraBum Winter Challenge - 10" fish, #32 hook
by Chris Stewart
(New York City)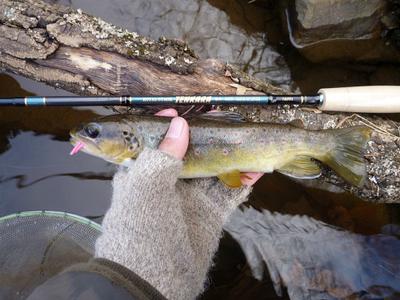 10 inch brown trout
Tied a pink San Juan worm with a #32 hook. Didn't hook every fish that hit it, but I did land a few.

The worm is 1.25" long and the hook really is a bit small for the size of the fly. It worked, though.
Join in and write your own page! It's easy to do. How? Simply click here to return to TenkaraBum Winter Challenge.

Walk softly and carry a long stick. - Teddy Roosevelt (almost)

Tenkara has no strict rules. Enjoy tenkara in your own way.
- Eiji Yamakawa
"The bitterness of poor quality remains long after the sweetness of low price is forgotten" – Benjamin Franklin