Tenkarabum Streamer Challenge
The TenkaraBum Streamer Challenge is over. Congratulations to the two winners: Michel Terheggen for the largest fish, a 30" pike, and Alan Luecke for most species, with 33.
A total of 51 species of fish were caught on streamers or bucktails, which I think proves pretty conclusively that you can indeed fish a streamer on a tenkara rod!
A hearty thank you to all participants.
---
The TenkaraBum Streamer Challenge is to fish with streamers and bucktails. I don't know how many times I have heard (from someone who has never fished with a tenkara rod) that you can't fish streamers. I am confident that the results from the challenge will prove not only that you can fish streamers with a fixed line rod, you can do so very effectively.
You can't strip, but by twitching the rod tip you can impart the same action. Not only that, with the line in the air rather than stuck on the surface, you can easily change directions, giving the streamer a zig-zag path or guiding it around rocks or weeds.
One of the entrants in the TenkaraBum Streamer Challenge shot the following video of a trout taking his streamer. All the action is right at the top of the screen. Watch closely, right here-----------\/-------.

Watching the video in slow motion surprised me. I had expected that trout would take a fly, immediately realize it wasn't real and very quickly spit it out. I have also speculated that most of the fish we catch actually tried to spit out the fly but the hook point got stuck on the way out.

This fish bit it, and then twice took it further into its mouth before deciding it wasn't real. It still looks as though it tried to spit it out before the angler felt the take and reacted, setting the hook. You can't really tell if the hook caught on the way out, before it was "set" but it looks like it might have.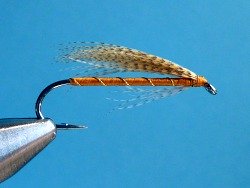 Unnamed streamer
Kiwi's Mickey Finn Bucktail
For the purposes of the TenkaraBum Streamer Challenge, I will largely follow Joseph D. Bates, Jr.'s definitions of streamers and bucktails, as presented in Streamer Fly Tying & Fishing, p. 31. A streamer is "A fly possessing a predominantly feathered wing and having shape and action which are intended to represent a baitfish." A bucktail is "A fly possessing a predominantly haired wing, whose shape and intended action are to represent a baitfish." A hair wing fly of this type is called a bucktail regardless of the kind of hair used. A Clouser Minnow clearly qualifies as a bucktail.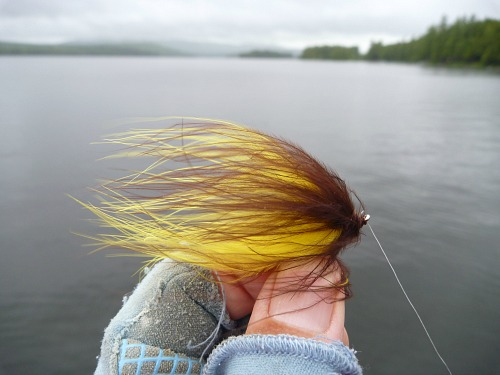 Gartside Soft Hackle Streamer (tied without the Mallard Flank)
I will expand Bates' definitions slightly, and will accept some fly types that were developed after Streamer Fly Tying & Fishing was written. I will accept a Gartside Soft Hackle Streamer or a Tabory Snake Fly (neither of which have a wing) as streamers. Also, I will accept a fly with a wing that is entirely made of synthetic fibers as a bucktail.
Although one would not think of a zonker as being a bucktail, it does have what you could call a wing and it is primarily hair. A zonker qualifies for the Challenge. The feather equivalent, the Matuka, also qualifies. Hair streamers, whether constructed of natural or synthetic fibers, qualify. A number of standard western wet flies, if tied on long shank hooks, would also qualify. (How long? At first glance, it has to look like a streamer or bucktail, not like a wet fly.)

Tabory Snake Fly
For the TenkaraBum Streamer Challenge, streamers and bucktails qualify as acceptable entries, Woolly Buggers do not (the Woolly Bugger was created as a hellgrammite pattern). Although I see a Killer Bugger as a variation on the Woolly Bugger, and thus a hellgrammite or maybe a leech, one could argue that a White Killer Bugger is a variation on Shenk's White Minnow, which clearly was intended to be a streamer. Thus, I will allow White Killer Buggers. The Ausable Ugly was created as a nymph pattern, so it doesn't qualify.
Since one of the categories is most species, and to win it you will probably have to catch micros, very small streamers or bucktails are acceptable. However, to qualify they will require a definite wing of either feather, feather barbs or hair. A small white Killer Bugger is acceptable, even though it doesn't have a wing.

And just to be right up front about it, do not even think of entering a sakasa streamer or bucktail! It will NOT qualify no matter what kind of wing it has!
A tuna caught with a pole does not qualify if caught on a commercial fishing boat. If you have your own boat, or hire a guide, it does qualify.

Contest rules:
1. The contest begins 12:01 AM eastern time May 28, 2016. All fish entered into the contest must be caught after that time. The contest ends 11:59 PM eastern time October 30, 2016. All entries must be received by then.
2. All fish entered into the contest must be caught on a fixed line rod (tenkara, keiryu, seiryu, carp, tanago, mebaru, crappie, cane pole, loop rod or willow switch, etc.) with a streamer or bucktail as defined above. I will be sole judge on whether the fly used qualifies as a streamer or bucktail.

3. All entries must include a photo of the fish (along with something for reference to determine size) and a separate photo of the streamer or bucktail used to catch it. Please photograph the fly before you fish it, so we can see what it looks like dry. Photos must be emailed to chris at tenkarabum dot com and the fish photos must have a time stamp in the metadata that is after the contest begins.

4. There are two categories: largest fish and most species. The prize for the largest fish is a Nissin 2-Way 450ZX stiff. The prize for the most species is store credit of $145.
5. No rules changes are anticipated, but all contest rules are subject to change.
---
Even if you have never in your life tied a streamer or bucktail, do not let that stop you. They do not have to be at all complex. Morgan Lyle has listed several in his book Simple Flies. Let me tell you, they don't get any easier than his Two-Feather Seaducer!
Also, the Minimal Dace One Fly Tying Kit can get you started as well. Quite a few of the entries in the first couple months of the challenge have been caught on variations of the Minimal Dace.

TenkaraBum Home > TenkaraBum Streamer Challenge

---
"The bitterness of poor quality remains long after the sweetness of low price is forgotten" – Benjamin Franklin
"Study to be quiet." - Izaak Walton 1653

"Be sure in casting, that your fly fall first into the water, for if the line fall first, it scares or frightens the fish..." Col. Robert Venables 1662

---
Warning:
The hooks are sharp.
The coffee's hot.
The fish are slippery when wet.
Beware of the Dogma

---