TenkaraBum Rod Sock
The TenkaraBum Rod Sock is a result of customer requests. People have told me they really like the rod sock that comes with the Suntech Suikei TenkaraBum 36 and wanted to know if they could purchase additional  socks for their other rods.
I posed the question to Suntech and once again they have exceeded expectations. Instead of Suntech rod socks, they offered TenkaraBum rod socks! That was an offer I couldn't refuse.
The photos below show a green sock. The TenkaraBum rod socks I now have in stock are black. The "TenkaraBum" is still in white.


It is a stretchy knit rod sock, but it is a much thinner material than most knit rod socks.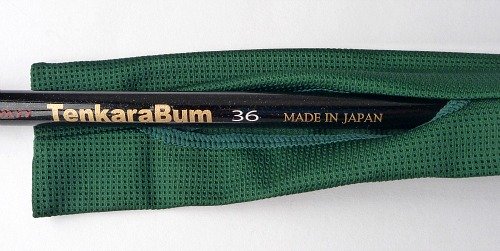 There is a slit in the back into which you insert the rod. I find it works better if the grip end is inserted first.
The Nissin Fine Mode Kosansui rods do not come with rod socks, and some people are not terribly excited by the rod socks that do come with the most Nissin rods. Now a much nicer rod sock is available.
TenkaraBum Rod Sock - $16
---
---
Shipping
Standard shipping is via USPS First Class mail.
A shipping/handling charge of $4 will be added to all orders.
If you live outside the US, you must add more postage!
---
Where do you live?


---

USA


Add this amount for shipping.


---

No additional postage required for First Class mail.
(Total charge $4)

---

Canada or Mexico


---

Additional $6 postage required. (Total charge $10)

---

Other Country


---

Additional $10 postage required. (Total charge $14)
---
---
Priority Mail Upgrade - U.S. Only

2-3 day shipping (U.S. only)
First Class might be just as fast!
Do Not click if you purchase a rod, wader gaiters or vise. They already go Priority Mail.
Domestic Priority Mail Upgrade - Additional $3
---
---
Payment
Payment is processed by PayPal but you don't need to have a PayPal account. You can use your credit card.
---
TenkaraBum Home > Tenkara Accessories > TenkaraBum Rod Sock

---
"The bitterness of poor quality remains long after the sweetness of low price is forgotten" – Benjamin Franklin
"Study to be quiet." - Izaak Walton 1653

"Be sure in casting, that your fly fall first into the water, for if the line fall first, it scares or frightens the fish..." Col. Robert Venables 1662

---
Warning:
The hooks are sharp.
The coffee's hot.
The fish are slippery when wet.
Beware of the Dogma

---