---
Please Note: PayPal is having a problem with the Handling Charge, which should be $4 for every order. For some reason, a few orders are not getting the charge. I have contacted PayPal, but until the problem is corrected I will send a PayPal invoice following any order that does not reflect the $4 handling charge.
When you place your order, please look at the PayPal shopping cart contents to see if the $4 Handling charge is included. If not, please click on the button below. That will make a separate PayPal invoice unnecessary (saving time for both of us).
Handling charge - $4
---
TenkaraBum™ Caps
Just what you want in a fishing cap. The curved bill keeps the sun out of your eyes so you can see the subtle strikes. The caps are made from high quality cotton so they're cool (except for the camo ones, which are "so cool"). Instead of that cheap plastic tab in the back, the twill ones have positive hook/loop (generic for Velcro I think) closure so you can get the fit just right. The denim ones have a sliding metal "buckle." Perhaps the best thing, though, is the stylish but subtle TenkaraBum logo. Well, I guess there's nothing subtle about fluorescent orange (even bigger on this batch of caps) but it really does look very nice.
They come in four choices, khaki denim with blue/gray bill, blue/gray denim (coming soon), olive twill, and olive camo twill.
New on these caps is the Japanese official stamp inspired TENBUM logo on the side panel.



All caps currently out of stock.


TenkaraBum™ Khaki Denim Cap with Blue/Gray Bill - $17 (Domestic) or $20 (International)
TenkaraBum™ Blue Denim Cap- $17 (Domestic) or $20 (International)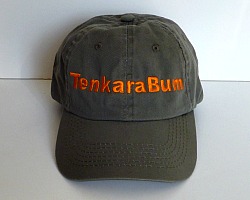 TenkaraBum™ Olive Cap - $17 (Domestic) or $20 (International)
TenkaraBum™ Olive Camo - $17 (Domestic) or $20 (International
Payment
Payment is through PayPal but you don't need to have a PayPal account. You can use your credit card.
Shipping
Domestic shipping is $3. Most small items can be shipped together for a flat $3 charge.

---
TenkaraBum Home > TenkaraBum Store Apparel > TenkaraBum Caps


Walk softly and carry a long stick. - Teddy Roosevelt (almost)

Tenkara has no strict rules. Enjoy tenkara in your own way.
- Eiji Yamakawa
"The bitterness of poor quality remains long after the sweetness of low price is forgotten" – Benjamin Franklin