Tenkara Starter Kits
The Tenkara Starter Kits have been very popular ever since I first introduced them. They are an easy way for someone new to tenkara to get what they need to start out. The kits contain a rod, a matching line and a pair of line holders. Initially, I packaged flies and tippet with the kits, but most of the buyers had been fly fishing for years and already had both tippet and flies. The kits now have what you need to go from fly fishing to tenkara fishing. If you have never fly fished before, flies, tippet and streamside tools are also available to go with the kits.
---
Shimotsuke Starter Kit

The original Tenkara Starter Kit comes with a Shimotsuke Tenkara 3.3 or 3.6 rod. The rod is a very economical "all-around" rod and allows the complete kit to be priced at only $139 for a kit with the 3.3 meter rod or $149 for a kit with the 3.6 meter rod. Renamed the Shimotsuke Starter Kit, it remains the most popular kit.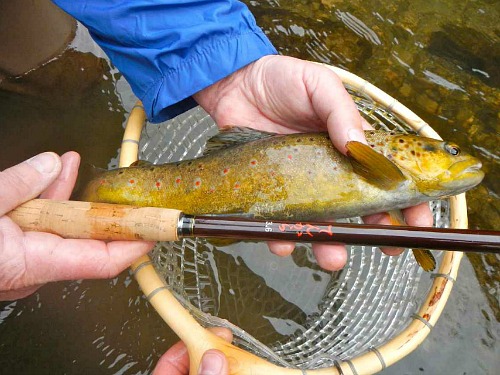 ---
Shimano Starter Kit

Last summer, several customers had asked me for a starter kit that contained a high quality rod. Until I ran out of the rods I carried a Shimano Starter Kit, which was built around the Shimano LLS33 NB rod. The LLS33 NB and LLS36 NB are Shimano's entry level rods, but they are really very nice rods. If you get one, you may later want a rod of a different length, or perhaps a specialty rod for bigger fish or for heavy nymphs, but you'll never have to upgrade from the rod that comes in the kit. The rods are back in stock and I am again able to offer the Shimano Starter Kit. The prices are a bit higher than the basic kit at $205 or $215 depending on rod length, but you'll an get excellent rod.

---
Nissin Starter Kit

The Nissin Starter Kit is new, and is built around the Nissin Pro Square 360 7:3 rod or the 320 6:4 rod. More and more people are asking me for rods that are made in Japan. Other than some of the rods carried here on TenkaraBum.com, nearly all the rods available in the US  are made in China. Even the newest, fanciest models do not match the Japanese rods - particularly with respect to weight (but also action). The Japanese rod makers have been making tenkara rods for decades - and it shows. The Nissin rods chosen for the kit are very light, very sensitive, and capable of casting a very light line. To me, fishing with the lightest line I can get away with and keeping nearly all the line off the water's surface is the essence of tenkara. The Nissin Starter Kit is $182 or $199, depending on the rod. Rod, line, and line holders all made in Japan.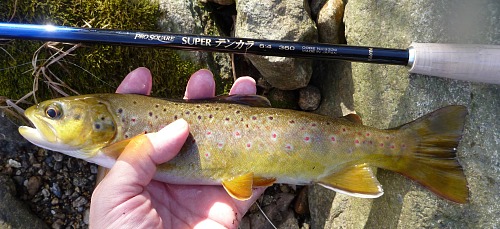 ---
TenkaraBum Home > Tenkara Starter Kits

Tenkara has no strict rules. Enjoy tenkara in your own way.
- Eiji Yamakawa