Tenkara in Focus
Downloads and USB Drives

Black Friday Sale

Paul and John are offering their entire Season 1 content at a 50% discount for Black Friday!

Click on the link to download the
entire Season 1 content for half off!
The regular price is $178, but if you enter the discount code
bf50
in the checkout process, the price will drop to $89. The sale ends about lunchtime on Saturday in the UK, which is fairly early Saturday morning in NY, and very early in LA.
---
---
Tenkara in Focus downloads and USB drives provide additional material and insights not contained in the Tenkara in Focus free episodes. Paul Gaskell and John Pearson travel to Japan to learn from the masters and from accomplished Japanese tenkara anglers. Luckily for us, they take cameras so we can "look over their shoulders" to see what they saw and learn what they learned.

USB Drives

---
The one complaint that Paul and John have gotten about their premium downloads is the actual download process. The material is first rate and well worth the cost. For some people, though, the trouble in downloading it has tipped the balance.
Paul and John to the rescue! They now offer their full Season 1 premium download material - video and accompanying .pdf files - on USB drives (also called thumb drives or flash drives).
With the content on the drive, you don't have to mess with a download (and if you have a slow or spotty internet connection) the USB drive may be the only way to get these lessons.
The USB drives, with the content already loaded, are mailed from the UK.

The following material will available on USB drives. Click on the link to order the pre-loaded USB drive.

Season 1 Complete Package - All the premium content for the full season.

Masami Sakakibara - Onstream Masterclass by THE master!

Takahashi san's Expert Tenkara Nymphing - A fusion of tenkara techniques and competition Euronymphing techniques.
Triple Bundle - (Onstream Masterclasses presented by Dr. Ishigaki, Kura san and Go Ishii)
Manipulations - Perhaps the true essence of Tenkara (even more so than keeping the line off the water).
If you have already downloaded the premium content, there is no need to purchase the USB drives also. The content is the same. These were produced for the benefit of people who could not download the various presentations. Of course, if you would like a backup of the material in a very convenient format, you may want the USB drives as well.


---
Tenkara in Focus Episode 7
Premium Download
Tenkara no Oni

Tenkara Master Masami Sakakibara is best known for his casting. That isn't the half of it. Casting is critical, no doubt about it, but casting skill is actually only a small part of what makes Tenkara no Oni a master.
In the classic Japanese master - student relationship, the master doesn't teach. The master just does what he does. It is up to the student to learn - primarily from observation, secondarily from questions.
This premium download is a video I am going to watch over and over. There is just so much to observe and so much to learn. I know I can't absorb it all the first time (or the second, or the third).
I have had the pleasure of fishing with Sakakibara san twice, once in Japan and once at the first Oni School put on by the Tenkara Guides in Salt Lake City. I mean this with no disrespect, but truly, watching a video of Masami Sakakibara fish is better than watching him fish in person.
As valuable as real-life time with him is, you can't hit replay. With a video, you can. With a live one-on-one, you come away with a few things that really struck you and a few general impressions. With a video you'll notice more and learn more every time you play it. This download is a video you will want to watch more than once. Let me strengthen that - this is a video that I urge you to watch more than once.

It is true that with a video you can't ask questions, but then again, unless you speak Japanese or have a translator on stream with you, you can't ask questions anyway. Sakakibara san does not speak English.
Luckily, Paul and John were able to spend a lot of time with him when there was an translator present. They have picked up a lot of insights - partially from just spending a lot of time with him - but also by being able to ask questions. Their voice-over commentary covers a lot of the points you might want to ask about. It also points out a number of nuances to his fishing that you might not notice from watching the video - not that they aren't noticeable, but there are just so many nuances!
The Essence of Tenkara

I have written many, many times that to me, the essence of tenkara is keeping the line off the water's surface. This video makes it glaringly obvious that keeping the line off the surface is only scratching the surface.
Watching Tenkara no Oni work the water, and having Paul and John's commentary pointing out what he is doing and why he is doing it, make it clear that "Oni Tenkara," or Oni's style of tenkara, is not just accurate casting and keeping the line off the water. 
For example, every beginning fly fisher is told that it is important to "read the water." The people who say that mostly mean "learn where the fish are." To Tenkara no Oni, reading the water is not just where the fish are. It is reading the currents to know where he has to put his fly so the current will take it to where the fish are. And because even when you keep your line off the water, you will still have some tippet in the water, it is reading the current to know where to put the fly so the foot or two of tippet isn't in water that will cause the fly to drag.
Reading the water is knowing where to stand to make the cast (the FIRST cast) put the fly in the water that won't cause drag but will take the fly to the fish. It is about whether the water's surface is smooth or broken. It's about using the current - specifically the reverse current in an eddy - for "tomozuri," which Paul and John say has worked for them in every river where they've used it.
It is about knowing when you do not want a dead drift!

Reading the water is also knowing how to fish the same piece of water from below it, beside it and above it. Tenkara no Oni doesn't spend a lot of time casting to one spot. If he doesn't get a take, he moves. But then, with different angles and different flows - relative to his new position - he may fish that same spot again.
This is without question the best video I have seen of Masami Sakakibara - mostly because it shows how he approaches the river. It isn't just a heavily edited sequence of casts that catch fish. It is actual fishing - including moving from spot to spot, getting his rod tip caught in a tree, missing strikes, but also catching a lot of fish. It also shows that at each spot, not only are the flows and seams and rocks and eddies different, his posture and casting and fly manipulation are different.
Whatever the opposite of one-dimensional is, that is Masami Sakakibara on a stream!
Don't Forget the PDF

I read the PDF file before watching the video. If I had it to do over again, I would watch the video, then read the pdf, then watch the video again, then read the pdf again. Seriously, there is that much good information and you are not going to absorb it all in one sitting.
Everything in the pdf rung true with respect to my times with and impressions of Tenkara no Oni - but it was in much greater detail and depth than I had gotten from actual time with him. I can put that down to a few hours for me compared to more than a few days - two multi-day visits with ongoing communication in the time between the visits for Paul and John.
The pdf gives a lot more detail than can be offered in real time when the video is running. It gives A LOT of detail about what it is that makes Masami Sakakibara so very good at what he does. 

I can only echo what I have already written about Paul and John's material - you couldn't duplicate the experience even if you went to Japan yourself. There is an interpersonal connection - a friendship - that takes more than just time to build.
If you have a little bit of tenkara experience, the $32 spent on this video and pdf will be the best money you could spend to take you to the next level. Let me rephrase that. It actually won't take you there, it shows you the way. You have to make the journey yourself. Observe and learn - and there is so much that can be learned. Oni's style is not the only style of tenkara - the Ten Colors concept is still valid. However, Oni is truly a master of tenkara, and it would be shortsighted to not take advantage of what you can learn from him.

The video and pdf are both valuable, but in my mind the true value is the two of them together. I feel that strongly enough that I don't offer them individually. The full bundle is where the real value is (and I'm not talking about the price or the discount - it's where the value of the material is).

Click on the link to download the
Tenkara no Oni video and the accompanying PDF lesson.
---
---
Tenkara in Focus Episode 6
Premium Download
Takahashi Tenkara / Nymphing

Paul and John have done it again!
For years we have been told that Japanese tenkara anglers use only unweighted wet flies. Then Paul and John revealed in their Discovering Tenkara DVD Vol.1 that no less an angler than Dr. Ishigaki uses a "secret fly" that has a tungsten bead head!
In their latest premium download, which accompanies their free Tenkara in Focus Episode 6, they bring us an on-stream lesson from Shin Takahashi, in which he fishes various weighted flies, either lightly weighted with copper wire or more heavily weighted with a tungsten bead head. He even fishes for a while with split shot on the line.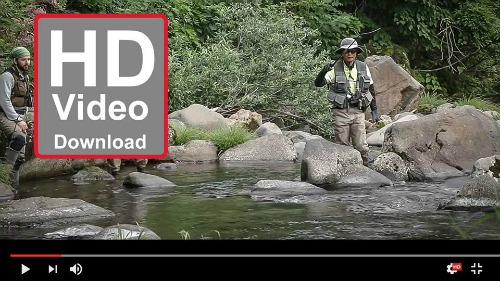 His fishing style is not referred to as "tenkara," but is in fact a blend of tenkara techniques and Euronymphing techniques. At one point, Ubi (Uberto Calligarich, a gold medal winning competition angler) who interprets for Takahashi san, says that he approaches the river just like a competition angler would.

Anyone who has ever thought that a tenkara rod ought to be great for fishing nymphs (only to be told "that's not tenkara") should watch this premium download. Takahashi san not only catches fish with his weighted flies, he does so following fairly closely behind another fisherman. He catches fish the guy directly in front of him couldn't! Some of his techniques you might pick up on your own, some you never would without watching the video and reading the accompanying pdf file.
Most of the flies he uses during the on-stream lesson are clearly not what we would think of as tenkara flies. They show the influence of European nymphs, Western wet flies and even ayu flies.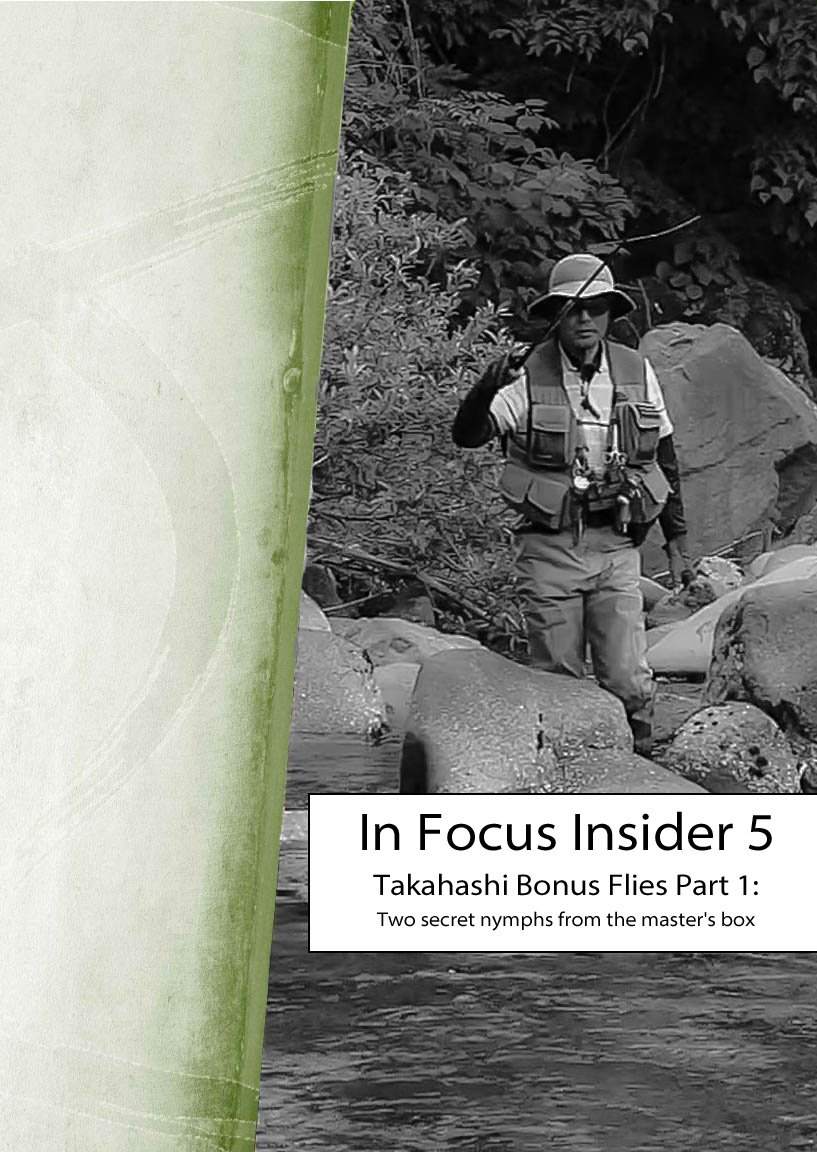 Paul and John have thrown in a couple bonus downloads, each of which shows two of Takahashi san's flies, including the one that caused Itoshiro to change their rules from "Catch & Relase" to "Catch & Release no more than Ten Fish" after Takahashi san caught and released 121 fish! Catching over 100 fish in a day is quite an accomplishment anywhere, but doing it on a stream as heavily pressured as Itoshiro is nothing short of fabulous.

For those who have always thought that all Japanese anglers fished the same way, this video is an eye opener. "Ten Colors" doesn't even approach describing Takahashi san's style. He doesn't use a tenkara rod. He doesn't use tenkara flies. What he does do is catch enough fish that he has to stop fishing.
I think this video lets the genie out of the bottle. Want to fish weighted nymphs with your tenkara/keiryu/seiryu rod? You are now in good company. It may not be tenkara but who cares? Takahashi san catches fish in difficult conditions, and you can too. In the future we will see a lot more "fusion fishing," blending tenkara and Euronymphing techniques. This video and pdf are just the start.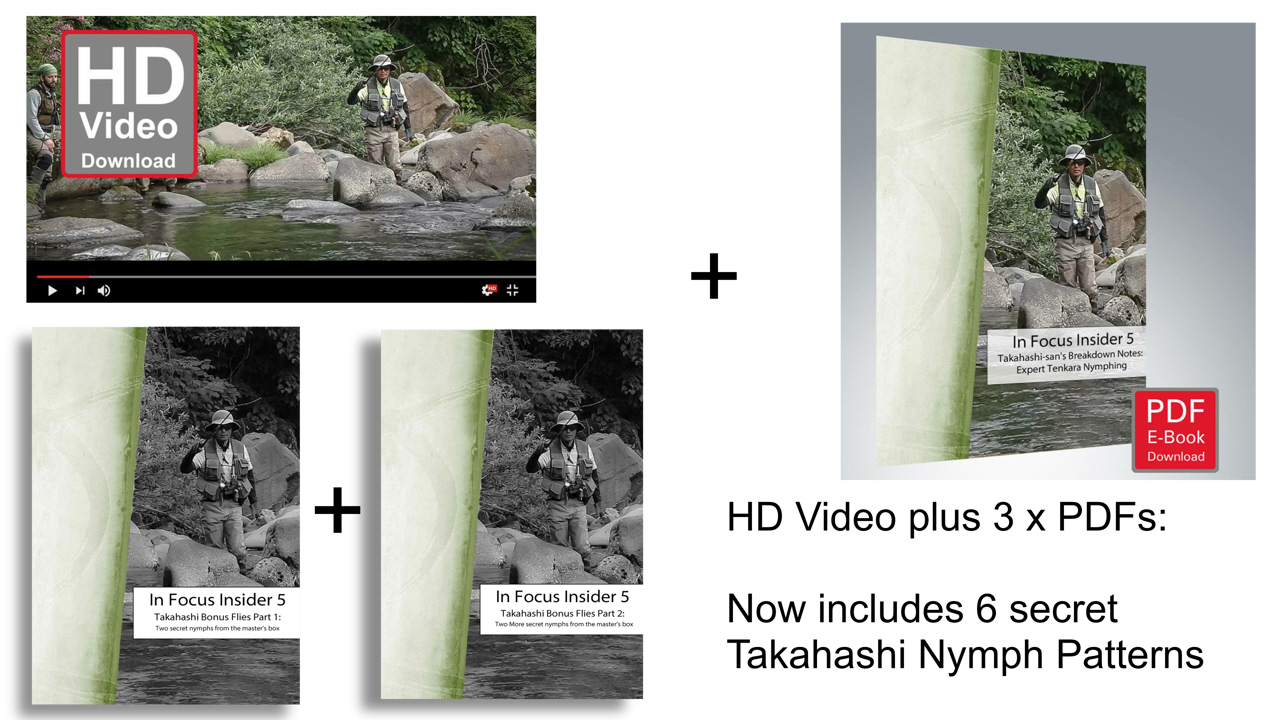 Click on the link to download the
full bundle of the video, the accompanying PDF lesson and the two PDFs that reveal six of Takahashi san's nymph patterns
.
The price for the bundle is $32 - roughly equivalent to a dozen flies plus shipping. You would lose more than a dozen flies trying to learn for yourself what you will learn from the video and accompanying PDF files.

---
The billing and download is processed by a company called Gumroad. If you have any Gumroad related questions, a good place to start is the Gumroad FAQ.

I suspect I will offer more of Paul and John's Tenkara in Focus Premium Downloads, but this one is a very good one to get the ball rolling.

---
TenkaraBum Home > Tenkara in Focus > Tenkara in Focus Downloads


Walk softly and carry a long stick. - Teddy Roosevelt (almost)

"The bitterness of poor quality remains long after the sweetness of low price is forgotten" – Benjamin Franklin
---
Warning:
The hooks are sharp.
The coffee's hot.
The fish are slippery when wet.

---