Tanago Fishing Collection
A little while ago I was contacted by a gentleman in the UK who has a collection of tanago fishing gear. Here are a few photos from his collection.
Tanago fishing in Japan may be a bit more specialized than micro fishing here, or in the UK for that matter, but all the pieces in his collection would certainly work. The artistry shown in some of the floats and in the tanago rod suggest that there is a lot more to tanago fishing than just catching tiny fish.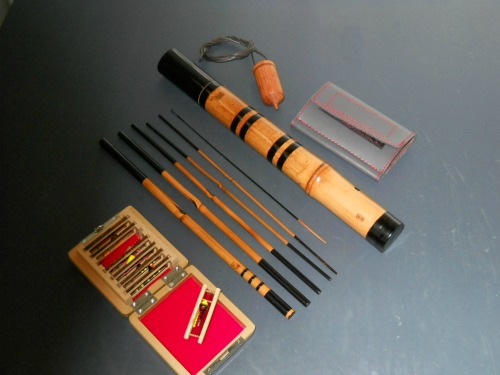 Tanago Fishing Kits, Rod, Bait Container and Hooks


| | |
| --- | --- |
| | |
| Tanago and Bait Container | Stickleback and Floats |
| | |
| --- | --- |
| | |
| Fishing Kits | Fishing Kit Detail |
| | |
| --- | --- |
| | |
| Bait Containers | Floats |
| | |
| --- | --- |
| | |
| Snelled Tanago Hooks | Pale Chub/Oikawa Rod |
Return from Tanago Fishing Collection to TanagoBum Home
Return from Tanago Fishing Collection to TenkaraBum Home