Suntech GMR Special II 36NP
The Suntech GMR Special II 36NP is a rod that blurs the boundaries. It is very light and very sensitive, like a seiryu rod, while having lots of backbone, like a keiryu rod. The "II" designation indicates that some changes have been made in this year's model.

The first fish I caught with the rod caught me by surprise. You may have seen this photo before on my Killer Bugger page. It is also the first fish I caught with a black Killer Bugger. Where I fish, I catch a fish this size about once a year, so it is always a surprise. What was most surprising, though, was the way the rod handled the fish.

The Suntech GMR Special II 36NP is a seiryu rod. What I like most about seiryu rods is that they are very light weight and very sensitive. The downside of that light weight and extreme sensitivity is that they tend to be pretty soft rods. After all, seiryu fishing in Japan is for smaller fish in placid streams, and you really don't need a lot of backbone to land 6" fish where there's little current. The GMR Special is, well, special. 

Because of its relatively soft tip it has all the sensitivity you would want and expect in a seiryu rod. Below that soft tip, though, is a surprisingly beefy rod. It not only managed the 17 incher pictured above, it controlled it. The fish started to head downstream, and the rod stopped it - easily. I don't chase fish down a river. I'd much rather break a tippet (or a rod) than a leg. With the GMR Special, I didn't even think about running. The fish got turned.

The soft tip allows the rod to cast a light line well. Each time I have fished the rod, I fished a size 3 line and have felt no need to go to a 3.5 or 4. The rod could certainly handle the heavier lines, but I prefer lighter lines because they are easier to hold off the water's surface. I think the rod would do quite well with a 3.5, though.
The soft tip also gives you a rod that's fun with smaller fish. I wouldn't say it was my favorite rod to go after 5" wild brookies, but when you might catch anything from 8" to 18" - or even a bit more, it's not a bad choice. This is not a rod that is limited to small fish in placid streams.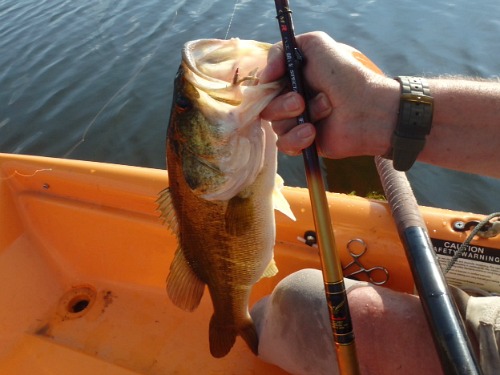 Peter L's largemouth bass.

The rod is beefy enough to handle bass up to a couple pounds with no problem. For bigger fish, the limiting factor is going to be the tippet. Even though the rod handled 17" trout and 16-17" bass with absolutely no problem I would not use tippet stronger than 6X, and would again urge anglers to refrain from aggressive hook sets or trying to free a snag by whipping the rod.
There are only two things I can think of that people might find as faults with this rod. One tenkara angler told me (speaking of a different rod) that he did not like a relatively stiff rod with a relatively soft tip. He said it just didn't "feel" right. The first time I fished with the rod I didn't even notice it. (A once a year fish will do that to you.) The second time I did notice it - although I'd have to say it didn't bother me.
A  second angler told me he wouldn't like the relatively long collapsed length of 27 5/8".  That is 1 1/4" longer than a collapsed Ito, but about 1 1/4" less than a collapsed Shimano 34-38 ZL and almost 7 3/4" less than a Shimano ZE. The rod is long enough that it will not fit in the Medium Rod Case, but it will fit in the Long Rod Case.

Well, there might be three things. The rod is not an inexpensive rod at $260. Someone who thinks you can buy a top quality rod for $160 or 170 is not going to like the price (but then again, he'll never experience a top quality rod, either). Part of what you get for more money is lighter weight. The Suntech GMR Special II 36NP weighs just 1.6 ounces without the Fuji rod cap. A 1.6 ounce seiryu rod is nothing special. A 1.6 ounce seiryu rod than can easily tame 17" browns and bass is.
Peter L's crappies. "What fun!"

Suntech GMR Special II 36NP Features
The Suntech GMR Special II 36NP is a little different than last year's model. Last year, the rod came with two different tips, one made it a 360cm 18 penny rod and the other made it a 350cm 23 penny rod. The rod now has only the 360 tip. It is still an 18 penny rod, which makes it the second stiffest seiryu rod I've measured, behind only the Gamakatsu Ryokei. (It also has a slightly different paint job, as you can see in Peter L's photographs.)

That's just not too bad for a 1.6 ounce rod (more than a full ounce less than the Iwana). You will definitely notice the light weight. You'll also notice how much better the rod transmits the feel of the slightest "tick" of a fish hitting your fly or your fly hitting a rock. (A tenkara angler recently sent me a comment about a premium Japanese tenkara rod. He said he loved the rod, but he kind of wished it didn't have that cork grip.) You really might get spoiled by the feel you get with the Suntech grips.

One feature of the Suntech GMR Special that I really like is that the blank above the grip section is painted a matte gray so you don't have nearly the rod flash you do with almost all other rods. The gold accents look very nice with the dark matte gray blank.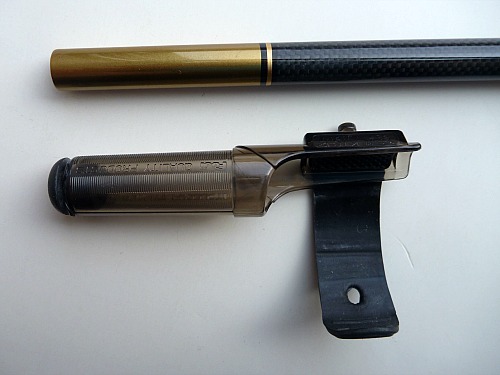 The rod comes with a Fuji rod cap, which really shouldn't be called "universal" because they come in different sizes, and very definitely, one size does not fit all. This cap is the Fuji KTC-12, which also fits the Suntech Field Master 39 and GM Suikei Keiryu Special 39.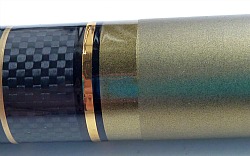 The grip on the GMR Special II has a smooth coating. It isn't at all rough and isn't at all soft, but is effectively non-skid.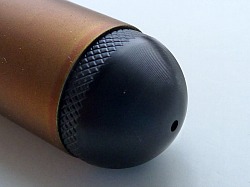 The grip screw cap is a plastic, knurled, half sphere with a ventilation hole. If you hold the rod at the butt to get every inch of reach, you'll like the rounded cap. 

On balance, I'd have to say this really is a special rod. It is light for a 12 footer, and incredibly light for a 12 footer than can handle 17+" fish. The soft tip will cast a light line and register every head shake from a 6" brookie. The firm midsection and butt will control a brown three times that long. It is a rod that blurs boundaries and bridges gaps.
If you've ever wished the first 12' tenkara rod you got was a lot lighter and had a more sensitive tip but could still handle the unexpected big fish, maybe it's time to upgrade.

Suntech GMR Special II 36NP
Length extended - 11'8"
Length collapsed - 27 9/16"
Weight with tip cap - 1.9 oz
          without tip cap - 1.6 oz
Sections - 7
Pennies -  18
Suntech GMR Special 36NP - $260
---
Payment
Payment is through PayPal but you don't need to have a PayPal account. You can use your credit card.
Domestic Shipping

Domestic shipping is $10 via priority mail 2-3 day delivery.
International Shipping

International shipping is by priority or express mail only (the package is too long to go via International First Class). Please request a quote before ordering.
---
TenkaraBum Home > Tenkara Rods > Suntech GMR Special


Walk softly and carry a long stick. - Teddy Roosevelt (almost)

"The bitterness of poor quality remains long after the sweetness of low price is forgotten" – Benjamin Franklin
---
Warning:
The hooks are sharp.
The coffee's hot.
The fish are slippery when wet.

---