Suntech Aoi ZPRO
The Suntech Aoi ZPRO is the rod I initially called the Blue ZPRO. Although Aoi is Japanese for "blue" it is also the name of the leaf that is used in the familiar three-leaf crest of the Tokugawa Shogunate. The character used to write Aoi on the case and on the rod makes it clear that it means the leaf, not the color. To name the rod for a leaf associated with the Shogun is indirect, to be sure, but it would be presumptuous for Suntech to come right out and say this rod is fit for the Shogun, or is the Shogun of rods.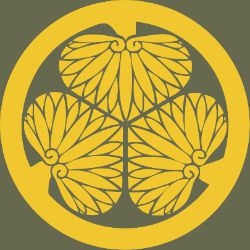 My wife said it would be cheesy for me to call the rod the Shogun ZPRO, and suggested I just call it the Aoi ZPRO. I resisted, and called the rod the Blue ZPRO because I just knew American anglers would not give it the proper "ah-oh-ee" three-syllable pronunciation. It would end up being pronounced "oy," which absolutely gives the wrong impression of the rod (and verges on the disrespectful).

This is a rod that deserves respect.
However, I think to give the rod the proper respect, I probably should call it by its rightful name. Besides, Suntech has introduced the FMX Keiryu ZPRO, so to avoid confusion, I suspect I should use the correct names.

In several trip reports I have written about how much I liked the Suikei ZPRO 54 and Suikei ZPRO 64, which were extremely light, superbly sensitive rods rated for 8X tippets or lighter (rods I initially just called ZPRO). I rarely catch big fish, and 8X is fine for most of my fishing. For a lot of tenkara anglers, though, 8X just isn't enough. In any event, the Suikei ZPRO has been discontinued.
The Suntech Aoi ZPRO is just as light, just as sensitive and is rated for 6X tippets. For most of the fish that most people actually catch, 6X will be fine - especially with a rod that protects tippets as well as this one does.

I took an Aoi ZPRO 63 with me on my vacation to Maine for some smallmouth bass fishing. With the first cast I was a bit surprised at the difference between the Aoi ZPRO 63 and the original Suikei ZPRO 64. The Aoi's got muscle! The rod isn't stiff by any means, but the midsection of the rod is noticeably stiffer than the Suikei ZPRO rods. The Aoi ZPRO has much more capability to tame a smallmouth or steer a rainbow out of the current and into the quiet water.

The Suntech Aoi ZPRO comes in 53, 58, 63 and 68 lengths. The first Aoi ZPRO I ordered was the 63. A customer then ordered the 58 and asked me to compare the two. I took both rods to the park alongside the Hudson River for some lawn casting. The 63 was a known quantity, as I had fished it in Maine and also a couple times since I've been back.

The 58 was a surprise, though. It is 18.5" shorter and .4 ounce lighter. That doesn't seem like much but it was just enough that the rod felt a lot lighter and had a lot less inertia when casting. I loved it. That night I ordered one for myself and another one for my customer (he had purchased the first as a gift for a friend). He then ordered a couple of the 53s, one for himself and one for his friend (and again asked me to compare the rods). The Aoi ZPRO 58 feels quite a bit like the Kurenai Long 61, which I like a lot, with the added advantages of shorter collapsed length and lower price (offset to some extent by the 6X tippet limitation compared to 4X for the Kurenai Long.)
The 53 is even lighter (which of course is what you would expect, after all, it is shorter) but it is much lighter when casting. Since I always fish with a wading staff, I could see myself fishing the 53 one handed most of the time.
It is an almost unbelievably light two handed rod, though. Anyone who has wanted a longer rod but has refrained from purchasing one because of joint problems or concerns about tip heaviness should definitely consider the Suntech Aoi ZPRO 53 and should plan on fishing it as a two handed rod.
When I had first taken the 58 and 63 out lawn casting, I was using a size 3 line. When I took the 53, 58 and 63 out the second time, I used the new Nissin size 2.5 level line. I am continually surprised at how well the long keiryu rods cast light tenkara lines. You really would think the rods were designed for them. I still like the extremely light keiryu lines for fishing weighted nymphs, but for unweighted wets or for dries, a size 2.5 Nissin line and a long rod will give you the best drifts you're ever gotten.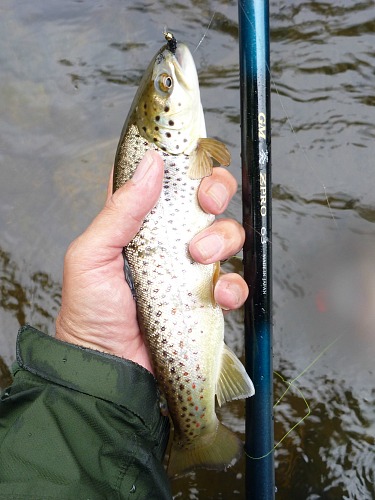 Despite their light weight they are surprisingly capable rods. Fishing with a tungsten bead head black Killer Bugger, I caught several 10-12" fish in moderate current and the rod was not even close to being maxed out.

On my next trip out with the Suntech Aoi ZPRO 63, I caught a 16 incher and the rod also had no trouble subduing the fish. And that is the difference between the Aoi ZPRO and the original Suikei ZPRO. I probably couldn't have stopped that fish with 8X tippet, which is the maximum that was recommended for the Suikei ZPRO. With the Aoi ZPRO and 6X, I was able to maneuver the fish into quieter water before he even tried heading downstream.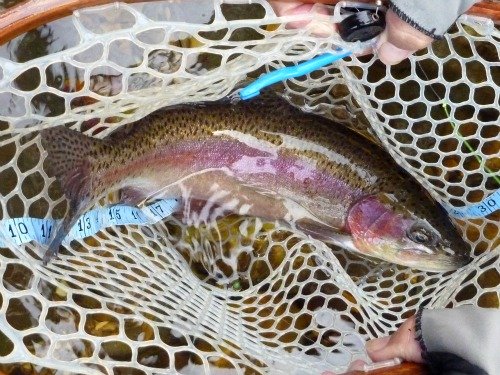 If you are looking for a rod that is both long and light, and can handle good size fish, the Suntech Aoi ZPRO 68 may be just what you are looking for. The 19.5" rainbow above did not take very long at all to get into the net.

Suntech Aoi ZPRO Features

As with other keiryu rods, the grip  is a widened out section of the blank with a very effective nonskid finish. The grip screw cap is plastic, knurled for easy removal or tightening, and has a hole for ventilation. The rods have Fuji rod caps, KTC-16 for the two shorter rods and KTC-20 for the two longer rods. All have micro swivels to attach the lillian.


Length extended
Length collapsed
Weight (with cap)
Weight (without cap)
Sections
Tip Diameter
Grip Diameter
Recommended Tippet

ZPRO 53
17'3"
23.5"
3.3oz
2.8oz
11
.7mm
20.6mm
10X-6X

ZPRO 58
19'0"
23.5"
3.8oz
3.3oz
12
.7mm
21.5mm
10X-6X
ZPRO 63
20'7"
23.5"
4.4oz
3.9oz
13
.7mm
21.6mm
10X-6X
ZPRO 68
22'3"
23.5"
5.1oz
4.5oz
14
.7mm
22.8mm
10X-6X
At first glance, you might think a 22' rod is way too long to even consider. However, when fishing on a stream that is wide enough, where there are no overhead tree limbs to get in the way of a long rod, the 6.8m Suntech Aoi ZPRO will give you more reach and better drifts than you have ever gotten before. The 7m rods that Craig Thoreson and I fished with at the Midwest Tenkara Fest were just way too effective and way too much fun to dismiss. If at all possible, go long.

Aoi ZPRO 53
$290
Aoi ZPRO 58
$310
Aoi ZPRO 63
$330
Aoi ZPRO 68 available by special order
---
---
Shipping
A shipping charge of $10 will be added to all orders.
If you live outside the US, you must add more postage!

---
Where do you live?


Add this amount for shipping


---

USA


---

No additional postage required.
(Total charge $10)

---

Canada or Mexico


---

Additional $6 postage required. (Total Charge $16)

---

Other Countries


---

Additional $13 postage required. (Total Charge $23)
---
Payment
Payment is processed by PayPal but you don't need to have a PayPal account. You can use your credit card.
---
TenkaraBum Home > Tenkara Rods > Suntech Blue ZPRO



Walk softly and carry a long stick. - Teddy Roosevelt (almost)

"The bitterness of poor quality remains long after the sweetness of low price is forgotten" – Benjamin Franklin
---
Warning:
The hooks are sharp.
The coffee's hot.
The fish are slippery when wet.

---