Split Shot
Split shot is as central to keiryu fishing as line is to tenkara anglers. In tenkara fishing, anglers cast the weight of the line and the nearly weightless fly goes along for the ride. In keiryu fishing, anglers cast the weight of the split shot (and to a lesser extent, the weight of the bait) and the nearly weightless line goes along for the ride. The weight also takes the bait down to drift along the bottom, where larger fish are more likely to feed.

In the US, I suspect that many anglers will fish with flies rather than bait, but if they want to use the light lines that are used in keiryu fishing, they will have to use weighted flies or split shot. For that matter, even anglers who fish with a tenkara rod and line or a fly rod and line, if they want to get the fly down near the bottom reliably, they'll have to use weight (not all pools are plunge pools). If you tie your own flies, it is easy to add weight. If you don't you may have to rely on split shot.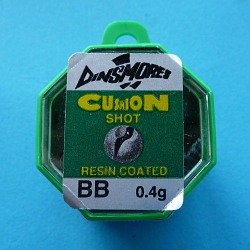 Although you will probably want to match the amount of weight used to both current and depth, one BB shot is a good place to start. It will provide sufficient weight to cast the light line used in keiryu fishing.
Dinsmores BB Shot - $7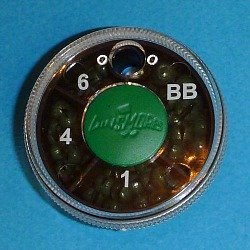 The Dinsmores Split Shot Four Pack contains four different sizes of shot so you can match the weight to the current and depth. Each pack has environmentally-friendly lead-free shot in  6, 4, 1, BB sizes.

The four sizes will cover you for everything beyond micro fishing (for which I use a #10 shot). When using a light keiryu line, size 6 is about right for shallow streams, up to BB for deep water. For very heavy current, two BB shot will get the hook down to the strike zone before the drift is over.

Dinsmores Shot Four Pack - $9.00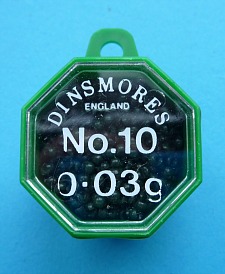 Dinsmores #10 shot is ideal for micro fishing, where you want a little weight to get the bait down, but you don't need much. I've also found that a single #10 shot may be enough when fishing with an Overhand Worm in a shallow stream. If fishing with a real worm and a tenkara or seiryu rod, as I wrote about in Ultralight Worm Fishing, a couple #10 shot, maybe 6" and 10" above the hook may be sufficient to get your worm down in knee deep water, and still let it drift quite naturally.
Dinsmores #10 shot - $7.00

---
Shipping
A shipping charge of $4 will be added to all orders.
If you live outside the US, you must add more postage!

---
Where do you live?


---

USA


Add this amount for shipping.


---

No additional postage required.
(Total charge $4)

---

Canada or Mexico


---

Additional $6 postage required. (Total charge $10)

---

Other Country


---

Additional $10 postage required. (Total charge $14)
---
Payment
Payment is processed by PayPal but you don't need to have a PayPal account. You can use your credit card.
---
TenkaraBum Home > Keiryu Accessories > Split Shot


Walk softly and carry a long stick. - Teddy Roosevelt (almost)

Tenkara has no strict rules. Enjoy tenkara in your own way.
- Eiji Yamakawa
"The bitterness of poor quality remains long after the sweetness of low price is forgotten" – Benjamin Franklin