Small Stream Tenkara
Starter Kit
The Small Stream Tenkara Starter Kit has what you need for tenkara fishing in small streams. You don't need much, but for small brushy or overgrown streams you really do need a short rod.
It has been quite a while now since I wrote Rethinking Rod Choice - Many. Some things haven't changed - a short rod really does make a lot of sense if you want to fish small streams; and some things have changed - the outfit that once insisted tenkara rods were 11' or longer now sells a 9' rod.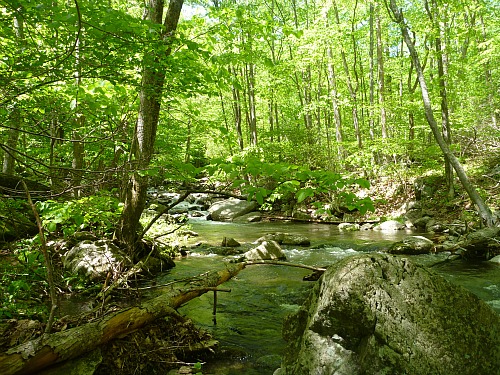 I was reminded of the value of short rods when Dave Hughes sent me a copy of his latest book, Trout from Small Streams, second edition. He included a chapter on tenkara, and in it wrote some very interesting things about what he calls "downsized tenkara" - tenkara fishing with downsized rods for really small streams.

Two of his favorite rods for small, brushy streams are a Soyokaze 27 and a Kiyotaki 24, both well known to TenkaraBum readers and customers. The Kiyotaki is a pretty stiff rod for it's length and the Soyokaze was discontinued by Daiwa years ago. Last year, I introduced the Nissin Fine Mode Kosansui 270 as the best replacement I'd found for the Soyokaze 27 and built the Small Stream Tenkara Starter Kit around it.

I still wasn't satisfied, though, and wanted a rod that was a bit softer, had a more progressive bend profile and could cast a lighter line with ease. Not all fish from small streams are 7" eastern Brookies, though, so it had to have enough firmness in the mid and butt sections to handle fish that were 12" or a bit bigger.
Finally, I went to Suntech with a proposal for a 9' rod and they have once again exceeded my expectations. The Suntech Keiryu Special 27 weighs just one ounce and casts a size 2.5 line beautifully. It has a very nice progressive bend, with the tip sections being soft enough to cast the light line and make fighting a 6-7" fish fun, and with enough firmness in the middle and butt sections to handle fish twice that size.

In addition to the rod, the Small Stream Tenkara Starter Kit comes with a spool of size 2.5 Nissin Oni Line. That is quite a bit lighter than the size 3.5 line I packaged with the kit when it had the Kosansui 270. For small streams, particularly when the  water is low and clear, you want the lightest line you can get away with. (Actually, you always want the lightest line you can get away with, but particularly when the fish are going to be especially wary.) If your rod will cast a size 2.5 line, and the Suntech Keiryu Special 27 does, use it!

The Small Stream Tenkara Starter Kit also comes with a pair of the round tenkara line holders. I think you might want to have two lines - either a shorter one for very small streams and a longer one for slightly larger streams, or a second slightly heavier line if you are fishing in a bit of a breeze or if you are using a wind resistant dry fly. Keeping two lines is easy with the pair of line holders.

Small Stream Tenkara Kit - $200
---
Shipping
A shipping charge of $10 will be added to all orders.
If you live outside the US, you must add more postage!

---
Where do you live?


Add this amount for shipping


---

USA


---

No additional postage required.
(Total charge $10)

---

Canada or Mexico


---

Additional $6 postage required. (Total Charge $16)

---

Other Countries


---

Additional $13 postage required. (Total Charge $23)
---
Payment
Payment is processed by PayPal but you don't need to have a PayPal account. You can use your credit card.
---
---
| | |
| --- | --- |
| | Dr. Spring Creek Clamp - $14 |
| | Magnetic Gear Release - $9 |
| | Dr. Slick Angled Nippers - $10.00 |
Tippet
If you don't already have tippet (or if you need more) I can highly recommend the Varivas Super Tippet Master Spec. It is premium tippet, made in Japan, and comes on 50 meter spools. For the Nissin rod (as well as most tenkara rods) I would recommend 5X.

Varivas Super Tippet - $14


---

Walk softly and carry a long stick. - Teddy Roosevelt (almost)

"The bitterness of poor quality remains long after the sweetness of low price is forgotten" – Benjamin Franklin
---
Warning:
The hooks are sharp.
The coffee's hot.
The fish are slippery when wet.

---