Shimotsuke Tenkara Starter Kit
The Shimotsuke Tenkara Starter Kit is sold out. I would recommend the Nissin Tenkara Starter Kit in its place.

---
The Shimotsuke Tenkara Starter Kits contain a very nice "all around" rod, a spool of Hi-Vis fluorocarbon level tenkara line and a pair of line holders.  I had initially packaged tippet and flies with the kits for the benefit of people who are new to fly fishing, but it turns out that most people who bought the kits already had tippet and already had flies.
For people who are completely new to any type of fly fishing, tippet and flies are still available on TenkaraBum.com, along with streamside tools and other accessories (like a net) which you will probably want.
The revised kit still has everything you need to go from fly fishing to tenkara fishing. You need a rod, you need a line and you will need a line holder. I put two line holders in the kit because you are probably going to want to fish with lines of different lengths.

People had asked me for tenkara starter kits for quite some time. I hadn't put one together before for two reasons: different people wanted different things in the kit and I hadn't found the right rod. I had found some really nice rods and their buyers really like them (even beginners) but none were quite what I was looking for to build a starter kit around.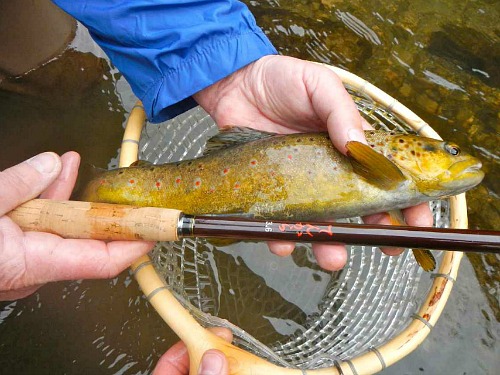 Photo copyright Tenkara Guides. Used with permission.
Eureka! I finally found them. The rods I chose are made by Shimotsuke, the company that makes the rod that noted tenkara master Katsutoshi Amano uses. Shimotsuke also makes the Kiyotaki rods I have been selling in the Kids Tenkara Kit and for micro fishing. The rods have gotten great reviews for being such inexpensive rods.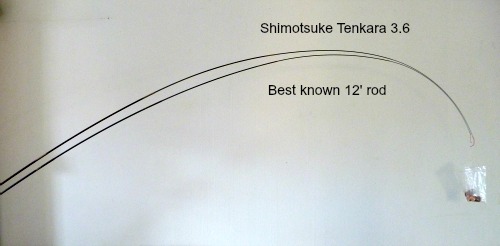 The rod is the Shimotsuke Tenkara 3.6 (3.6 meters), which is 11' 8" long, about the standard length for a tenkara rod in Japan, and they have an action that can only be described as "all around." You'll be able to fish sakasa kebari, Killer Bugs, dry flies, small beadhead nymphs, small streamers, woolly buggers and even panfish poppers. I have no doubt that the rod will handle 8" fish and 18" fish equally well. And don't think its just for trout. The rod is fun with bluegills and can handle modest bass with no problem.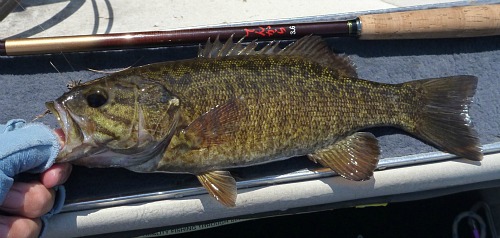 I think these are the ideal rods for someone just starting out - particularly someone who doesn't want to jump in with both feet and spend a lot of money on a fishing style that he or she hasn't tried yet. Plus, for people who can become overwhelmed trying to choose from all the different rods that are now available, I've made it very simple. The kits only come with one rod.

The Shimotsuke Tenkara 3.6 has a nicely shaped cork grip. The grip screw cap is both knurled and slotted for a coin, and has a hole for ventilation. The rod finish is a clear coat over an attractive reddish brown blank, with gold painted accents at the section ends.
In addition to the rod, each kit will include a spool of size 4 Yamatoyo Hi-Vis level tenkara line. The line is fluorescent chartreuse fluorocarbon and is really quite visible.

Every tenkara angler needs line holders for storing the line - either when walking through the woods or at home between trips. I've chosen the small tenkara line holders over the Fuji EZ Keepers because I think you may want to have lines of different lengths for different width streams. The small tenkara line holders will store a line off the rod but the EZ Keepers won't. Two line holders are included in the Tenkara Starter Kits so you can easily store two different lines.
That's the basic Shimotsuke Tenkara Starter Kit - what a fly fisherman needs to take up tenkara: a rod, a line, and a couple line holders. If you also need flies and tippet, they are available with the click of your mouse.
Shimotsuke Tenkara 3.6
Length extended - 11'8"
Length collapsed - 20.5"
Weight - 3.1 ounces

Rod made in China.
---
Rod Case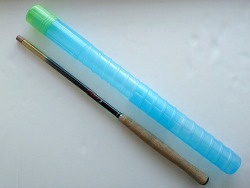 No Japanese tenkara rods that I know of come with a hard case. I found these cases on a Japanese website and liked them enough to start importing them. They are light weight and inexpensive.
Medium Rod Case - $10
---
Tenkara Flies

Unlike most of the tenkara flies you can buy over the internet, the tenkara flies offered on TenkaraBum.com were not tied in Kenya. They were tied right here in the U S of A. The flies are $7.50 for three flies and are available in several patterns (not all patterns will be in stock all the time).
---
Tippet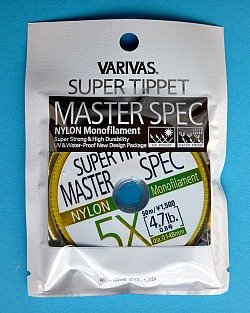 Varivas and Maxima give you a choice of a premium tippet material from Japan and an inexpensive alternative.
---
Streamside Tools

If the Shimotsuke Starter Kit will be your first exposure to fly fishing, you will also need some tools, a pair of nippers and hemostats at minimum.

---
Payment

Payment is through PayPal but you don't need to have a PayPal account. You can use your credit card.
Domestic Shipping

Shipping to the US is via USPS Priority Mail (2-3 day delivery). The shipping charge is $10, which will be added to your order automatically.
International Shipping

International shipping requires additional postage, which is not added to your order automatically. The additional charge is $6 to Canada or $13 to other countries. Please click on the button below to add the international shipping charge. If you do not add the shipping when you place your order it will delay the order and will cost more. International shipping is via USPS International First Class mail. Delivery time depends on destination and ranges from two weeks to over a month.
---
TenkaraBum Home > Tenkara Starter Kits > Shimotsuke Tenkara Starter Kit


Walk softly and carry a long stick. - Teddy Roosevelt (almost)

Tenkara has no strict rules. Enjoy tenkara in your own way.
- Eiji Yamakawa
"The bitterness of poor quality remains long after the sweetness of low price is forgotten" – Benjamin Franklin
---
Warning:
The hooks are sharp.
The coffee's hot.
The fish are slippery when wet.

---