Shimotsuke Kosasa
The Shimotsuke Kosasa is an inexpensive fiberglass kid's rod or micro fishing rod. I had purchased three of them over a year ago to evaluate for micro fishing rods (one each of their 150, 180 and 210cm lengths). At the time, I decided not to carry them but I have reconsidered.
Not long ago, Jason Klass published a post on his TenkaraTalk blog wondering why there was so little innovation from the various tenkara rod companies that seem to be popping up like mushrooms after a summer rain. He said the market is being flooded with rods that look the same and cast the same.
He invited comments, and one that I felt stood out was from a British angler who asked for a £20 rod. "The cheapest rod on the market" that gets more people fishing. He felt it would attract many more anglers to tenkara. Well, £20 was about equal to $30-35 at the time. That reminded me of the Shimotsuke Kosasa.
The Kosasa is a rod I can offer for $35. It is a quirky little rod, though.
Start with the fact that it is fiberglass rather than graphite. That makes it a bit heavier than a graphite rod of the same length. It also makes it a bit softer and much slower than a graphite rod. Then there are the graphics. It says right on the rod it is a "HIGH QUALLITY GLASS ROD" but it misspells quality. There is also the bold "Guts" logo in the middle of the grip. Gear junkies will roll their eyes but kids will love it.
Before I started offering the 210, there were five people I know of in the US who had a Shimotsuke Kosasa. One was Tom Davis of Teton Tenkara. He had a 270. He hated it. This past summer, one of my customers told me he wanted a very inexpensive microfishing rod for his grandkids. I sold him the Kosasa 180 I'd gotten last year. He liked it so well he almost immediately bought the 150 (I kept the 210 for myself). Another customer had gotten some Kosasa 240 and 270 rods from his son, who works as a translator in Japan. He loved the 240, kept one for himself, and sold three of the rods on eBay (of which one went to Tom). He said he hadn't heard any complaints from the other two buyers. So there you have it. I suspect this is a rod that either you will love or you will hate.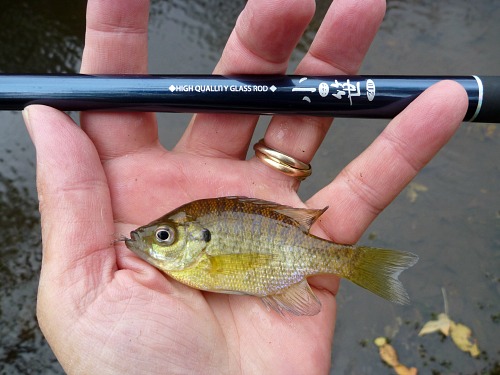 I think kids will love the Kosasa 210. I think micro fishermen will love it (it weighs so much less than the 12' crappie poles some sites recommend and is much more convenient to throw in a day pack). For anglers who target smaller fish, it is soft enough that "a two inch bluegill seems like a whale" as the guy who bought two of them told me.
I know some guys will buy it for tenkara fishing in very tight streams. If they expect the light, crisp action of a small graphite rod they'll hate it. If they prefer the slow action of a glass rod (which, after all, is what the Shimotsuke Kosasa is) they may love it. As Dan H said, slow down the cast. You still need a little wrist flick at the end to load the rod tip, and I would use 3.5 line, but it's just not too bad for a $35 rod!

I think parents and grandparents who are looking for a very inexpensive way to introduce their kids or grandkids to fishing will love it. As the guy who got some from his son in Japan told me "It is not a toy."
I just price it like one.

Shimotsoke Kosasa Features

The Shimotsuke Kosasa reminds me of the Daiwa Soyokaze. It is glass rather than graphite, and thus is a bit heavier and has a much slower action, but the rod's construction and overall simplicity are very similar.
Because it is glass rather than graphite, it will be harder to break. Please be aware that replacement parts may not be available, though.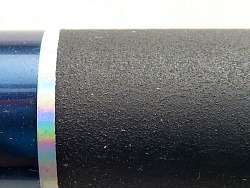 The grip is essentially a rough finish on the blank itself. It is really a very effective non-skid surface and is not too small to grip comfortably. (For kids, it's not too large, either).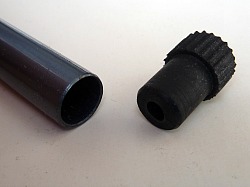 The tip plug is very much like that of the Daiwa Soyokaze. It is rubber, aggressively knurled, and once inserted it will not fall out by itself. (Please be aware the tip plug could be a choking hazard for young children.)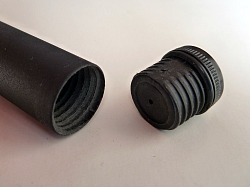 The grip plug is plastic, comes with a rubber O ring for a secure closure, and has a ventilation hole. As with other rods, I would recommend taking the rod apart between uses so that it can dry thoroughly.
Shimotsuke Kosasa 210
Length extended: 6' 11"
Length collapsed: 16 3/4"
Sections: 7
Weight: 2.0 oz
Pennies: 25

When I measured the Kosasa 210 and came up with 25 pennies, I was very surprised. The rod has a fairly soft tip and the small bluegills pictured above put a good bend in the rod. It is not a rod that has an extremely soft tip and then stiffens up rapidly. It has a very smooth parabolic action and just gets progressively stiffer. I have not yet caught any big fish with the rod, but a rating of 25 pennies suggests the rod could handle some surprisingly large fish. The guys who go microfishing and end up catching largemouth bass may really love that.
Kids who are catching their first fish should love it, too!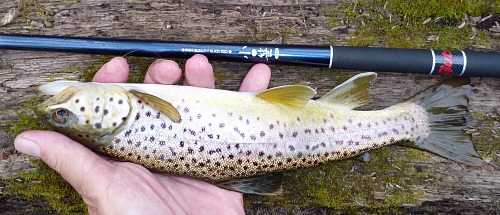 This 11 1/2" brown did not come close to maxing out the rod.

Rods made in China.

Shimotsuke Kosasa 210 - $35
Out of stock
---
Payment
Payment is through PayPal but you don't need to have a PayPal account. You can use your credit card.
Shipping
Domestic shipping is $6 via priority mail (2-3 day delivery). If you live in the US do not click on the button below.

International shipping is via first class mail and requires an additional $6 to Canada or $11 to other countries. If you do not live in the US, please click on the appropriate button below.

---
TenkaraBum Home > Tenkara Rods > Shimotsuke Kosasa


"The bitterness of poor quality remains long after the sweetness of low price is forgotten" – Benjamin Franklin
"Study to be quiet." - Izaak Walton 1653

"Be sure in casting, that your fly fall first into the water, for if the line fall first, it scares or frightens the fish..." Col. Robert Venables 1662

---
Warning:
The hooks are sharp.
The coffee's hot.
The fish are slippery when wet.
Beware of the Dogma

---