Second Time Fly Fishing
by Kevin Fricke
(Denver, CO)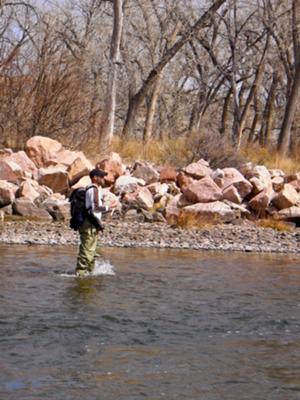 So my buddy, my brother and myself went down to the Arkansas river in Pueblo, CO for my second time fishing on a breezy day. My first day of fly fishing was all nymphing with eggs and worms, which worked for my first fish ever, so this time I wanted to dry fly fish. The day went pretty much like the first, a couple of hours of nothing biting and me mostly practicing my casting. So just like the first day I sit down to take a break, eat some food, and have a smoke and then get back to it. Sure enough a couple of casts later, FISH ON! and landed a nice 13" trout! I have found my system!(Maybe I need to take more breaks?) Love the simplicity of the tenkara system and can't wait to try it in the mountains this summer.
Walk softly and carry a long stick. - Teddy Roosevelt (almost)

"The bitterness of poor quality remains long after the sweetness of low price is forgotten" – Benjamin Franklin
---
Warning:
The hooks are sharp.
The coffee's hot.
The fish are slippery when wet.

---