Sakura Kongo Rods
BIAS ALERT! The Sakura Kongo rods I recently tested are short, stiff rods. I am not a fan of short, stiff rods.
In fact, after fishing with them for a day I am even less a fan of short, stiff rods. Or perhaps, to be more precise, after having fished with a long, soft rod for several weekends before, and then fishing with a couple short stiff rods, I'm less of a fan.
However, and I should be very clear about this, just because they weren't for me doesn't necessarly mean they won't be for you. And now that BackpackingLight has discontinued it's short, stiff Hane tenkara rod, the Sakura Kongo rods might develop a following. Like the Hane, they collapse to a very short 14-15" and will fit entirely inside even a modest backpack. If you hike in to very tight, brushy headwaters streams, and the extra few inches of a collapsed Iwana is a few inches too long, they might be just the rods for you.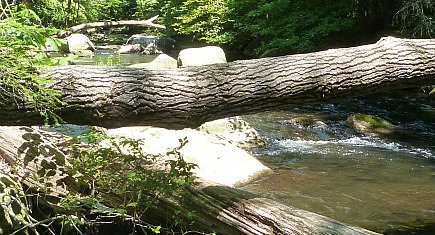 Kongo River?
And to be fair, even though the rods I fished with were short, at 3.0m and 3.3m, Sakura does make the Kongo in 3.6m and 3.9m lengths, although all are still 7:3 rods. Since I liked the 3.3m rod better than the 3.0m, the 3.6m and 3.9m rods might be worth a look. I have fished longer 7:3 rods (the 12' Tenkara USA Yamame and the 13' Fountainhead Stone Fly) that I liked better than these shorties, so I suspect it is the combination of short as well as stiff that doesn't appeal to me.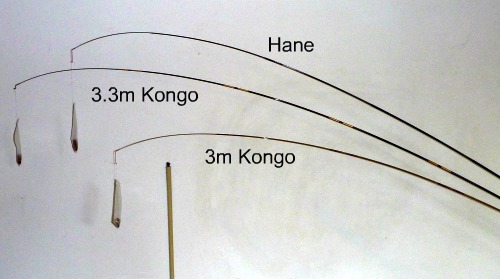 My standard 10 penny (25g) weight did not put much bend in the rods.

Part of the reason I am not a fan of short, stiff rods is not so much the rod, but the line one has to fish with them. While fishing with the rods, I also fished with Sakura's Masterline level and tapered lines. Both lines cast beautifully, with no more than a flick of the wrist required to generate tight loops and perfect turnover.
However, there is a cloud surrounding that silver lining. Lines that cast that easily fish poorly. At least, if your goal is to keep the line off the water's surface they do. Both the lines, in order to have sufficient mass to load the short, stiff rod and create tight loops with the relatively low line speed a short rod generates, have sufficient mass to drop immediately to the water's surface as soon as you complete the cast. They are like fishing with a fly line rather than what I think of as a tenkara line. Then again, if you are fishing in the tiny pockets of a tight stream, where pinpoint accuracy is more important than drag free drifts, they may do just fine for you.
As the day wore on, I ended up going back to a plain size 4 level line, and then to a size 3, which is what I usually fish with. You can cast it with these rods, but you need to make very quick, very snappy casts to do so. You will get much better drifts with the lighter line, but in the end I'm not sure it is worth it. If you normally fish a heavier line than I do, particularly a furled line, the relative stiffness of the rods might not be a problem for you, and I have read a review by a blogger who liked the Kongo quite a lot.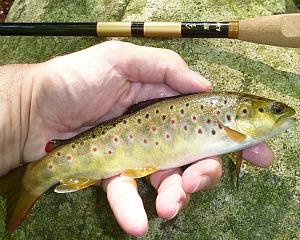 If you are a fan of stiffer rods (and pretty rods) you might really like the Sakura Kongo rods. They appear to be very well made. The "fit and finish" is excellent. The paint job is very, very nice.
There are two models of the Kongo. The basic model is painted a glossy black with red-trimmed gold stripes at the end of each section and truly reminds me of Japanese laquerware.

The other model is the Betuatsurae (very roughly translated as "special") model, which is painted to look like either a wooden or a bamboo rod. The photo to the right does not do it justice so I've included a close-up below. It is not just painted brown, it is painted with minute striations that look like the ridges or veins or longitudinal fibers in some plant stems.



Both of the Sakura Kongo rods are at the opposite end of the spectrum from Fountainhead's minimalist matte black with just a modest logo. Make no mistake, they are fancy rods. On several of my other tenkara rod reviews I have written that you get what you pay for. The cosmetics may or may not be important to you, but they do add to the price of the rods. Although prices will vary with the yen-dollar exchange rate, the Tenkara-Fisher.com website listed prices for the basic Kongo model ranging from $277 for the 3.0m rod up to $331 for the 3.9m rod at this writing. Prices for the Betuatsurae model ranged from $310 through $348.
I have to say a few words about the grips. The Sakura Kongo rods have flat spots cut into the round cork that I suppose are intended to give you a better grip. At least, they probably do if the cut-outs fit your hand or your preferred grip. They didn't fit mine. By the end of the day, not only did I long for a longer rod, I really wanted a plain round grip. Here again, though, if the flat spots fit your hand, you might really love the grip.
If you think my Bias Alert! at the beginning of the review was maybe not about short stiff rods, but really about Sakura rods in general, nothing could be further from the truth. I liked the Sakura Seki Rei quite a lot. Like the Kongo rods, it is fancy and it is expensive, but it is a nice rod that I enjoyed fishing with. In retrospect, I spent much too much time fishing the Kongo rods and not nearly enough with the Seki Rei. I'll review it, too, before long.
The Sakura Kongo Rods, Masterline level and tapered lines and the Sakura Seki Rei are available in the US through tenkara-fisher.com and I want to thank Adam Trahan for lending me the rods and the lines to review.
As with my other reviews, if you have questions or comments, please go to the contact us page.

Return from Sakura Kongo Rods to Tenkara Rods

Return from Sakura Kongo Rods to TenkaraBum Home