Daiwa Sagiri 39MC
The Shorter Zoom Rod
The Daiwa Sagiri 39MC is a rod that I know many people have been waiting for. It is a zoom rod that can be fished at an 11'5" length or a 13' length.
Ever since Dr. Ishigaki gave his first US demonstration with a tenkara rod that zooms from 13 ft to 14.5 ft, people here have wanted a rod like that. For some time, American tenkara anglers have been able to buy such a rod - one that zooms from 13 ft to 14.5 ft. Of course, it didn't take long before people thought "Wouldn't it be nice if there was a zoom rod that went from 13' to a shorter length rather than to a longer length?"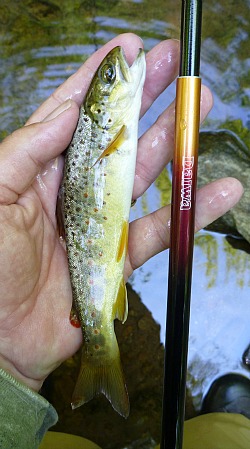 I used to say that the ideal rod combination was a 13' Ayu and an 11' Iwana. (That was before found rods that were much nicer than either the Ayu or the Iwana). Although there are places where you'd want a longer rod and there are places where you'd want a shorter rod, those two rods and those two lengths will pretty much take care of most tenkara fishing (especially here in the East).
Now, by "most tenkara fishing" I am specifically excluding fishing for 7 lb New Zealand brown trout. You can certainly do that, but I certainly would not recommend it with either an Ayu or an 11' Iwana (or for that matter any other rod designed for small wild fish in small wild streams, which is pretty much what I think of when I think of tenkara).
The Daiwa Sagiri 39MC is an amazing rod. Not only is it a zoom rod that gives you the option to fish at two ideal lengths, it is an incredibly light rod.
Ultralight Tenkara
At just 2.0 ounces, the Daiwa Sagiri 39MC introduces a whole new concept: ultralight tenkara. I am sure that most people already think of tenkara as ultralight (in fact the first English language book on tenkara says so right on the cover). However, anyone who believes that hasn't fished with this rod. There is a huge difference between a 13' rod that weighs 3.6 ounces, like the Ayu or Stone Fly 390, and a 13' rod that weighs 2.0 ounces. You'll feel it when you pick it up. You'll marvel at it when you cast. At the end of the day, your wrist will thank you.

The Daiwa Sagiri is not the first light weight rod that I have introduced to American anglers. The Soyokaze rods in their most popular lengths, 9' and 10'2", weigh just 1.7 and 2.1 ounces, respectively. The Kiyose 30SF is also a 2.1 ounce rod. The difference is that for those rods I kind of danced around the "tenkara" label, calling the Soyokaze a tanago rod and the Kiyose a backpacking rod (even though it became pretty clear pretty quickly that most of the buyers were using them for tenkara fishing - and loving them, by the way).
No dancing around with this rod. I sell the Daiwa Sagiri as a tenkara rod. People buy it to use as a tenkara rod. It makes a very good tenkara rod.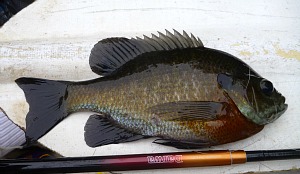 I honestly do not care, nor should you, what the rod is sold for or used for in Japan. This isn't Japan. We don't have Iwana, they don't have Brook Trout. They have stream banks scoured by frequent floods, we have overhead tree limbs and rhododendron tunnels. We have bluegills and fish for them with tenkara rods. They have bluegills but would never think of fishing for them with tenkara rods. How is that even possible? (By the way, the Sagiri is a fabulous bluegill rod!)
The comparison with a popular tenkara rod, the TenkaraUSA Ayu, extends to more than the length and weight outlined above. Take a look at the photo below. You may have to look closely, but there really are two rods in the photo. One is the Ayu. The other is the Daiwa Sagiri 39MC at 13 feet. I'll repeat the comment (made on Twitter about the Kiyose) that got me banned from the TenkaraUSA forum: If one is a tenkara rod, so is the other.
So which is which? With identical bends, what difference does it make?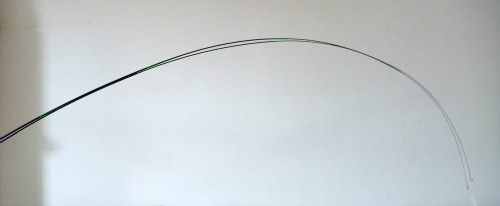 Both rods will cast a light size 3 tenkara line very, very well. Both will protect light tippets very, very well. Both are a lot of fun with even modest sized fish, and both will handle fish larger than you'd expect. Both sell for almost the same price. (And now, both have been discontinued - and without a good replacement. How can that be?)

In fact, there are only three significant differences (well, two significant and one insignificant). The significant differences are that the Sagiri zooms from 13' to 11'5" and the Ayu doesn't; and the Sagiri 39MC weighs only 2.0 ounces and the Ayu weighs 3.6 ounces. The insignificant difference is that the Ayu has a cork grip and the Sagiri doesn't.
The Ayu is being phased out and will soon be unavailable. The Sagiri 39MC fills that niche perfectly, and in my opinion is a better rod all around. The TenkaraUSA website says that the Ito covers the same niche as the Ayu and is a better rod. Yes, well, the Sagiri also comes in a 45MC, which fills the Ito niche better than the Ito itself does.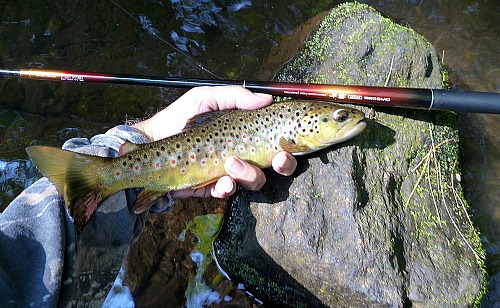 Cork is high priced. High quality cork is very high priced. Any dollar that goes to the cork grip doesn't go to the blank. After having fished with the two rods, I'd have to say the money going to the blank was very well spent. I don't miss the cork and I don't think you will either. I received two comments very recently on cork grips, both expressing dissatisfaction with the amount of filler being used in grips these days. If the cork on your rod has a lot of filler, it is an annoyance. If it doesn't have a lot of filler, you can be sure that a large portion of the production cost of the rod is in that cork.
Between you and me, I'd rather have it go into the business end of the rod.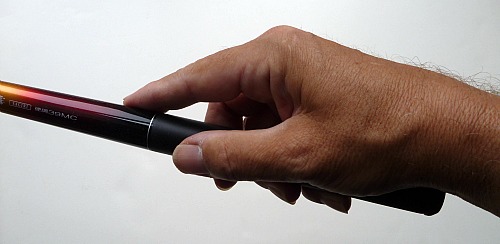 The grip on the Daiwa Sagiri is a very effective nonskid finish on the blank itself. In that respect it is similar to the Soyokaze and Kiyose. As with those rods, the grip section flares to create a wider grip. The grip on the Sagiri is a larger diameter than that on the other two rods, though, and is actually quite similar to the front part of the Shimano LLS36NB grip (a rod that I believe Dr. Ishigaki helped design).
I suspect the grip is a bit wider because the rod is a bit longer, so there is a bit more inertia to overcome when casting. The rod is so light, though, that the inertia is minimal. In the shorter 11'5" length it is almost imperceptible. It feels like you are casting with just the grip section.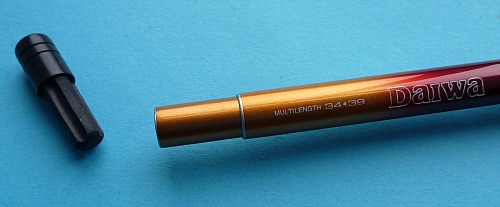 The tip plug is wooden, as it is on the high end Daiwa tenkara rods, and like them it is fluted so you can insert the tip plug with the line still attached. The grip screw cap is plastic, or possibly a composite, and as with the other Daiwa rods, it is cushioned on the inside so the collapsed rod doesn't click as you walk to and from the stream. There is also a ventilation hole in case you do not disassemble the rod to let it dry thoroughly between uses (although I recommend you do that for any tenkara rod).
The "zooming" section is held very securely in both the 11'5" position and the 13' position. I've only had my rod for a relatively short while, but I do not believe the mechanism will loosen over time. Daiwa makes quite a few rod models that zoom, so this is definitely not their first try at it.
As with the other Daiwa rods, any part can be replaced if it is lost or damaged.
The Daiwa Sagiri 39MC has a lot going for it. It has the silky smooth casting style of the TenkaraUSA Ayu at a little over half the weight. Even better than that, though, because of the zoom feature it is effectively two rods in one. Not bad for just $175, wouldn't you say?
Daiwa Sagiri 39MC
Length extended (to the nearest inch): 11'5" or 13'0"
Length collapsed: 23"
Weight (with tip plug): 2.0 ounces
Sections: 8
Percent Carbon: 98%
Recommended Tippet: 6X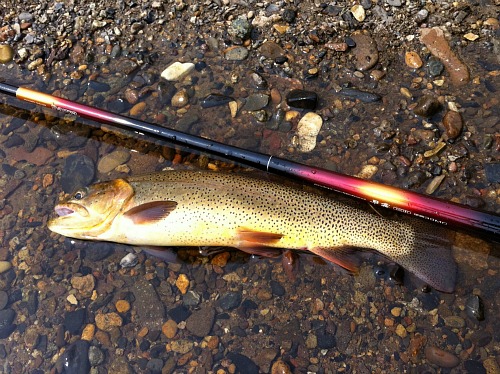 People always want to know how big a fish they can catch on the Sagiri (or the other rods I sell or even write about, for that matter). To be honest, I don't know. I have now had two people write in and say they have caught several trout in the 16" range, but have lost larger ones because the 6X tippet I recommend won't hold them if they get into any current. One told me he felt the rod would handle somewhat larger fish with 5X tippet but that he was conservative with his equipment and didn't want to push it.
Personally, I think that's a wise approach. The rod will probably handle larger fish than I expect, but then again, it does not come with a warranty and replacement parts, although available, are not inexpensive.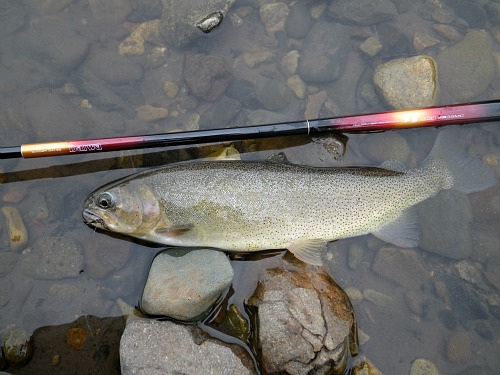 The Daiwa Sagiri 39MC has been discontinued and I will not be able to get any more of them. I have not been able to fine comparable rods from other manufacturers. Nissin has a rod that has the same 3.4 - 3.9m zoom function, but it is a much softer, less capable rod. The nicest rods I've found that would fill the 3.4m or 3.9m niches for a very light, very sensitive rod are either the Suntech Kurenai or Nissin Air Stage.

Return from Daiwa Sagiri to Tenkara Rods

Return from Daiwa Sagiri to TenkaraBum Home


Walk softly and carry a long stick. - Teddy Roosevelt (almost)

Tenkara has no strict rules. Enjoy tenkara in your own way.
- Eiji Yamakawa
"The bitterness of poor quality remains long after the sweetness of low price is forgotten" – Benjamin Franklin
---
Warning:
The hooks are sharp.
The coffee's hot.
The fish are slippery when wet.

---