Utah Killer Bug
"One Fly" Tying Kit™

The Utah Killer Bug "One Fly" Tying Kit™ includes a package of 25 Daiichi hooks, the materials required to tie 25 Utah Killer Bugs, and illustrated step-by-step instructions. It is a great way for a beginner or experienced fly tier to try out a new pattern without having to (A) find where to buy that mysterious yarn, and (B) buy enough yarn to knit a whole sweater when all you really need is enough to tie a couple dozen bugs.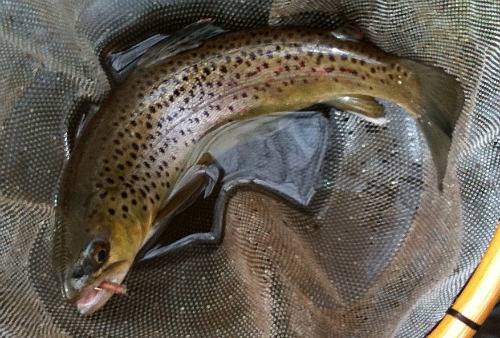 The Killer Bug has been my most productive fly. I am sure I have caught more fish on it than any other. I get lots of comments about it, I've sold lots of yarn and lots of Killer Bug "One Fly" Tying Kits. So why change the kit from the Killer Bug to the Utah Killer Bug?
Over the past year, I have been very interested in simplifying the flies I tie and fish. The Utah Killer Bug is simpler than the Killer Bug. In fact, the central motivating factor behind the Utah-based Tenkara Guides developing the fly was a desire to make the Killer Bug a bit simpler.
The yarn is a slightly different color, and the wire is a different color, but the biggest difference is that the Utah Killer Bug does not require a Prismacolor marker to darken the yarn. That saves a step, but also saves the cost of the marker.
As far as I can tell, the fly itself is just as effective.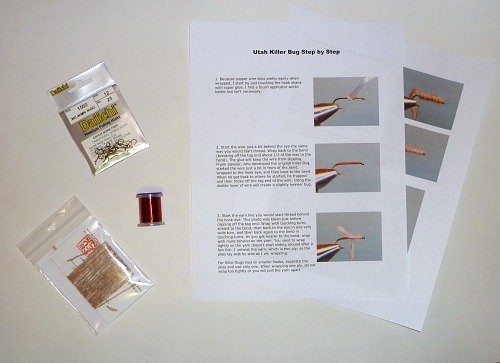 The step-by-step instructions are pretty much the same as shown on my Killer Bug page (with the exception of the Prismacolor marker, which is not used on the Utah Killer Bug). Most people probably don't have their vise set up in front of the computer screen, though.
Note: The instructions call for super glue, but the US Postal service does not allow either super glue or head cement to be sent though the mail, so I cannot include either of these items in the kit.
International shipments require additional postage. Please see Shipping Section below.
Utah Killer Bug "One Fly" Tying Kit™ - $10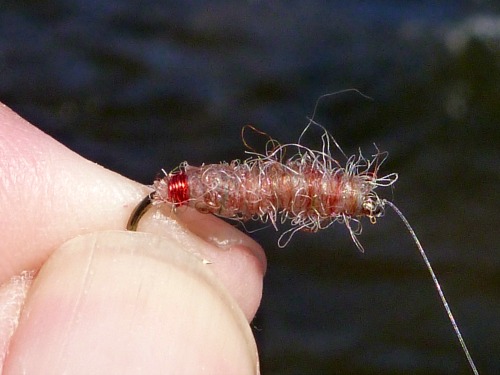 Utah Killer Bug wet.
---
---
Shipping
Standard shipping is via USPS First Class mail.
A shipping/handling charge of $4 will be added to all orders.
If you live outside the US, you must add more postage!
---
Where do you live?


---

USA


Add this amount for shipping.


---

No additional postage required for First Class mail.
(Total charge $4)

---

Canada or Mexico


---

Additional $6 postage required. (Total charge $10)

---

Other Country


---

Additional $10 postage required. (Total charge $14)
---
---
Priority Mail Upgrade - U.S. Only

2-3 day shipping (U.S. only)
First Class might be just as fast!
Do Not click if you purchase a rod, wader gaiters or vise. They already go Priority Mail.
Domestic Priority Mail Upgrade - Additional $3
---
---
Payment
Payment is processed by PayPal but you don't need to have a PayPal account. You can use your credit card.
---
TenkaraBum Home > One Fly Tying Kits > One Fly Tying Kit - Utah Killer Bug

Walk softly and carry a long stick. - Teddy Roosevelt (almost)

Tenkara has no strict rules. Enjoy tenkara in your own way.
- Eiji Yamakawa
"The bitterness of poor quality remains long after the sweetness of low price is forgotten" – Benjamin Franklin
---
Warning:
The hooks are sharp.
The coffee's hot.
The fish are slippery when wet.

---