"One Fly" Tying Kit™
Killer Kebari

The Killer Kebari "One Fly" Tying Kit™ includes a package of 25 Daiichi hooks, the materials* required to tie 25 Killer Kebari, and step-by-step instructions. It is a great way for a beginner or experienced fly tier to try out a new pattern without having to buy whole ball of Killer Bug yarn or a whole partridge skin.
I have been fishing hackled killer bugs for some time and doing well with them. A while ago, while looking at Fujioka-san's great site for tenkara fly patterns, I noticed that one of the Hida Takayama varieties of tenkara fly is very, very close to being a hackled killer bug - basically a yarn body and a soft hackle.
When the first tenkara fly swap in the US was organized and called for a participant's best tenkara fly, this is the fly I sent. I called it the Killer Kebari.
Consisting of a copper wire underbody, (which also provides just a little bit of extra weight), a body of Killer Bug Yarn and a bit of soft hackle, the killer kebari is a bit more complicated to tie than a killer bug but it fishes at least as well. I now tie them with partridge feathers rather than hen pheasant - it's just too hard to find small enough feathers on a hen pheasant skin.
The presence of hackle allows one to use the "invitation" technique - pulsing the hackle with small rhythmic rod movements. When fished on the swing or as you lift the fly to make a new cast, the hackle folds back along the body just like the legs and antennae of an ascending caddis pupa.
Give these flies a try. They've gotten some favorable comments from bloggers and guides, and I really think you'll like them.
The Killer Kebari "One Fly" Tying Kit™ is a bit more expensive than the other "One Fly" kits but there are more components to this kit.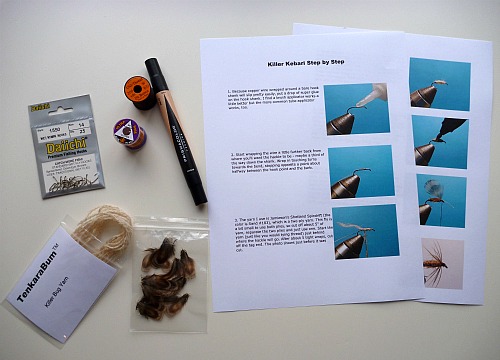 Please note that the kit now contains a package of partridge feathers rather than the pheasant feathers shown in the photo.
The step-by-step instructions are pretty much the same as shown on my Killer Kebari page, but most people probably don't have their vise set up in front of the computer screen.
*Note: The US Postal service does not allow super glue to be sent though the mail, so I cannot include it in the kit.
Killer Kebari "One Fly" Tying Kit™ - $22.50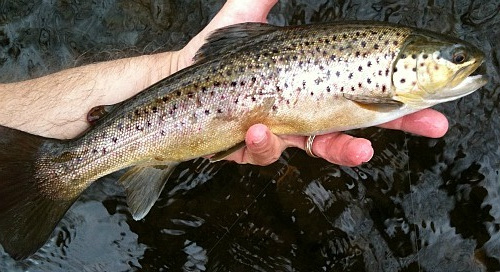 Results are typical.

---
Payment
Payment is through PayPal but you don't need to have a PayPal account. You can use your credit card.
Domestic Shipping
Domestic shipping is $3, via USPS First Class mail (2-5 day delivery). The charge will be added to your order automatically.
International Shipping

Because of US Government regulations, I cannot ship the kit out of the US.
---
TenkaraBum Home > One Fly Tying Kits > One Fly Tying Kit™ - Killer Kebari

Walk softly and carry a long stick. - Teddy Roosevelt (almost)

Tenkara has no strict rules. Enjoy tenkara in your own way.
- Eiji Yamakawa
"The bitterness of poor quality remains long after the sweetness of low price is forgotten" – Benjamin Franklin