"One Fly" Tying Kit™
Killer Bug

The Killer Bug "One Fly" Tying Kit™ has been discontinued. It has been replaced by the Utah Killer Bug "One Fly" Tying Kit™.

---
The Killer Bug "One Fly" Tying Kit™ includes a package of 25 Daiichi hooks, the materials* required to tie 25 killer bugs, and step-by-step instructions. It is a great way for a beginner or experienced fly tier to try out a new pattern without having to (A) find where to buy that mysterious yarn, and (B) buy enough yarn to knit a whole sweater when all you really need is enough to tie a couple dozen bugs.
Shortly after I found the yarn that I use to tie killer bugs, I posted it on a couple fly fishing forums, along with the store where I bought it.
Some time later, I had a very nice email conversation with the woman who runs the shop. She told me that she has sold a surprising amount of the yarn, one ball at a time, to fly fishermen. I told her the story behind the killer bug and the search for a replacement for the now-unobtainable Chadwicks 477 and that I was the one who had led all those fishermen to her door.
She thanked me for the plug, but said the worst part was all the people who called up and wanted just a few yards in an envelope for a buck. She can't be cutting bits and pieces off the balls she sells to knitters and so doesn't sell it by the yard.
If you only want a few yards to try out, you've now come to the right place. She'll still get the sale (ten balls of yarn at a time) and you can have just the few yards you're looking for, along with the necessary hooks, wire, marker and an instruction sheet.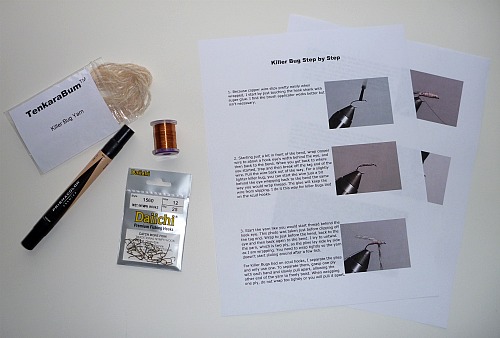 The step-by-step instructions are pretty much the same as shown on my Killer Bug page, but most people probably don't have their vise set up in front of the computer screen.
*Note: The US Postal service does not allow either super glue or head cement to be sent though the mail, so I cannot include either of these items in the kit.
Return from One Fly Tying Kit - Killer Bug to One Fly Tying Kits

Return from One Fly Tying Kit - Killer Bug to TenkaraBum Home

Walk softly and carry a long stick. - Teddy Roosevelt (almost)

Tenkara has no strict rules. Enjoy tenkara in your own way.
- Eiji Yamakawa
"The bitterness of poor quality remains long after the sweetness of low price is forgotten" – Benjamin Franklin