"One Fly" Tying Kit™
CDC & Elk

The CDC & Elk "One Fly" Tying Kit™ includes a package of 25 Daiichi hooks, the materials* required to tie considerably more than 25 CDC & Elk flies, and step-by-step instructions. It is a great way for a beginner or experienced fly tier to try out a new pattern. If you just want to tie a few flies to see if you like the pattern, the CDC & Elk is not a bad way to go.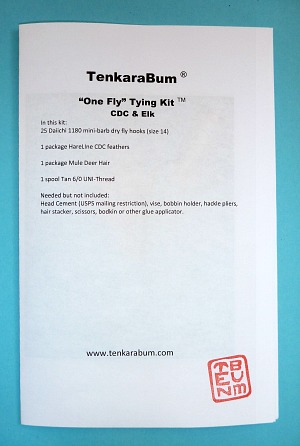 The CDC & Elk is the only dry fly I tie and fish. It was developed by Hans Weilenmann to be an improvement on Al Troth's elk hair caddis. Although the pattern was designed to be a caddis imitation, Mr. Weilenmann fishes it with great success during mayfly hatches. It is also his standard searching pattern for use when nothing is hatching. I haven't tried it during a heavy mayfly hatch, but I can attest that it is an excellent searching pattern.
I think it may just be the perfect dry fly for use when tenkara fishing. It really is an excellent caddis imitation, and caddis flies are common in most of our trout streams.

For smaller freestone streams - the kind of streams on which tenkara was developed and for which it is ideally suited - I often find that a CDC & Elk will handily outfish a sakasa kebari wet fly. These streams are not typically nutrient rich and do not have prolific mayfly hatches. Terrestrials and caddis flies make up a large percentage of the trout's diet, and the CDC & Elk probably more closely represents the fish's normal food sources.
What makes it even more valuable to the tenkara angler is that it works so well when there are no insects visible on the water. And not only does it float well, the delta shape makes it much easier to cast on a light line. To me tenkara is all about using the lightest line possible, so a dry fly that is aerodynamic as well as high floating is a major plus.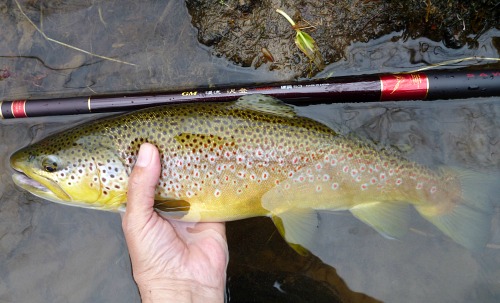 The CDC & Elk catches fish!
Although Mr. Weilenmann named the fly CDC & Elk, he ties the fly with mule deer hair rather than elk hair. I have tied the fly with mule deer hair and bleached elk hair. I found that the bleached elk was a bit easier for me to see, but the trout pretty clearly preferred the darker mule deer hair. Fishing it requires a bit more concentration, but it will pay off in more fish.

*Note: The US Postal service does not allow head cement to be sent though the mail, so I cannot include it in the kit.
CDC & Elk "One Fly" Tying Kit™ (deer hair) - $16.00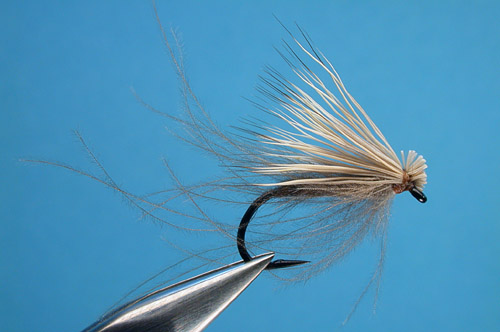 ---
Shipping
Domestic shipping is $4. Most small items can be shipped together for a flat $3 charge. Because of US Government regulations, I cannot ship this kit outside the US.
Payment
Payment is through PayPal but you don't need to have a PayPal account. You can use your credit card.
---
TenkaraBum Home > One Fly Tying Kit > One Fly Tying Kit - CDC & Elk

Walk softly and carry a long stick. - Teddy Roosevelt (almost)

Tenkara has no strict rules. Enjoy tenkara in your own way.
- Eiji Yamakawa
"The bitterness of poor quality remains long after the sweetness of low price is forgotten" – Benjamin Franklin