Not on a streamer, yet
by Alan Luecke
(Kansas City, MO)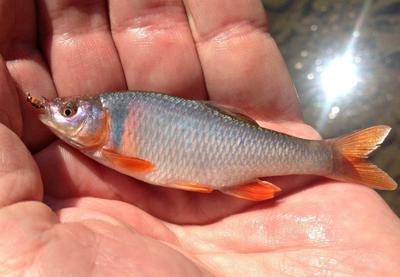 Red Shiner, spawning male
Red Shiners are the common local variety and I've caught a lot of them. But never a spawning male. I found a large school of them swarming around some Green Sunfish that appeared ready to spawn--everybody likes fish eggs.

The blue and red coloring is really exotic. It's easy to see why these are a popular aquarium fish among collectors.

I'm not sure there is a streamer fly small enough to catch one of these, but in the meantime I'm happy to finally have a picture of one of these beautiful fish. I used a size 24 Frenchy Nymph and my Soyokaze 27.
Walk softly and carry a long stick. - Teddy Roosevelt (almost)

"The bitterness of poor quality remains long after the sweetness of low price is forgotten" – Benjamin Franklin
---
Warning:
The hooks are sharp.
The coffee's hot.
The fish are slippery when wet.

---