Nissin Tenkara Starter Kit
The Nissin Tenkara Starter Kit is in response to customer requests for a good quality, modestly priced tenkara rod that is made in Japan. Most of the tenkara rods sold in the US are made in China and most are surprisingly heavy compared to Japanese rods. Even the newest rods on the market cannot match the weight or the action of rods made in Japan.
The kit is built around the Nissin Pro Square rods, which are very light, very sensitive and made for the Japanese domestic market. These are not rods for carp or steelhead or monster browns, but they will handle the trout (or panfish) that most tenkara anglers actually catch most of the time. They are also some of the lightest, smoothest-casting rods you'll find.

First trip with the tenkara rod was a success - Derek F, New York
Rod Choice

I've recently expanded the choices for the Nissin Starter Kit so you now can pick not only the length but also the action that will be best suited to your own fishing locations and preferences. If you don't like choices and just want a recommendation for the one rod that will do it all, skip the length and action sections and just get the 360cm 7:3 rod.

Length
The 320cm rod is just a delightful little rod for small streams or brushy headwaters, and would be the length to choose if you will mostly fish pretty small streams (less than 20' wide). It is the lightest and arguably the most fun to fish with. It is also a nice rod for children to learn on.
The 360cm rod is the "all around" length, neither too long nor too short for most applications (although for the smallest, brushiest streams you'll wish it was shorter, and for wide open rivers you'll will wish it was a bit longer.
The 390cm rod is best for larger streams, or at least streams with no overhead tree limbs.
The 450cm rods are "honryu" rods, made for large streams and rivers. For fishing lakes, the additional reach will be appreciated.
Action
The Nissin Starter Kit is available with either 6:4 or 7:3 rods. Although that rating system is not standardized across the industry, it is useful when comparing rods of the same model, ie. the Nissin Pro Square 6:4 vs the Nissin Pro Square 7:3. Between the two, the 6:4 is more full flex (the whole rod bends) and the 7:3 is more mid-flex (the butt and mid sections are firmer than on the 6:4 rod.
Which to choose is mostly a matter of personal preference. The 6:4 rods are a bit lighter, cast a lighter line a bit more easily and will bend more with modest sized fish. The 7:3 rods will do better with a slightly heavier line and will give you at least a little bit more control over slightly larger fish (emphasis on "little bit" and "slightly"). I prefer 6:4 rods. Tom Davis at Teton Tenkara prefers 7:3 rods. They both work just fine, though.

Model


320 6:4
320 7:3

360 6:4
360 7:3

390 6:4
390 7:3

450 6:4
450 7:3


Length

10'4"
10'4"

11'9"
11'9"

13'3"
13'3"

14'8"
14'6"


Weight

1.9 oz
2.0 oz

2.2 oz
2.5 oz

2.6 oz
2.9 oz

3.0 oz
3.5 oz


Pennies

10
14

10.5
17

12
18

14
22

All the rods are 22" when collapsed.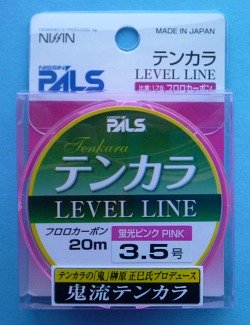 The Nissin Pro Square rods are supple enough that even beginners can cast well with a light line. The Nissin Tenkara Starter Kit comes with a spool of Nissin Oni Tenkara Hi-Vis fluorocarbon level line. The 6:4 rods will be paired with size 3 and the 7:3 rods with size 3.5.
To me, the very essence of tenkara is keeping the line off the water's surface, and the lighter the line, the easier that is to do. Light line will make a significant difference in the delicacy of your presentation and your ability to hold line off the water's surface.
Rod Features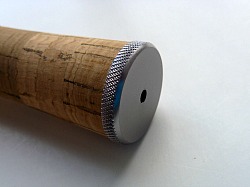 The rods are not at all fancy, but they are well made and offer very good value for the money.
The grip screw cap is metal, is knurled for a positive grip even with wet or cold hands, has a rubber insert so the collapsed rod is quiet, and has a hole for ventilation. I would still suggest taking the rod apart between uses so that it can dry completely.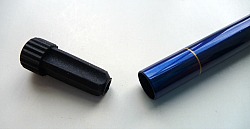 The tip plug is rubber and is aggressively fluted so you can put the plug back in the rod with the line still attached. That is a very handy safety feature for when you are moving from one spot to another, or for when you have a fully rigged rod in your car.

The rod blank has blue accents at the section ends, which fade to a deep black over most of the blank.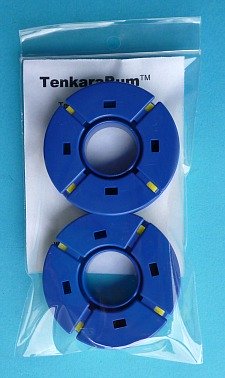 In addition to the rod and the line, the Nissin Tenkara Starter Kit also includes two Tenkara Line Holders so you can cut and store lines of different lengths - a shorter line for smaller streams and a longer line for rivers and lakes.
Most of the people who start tenkara fishing are already experienced fly fishermen (or fisherwomen!). Thus, most already have tippet material and favorite flies. To keep the cost down, I do not put tippet or flies in the kits. If you are completely new to fly fishing, though, you will need both, as well as some basic streamside tools.
The Nissin Tenkara Starter Kit has what you need to go from fly fishing to tenkara fishing, and allows you to fish with the lightest rods and lightest lines of any of the starter kits.
Rod, line and line holders made in Japan.
From each kit sold, more than $10 will go to support fisheries conservation.
---
Ordering is a two step process:
Step 1 - Choose Your Rod

A friend and fishing partner suggested that I offer more of a choice in the Nissin Tenkara Starter Kits. He recommended a "Good, Better, Best" choice. That indeed makes sense, but also might make this page much too long and much to complex.
The Nissin Pro Square rods described above are the "Good." The buttons directly below offer the available choices among the Pro Square rods.
The Nissin Royal Stage rods are the "Better." They are a bit more expensive, but in my view they are certainly worth the extra money. The Nissin Zerosum rods are the "Best." They are Nissin's top of the line rods and it shows. They are very, very nice rods.
If you wish to upgrade to a nicer rod, choose the line (Step Two below) and then follow one of the links above to choose your rod.

Nissin Pro Square
Super Tenkara 6:4
---
320 - $150
Nissin Pro Square
Super Tenkara 7:3
---
320 - $160
---
Step 2 - Choose Your Line

You can pair this portion of the kit with any rod on Tenkarabum.com. You are not limited to the Nissin Pro Square rods described above. However, you must purchase a rod in the same transaction. Not sold separately.

Size 3 Nissin Oni Tenkara Line
(recommended for 6:4 rods)
plus two Tenkara Line Holders
$27
Size 3.5 Nissin Oni Tenkara Line
(recommended for 7:3 rods)
plus two Tenkara Line Holders
$27
---
Shipping
A shipping charge of $10 will be added to all orders.
---
Payment
Payment is processed by PayPal but you don't need to have a PayPal account. You can use your credit card.
---
TenkaraBum Home > Starter Kits > Nissin Tenkara Starter Kit

---
"The bitterness of poor quality remains long after the sweetness of low price is forgotten" – Benjamin Franklin
"Study to be quiet." - Izaak Walton 1653

"Be sure in casting, that your fly fall first into the water, for if the line fall first, it scares or frightens the fish..." Col. Robert Venables 1662

---
Warning:
The hooks are sharp.
The coffee's hot.
The fish are slippery when wet.
Beware of the Dogma

---