Nissin SP
(Special Panfish)

I'm not sure what the SP stands for in the Nissin SP 390 and SP 450. What it ought to stand for is Special Panfish. These are really sweet panfish rods. They are for people who like long, soft, smooth-casting rods. The SP might actually stand for Special Purchase, as I did get the rods under a special deal and I was only able to get 30 of the SP 390 and just 10 of the SP 450. When they're gone they're gone. I will not be able to get more.
I first mentioned them in my December 23, 2010 trip report. I had a couple of the rods to evaluate and decide whether I wanted to carry them. Even though I first fished the rods on a trout stream, my conclusion that day was that they would make great panfish rods and I decided to get them in specifically for panfish.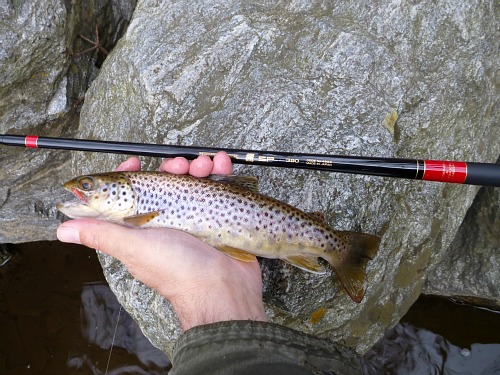 When I first wrote about tenkara fishing for bluegills two or three years ago, I had recommended a relatively beefy rod, thinking that the next cast could always yield a 3 or 4 pound largemouth instead of a bluegill. I've since changed my mind. A friend and I fish together from his canoe. He with a spinning rod and Senkos for bass, me with a tenkara rod and a Sakasa Kebari or Killer Bugs and Killer Buggers for bluegills.
He catches an occasional bluegill and I catch an occasional bass but I have never felt I was risking the rod. That being the case, I decided there was no need for a heavy rod. Bluegills are just so much more fun on light tackle and I'd much rather enjoy the fish I was catching than gear up with heavier tackle for the fish I might catch - but never did. I should state right there, though, that I was not yanking crappies out of brush piles. These rods do not have the backbone for that. Crappies in open water are a different story.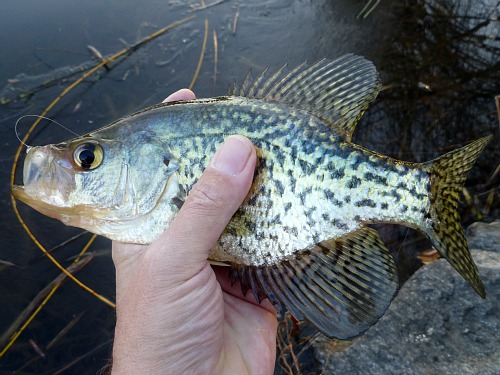 I generally fish Sakasa Kebari or Killer Buggers for bluegills and crappies. (A Killer Bugger is a cross between a Killer Bug and a Woolly Bugger - a Killer Bug with a marabou tail). The Nissin SP 390 and SP 450 handle those flies beautifully. The rods will cast poppers, but they really shine with unweighted or lightly weighted wet flies. By lightly weighted I mean an underbody of copper wire or a body consisting solely of copper wire, which stands up to bluegill teeth better than thread does.
If you like stiff, fast rods, these are not for you. If, however, you like a rod that will give you smooth as silk casts, and that even a modest bluegill can put a serious bend in, these are right up your alley.
I have been told repeatedly that I underestimate the capability of rods. I recently received an email from a customer whose experience is more evidence of that. He recently caught 19" and 20" rainbows with a Nissin SP 390. I had though these rods were better suited to sunfish. Apparently, there is enough muscle in the butt section to stop the runs and bring the fish back in.

Nissin SP 390 and 450 Features
These are not flashy rods. They are basic black with red accents - which to my eye looks a lot classier than some other rods.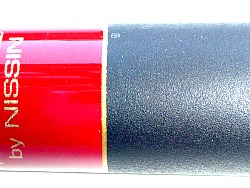 The grip is not cork but instead is textured, which provides a very effective non-skid surface. You may find, as I have, that you actually prefer corkless grips. With rods that weigh only 1.5 or 1.9 ounces, you're not going to get blisters. You will definitely appreciate the extreme sensitivity you get with your hand right on the blank.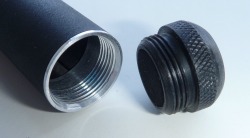 The grip screw is knurled and has a foam insert so the rod sections do not make the clickety clack sound some rods do when they are collapsed. The plastic screw fits into an aluminum insert. The plastic/aluminum junction eliminates the need for an "O" ring to prevent unexpected loosening.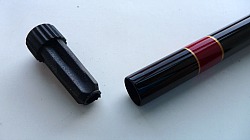 The tip plug is rubber and is a very snug fit. I find it much easier to screw it in rather than just trying to push it in. The snug fit means it will never slide out by accident when you tip the rod, as some plugs can. The  plug is also fluted so you can keep your line attached and still insert the plug into the collapsed rod for extra security when walking (or paddling) to your next spot.
I have fished the rods with a number of different lines, and for bluegill fishing I really like the new Tenkara Midi Tapered lines with these rods. The 4 meter line pairs nicely with the SP 390 and the 4.5 meter line pairs with the Nissin SP 450. The lines are nylon mono, so they won't sink nearly as much as a fluorocarbon line. They are tapered, though, so they will cast better than a level 14# or 17# mono line. Plus they are really hi-vis, so it is easy to see the slightest tap when a bluegill sucks in your fly. The rods are very soft, and I think that helps tremendously in casting a nylon line. Of course, wind is still an issue with any nylon line. For a level fluorocarbon line I would choose a size 3.

Length Extended
  SP 390 - 12'11"
  SP 450 - 14' 5"
Length Collapsed 22 3/8"
Weight
  SP 390 - 1.5 oz
  SP 450 - 1.9 oz
Pennies
  SP 390 - 8
  SP 450 - 8

The rods do not come with a hard case or a rod sock. They are nice rods, though, and are made in Japan by a company that has been making rods for a long time.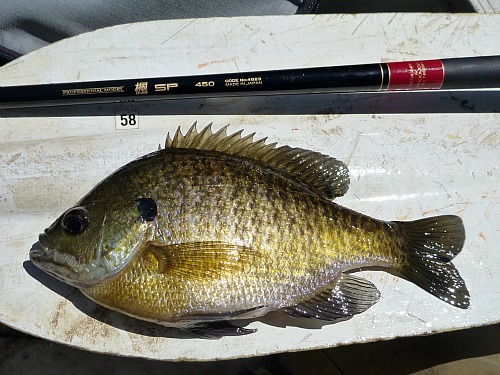 Nissin SP 390 - $158 In stock
Nissin SP 450 - $163 In stock
---
Payment
Payment is through PayPal but you don't need to have a PayPal account. You can use your credit card.
Shipping
Domestic shipping is $8 via priority mail 2-3 day delivery.
International shipping will require an additional $6 to Canada or $11 elsewhere. Please click the appropriate button.
---
TenkaraBum Home > Tenkara Rods > Nissin SP

Tenkara has no strict rules. Enjoy tenkara in your own way.
- Eiji Yamakawa