Nikko Maggies

Nikko Maggies are scented, biodegradable artificial maggots. They are very effective for panfish and for micros when you don't have live bait. I have tried a lot of things for micro bait, and while the best seems to be the smallest speck of earthworm you can cut, some people do not like to cut up worms. Even if that doesn't bother you, sometimes you just don't have a worm to cut.
What got me searching for alternatives was the sheer waste of buying worms for microfishing. One worm is more than enough for a full day of microfishing, but what do you do with the rest of them? For some reason, my wife was not thrilled to have worms in the refrigerator. I tried bits of chicken and even steak! (Pound for pound, cheaper than worms!)
I have also tried things as simple as a knot of yarn tied around a tanago hook, but micros are even faster than trout and spit it out so fast I couldn't hook them. I have had much better luck with bits of scented plastic baits. They will still spit them out, but not nearly as quickly.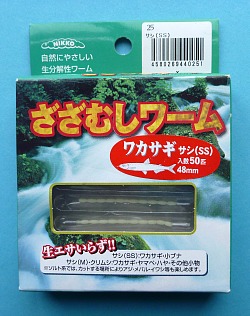 Package comes with 5 strands of 10 Maggies per strand.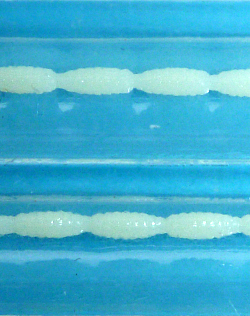 Each Nikko Maggie is about 4mm.
Several years ago, while visiting my supplier in Japan, my wife picked up a package of Nikko Maggies (the box says "zazamushi," which loosely translates to shallow water insect larvae, and "sashi" which translates to blowfly maggots). The Nikko website, though, just calls them Maggies.
In Japan, the primary target species for these baits is wakasagi, which is a smelt generally caught while ice fishing. Here, though, they will work quite nicely for panfish and for micros. They'll probably work for trout as well, but I haven't tried them.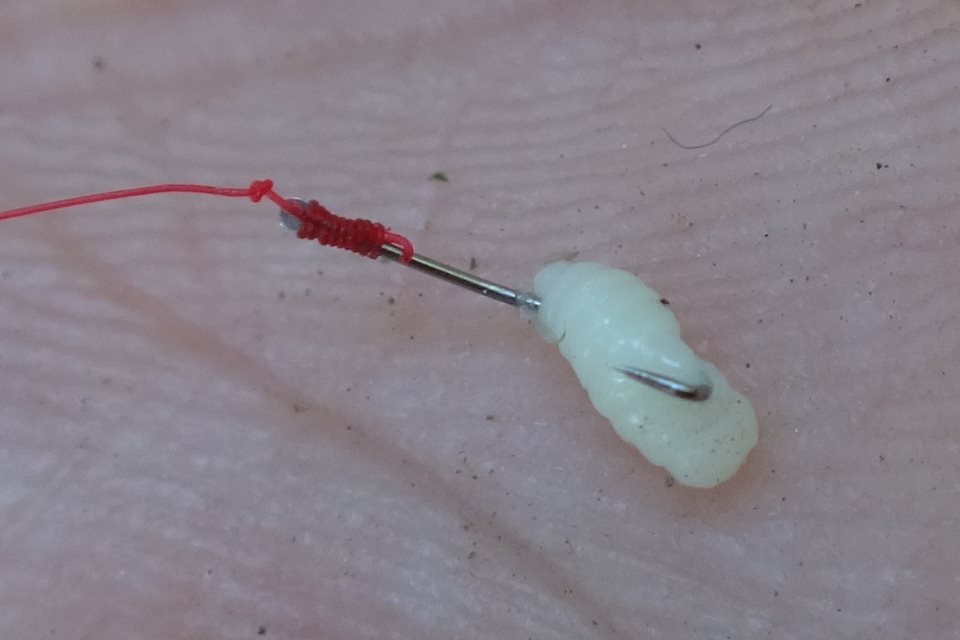 Nikko Maggie on an Owner New Half Moon tanago hook.
Ameca Splendens caught with a Nikko Maggie on a New Half Moon hook.
Ben Cantrell took some of the Maggies on his recent trip to Mexico. He said "They worked great when we didn't have any live bait. Which was 90% of the time. Seriously, they worked really well." A number of the other fish he caught with the Maggies can be seen on his Flickr page.
When he told me how well they had worked, I knew I had to get some in for the shop. After all, if there are any micro fishing masters in the US, Ben has to be one of them. Luckily, I was able to track some down and am happy to say they are now in stock.
I have them in white, which is probably the best color to use when sight fishing. I find it easier to see white than any other color with the streambed as a background.

The Nikko Maggies come in five strands with 10 Maggies per strand. You can tear them from the strand one by one, but for smaller micros you may even want to cut them in half. The plastic is quite durable and will last for lots of fish. Despite being durable, it is completely biodegradable and contains no plastisol, phthalates or any toxic chemicals of any kind.
Temporarily out of stock

Nikko Maggies - $4.00
---
Shipping
A standard shipping/handling charge of $4 will be added to all orders.
Please note: PayPal occasionally does not add the $4 charge. In that case I will send a PayPal invoice for the $4.
If you live outside the US, you must add more postage!

---
Where do you live?


---

USA


Add this amount for shipping.


---

No additional postage required for First Class mail.
(Total charge $4)

---

Canada or Mexico


---

Additional $6 postage required. (Total charge $10)

---

Other Country


---

Additional $10 postage required. (Total charge $14)
---
Payment
Payment is processed by PayPal but you don't need to have a PayPal account. You can use your credit card.
---
TenkaraBum Home > Microfishing Gear > Nikko Maggies


Walk softly and carry a long stick. - Teddy Roosevelt (almost)

Tenkara has no strict rules. Enjoy tenkara in your own way.
- Eiji Yamakawa
"The bitterness of poor quality remains long after the sweetness of low price is forgotten" – Benjamin Franklin