---
Please Note: PayPal is having a problem with the Handling Charge, which should be $4 for every order. For some reason, a few orders are not getting the charge. I have contacted PayPal, but until the problem is corrected I will send a PayPal invoice following any order that does not reflect the $4 handling charge.
When you place your order, please look at the PayPal shopping cart contents to see if the $4 Handling charge is included. If not, please click on the button below. That will make a separate PayPal invoice unnecessary (saving time for both of us).
Handling charge - $4
---
My first tenkara (keiryu?) steelhead!
by Sean Rooney
(Marquette, Upper Peninsula of Michigan)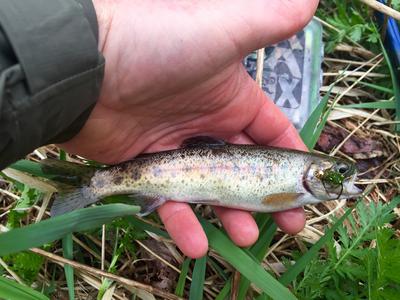 Hit the Carp river today (Lake Superior tributary in Marquette, Michigan) with my Kiyose 42SF, targeting steelhead. Saw a couple nice ones but they weren't interested in eating today. Caught this one that is young enough and far enough from the lake that I think it's an example of natural reproduction.

The rod handled this steelhead no problem! I was using this beadhead wooly bugger mostly as a weight for my egg fly because I forgot to bring split shot today.

I learned today that a zoom rod could be pretty useful. This is a small river with frequent overhead branches. I spent quite a bit of time untangling my rod and line and flies and there were a few places I just couldn't cast effectively because my rod was too long to fit.
Join in and write your own page! It's easy to do. How? Simply click here to return to Your Tenkara Stories.

Walk softly and carry a long stick. - Teddy Roosevelt (almost)

Tenkara has no strict rules. Enjoy tenkara in your own way.
- Eiji Yamakawa
"The bitterness of poor quality remains long after the sweetness of low price is forgotten" – Benjamin Franklin