Minimalist Fly Box
Before I started using a Morell fly box, I had a minimalist fly box that was just the right size for a day on the stream. It had six compartments and would easily hold three dozen flies. Although I always just slipped it into my trousers pocket (another advantage of wearing hippers), it had a nice little loop that could be used to carry it on a lanyard.
I had wanted to use the same box to mail flies in when I started selling flies, but I wasn't able to find quite the same thing. The boxes I have been shipping flies in were the same size but did not have the lanyard loop.
The last time I ordered them, though, the boxes that arrived were exactly what I had been looking for earlier - including the lanyard loop.
TenkaraBum Minimalist Fly Box
I recently sent some flies to a guy who asked me where I had gotten the little plastic box I had mailed the flies in, as he had been looking for something just like it for when he sends flies to family and friends. I had never thought of selling what I give away, but quickly realized that I only give them away to people who buy flies, and the people who might really like a little box like this probably tie their own (especially if they send flies to family and friends).
I once read a post on the Poudre Canyon Chronicles blog about a small fly box that was described as being light enough to hang on a zinger retractor, permitting the Midge Man to carry a small supply of his most commonly used patterns in a very accessible location - clipped to his vest.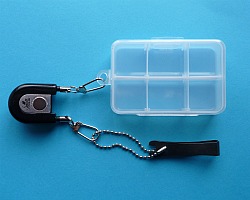 It turns out an even better idea is the minimalist fly box and nippers on a double zinger. What a great combination. The double zinger even has a strong magnet that will hold your fly while you change or lengthen your tippet.
Payment
Payment is through PayPal but you don't need to have a PayPal account. You can use your credit card. Paypal payments will be made to chris at tenkarabum dot com. Credit card statements will read TenkaraBum LLC.
Shipping
The $3 shipping charge added to all orders will cover the shipping on this item for US customers. International shipping will require an additional $2.
International shipping surcharge - $2
Return from Minimalist Fly Box to Tenkara Accessories
Return from Minimalist Fly Box to TenkaraBum Home