Micro Fishing Line
Micro fishing line is line geared to the size of the fish. There is no point fishing for two inch fish with four pound test line. The flies or baits used are so small, and the hooks are so small that anything other than a very thin line is going to look like a rope in comparison.

I have read that in the Edo period in Japan, the line used for tanago fishing was a single human hair, "preferably taken from a woman you love." Over there and back then, women wore their hair quite long. I don't think many of us in the here and now would be able to do much fishing if we had to use a single human hair. And although I have fished, and caught fairly nice fish, with a single horsehair, horsehair is much too thick for this type of fishing.
The line that is used to snell tanago hooks is just over 1 pound test. Of course, there's not a tanago alive that weighs even close to 1 pound. Similarly, the fish that people here target when micro fishing are very small - a few inches - and their weight is more appropriately measured in grams than ounces. The lines that have been used for microfishing, 4# test or even 2# test, seem like overkill. I say give the micros a fighting chance.
However, and this is a big however, I have both read and heard about instances when an angler fishing for a 3" fish catches a 9 or 10" fish, or hooks a fish more properly measured in pounds than inches. If you are fishing with line that breaks at 5 ounces, it will break. You just want it to break near the hook so you don't lose your whole rig.
These micro fishing lines should perhaps more accurately be called micro fishing tippet. Your float, if you use one, and your Jintan marker beads, if you use them, should be on a stronger line. They're just expensive enough that you don't want to lose them if you don't have to. Similarly, if you will be fly fishing for micros, you'll need a slightly heavier line to be able to cast (after all tanago fishing is not just dapping). However, the line you'll need is still almost unbelievably light. The Kiyotaki will cast 12# test fluorocarbon as if it was a fly line. Now THAT is ultralight.
Japanese Line
I have found two lines in Japan that may not be the thinnest possible lines (I think the new Berkley Nano line, at .001" takes that prize) but they have the lightest breaking strength of any lines I've ever even heard of. The one in the top photo is Japanese line size .08 (Japanese line size is based on breaking strength, with size 1 equivalent to 4# test). That makes this line 1/3 pound test (just over 5 ounces) and the other is Japanese line size .125, which is 1/2 pound test.
The 1/3 pound test line has a diameter of .049 mm or .0019", and the 1/2 pound test line has a diameter of .0023". That puts both of them at a 9X equivalent diameter. Even though the Berkley Nano line is thinner and also has a greater breaking strength, the early reports I've read suggest it is so slick that it does not hold knots well at all. These lines are nylon, and thus hold knots as well as normal tippet material - just be sure to lubricate the knot well before you tighten.
I have not yet fished with either line, and I cannot provide a review based on actual use. For that matter, I only got a few spools of each because I don't yet have a feel for whether any other micro fishermen agree with my view of giving the micros a fighting chance.
The lightest tippet I have used in my tenkara fishing (besides a single horsehair) was some discontinued 9X (1.4#) Varivas I bought at a fly show. I had a 9" trout break it when I was a little too quick to bring it in. These light tippets will add another level of challenge to your fishing. The micros won't break them, but even a modest sunfish might!
Both lines carry a suggested retail price of 2500 yen - the equivalent of about $27 for a 50 meter spool. I was able to buy them at a significant discount because they have been discontinued (Daiwa is replacing them with fluorocarbon lines of the same breaking strength). I can offer them for $14 per 50 meter spool.
Daiwa .08 (1/3 pound test) 50 meters - $14
Daiwa .125 (1/2 pound test) 50 meters - $14
Tippet Material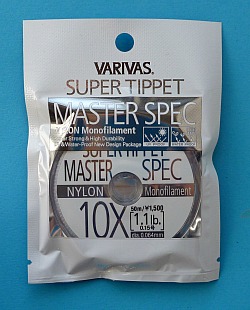 The other alternative is to use fly fishing tippet material. I carry Varivas tippet, and Varivas makes a 10X in both nylon and fluorocarbon. I got in a few spools of the nylon (although if you'd rather have the fluorocarbon I can get it for you).
According to the "X" scale, this tippet isn't a true 10X, which would have a diameter of .001". The Varivas 10X has a diameter of .0025", which would make it an honest 8.5X, and which is still pretty darn thin. Although it is only a little thicker than the .125 Daiwa line (and it shows a Japanese line size of .15 on the package) it is more than twice as strong, rated at 1.1# breaking strength.
So, if you happen to hook a 9" brookie when fishing for a 3" dace, which has been known to happen, you might be able to land it if you play it skillfully. However, if you happen to hook a 4# carp when fishing for young of the year bluegills, which has also happened, you wouldn't have a chance.
The Varivas 10X also comes on a 50 meter spool. It has a suggested retail price in Japan of 1500 yen ($19.75). I'll sell it for $14 (and it hasn't been discontinued - in fact it's their new Master Spec tippet, which was only recently released and replaces their old Super Tippet and Midge Tippet).
Varivas Master Spec 10X, 50 meters - $14
And if you don't agree that micros should be given a fighting chance, and wish to use a stronger line, I do have the Varivas Super Tippet in 7X, which has a breaking strength of 2.4# test. That way, you can fish the shallows for the dace and the pools for the brookies without having to change your tippet.
Varivas Master Spec 7X, 50 meters - $14
I also carry Maxima Tippet material. This is the Maxima 8x tippet, which has a stated breaking strength of one pound. That should be more than enough for any micro. The spools hold less than the Varivas, at 27 yards rather than 50 meters, but the price is quite a bit lower at just $4.25 for the spool.
Maxima 8X - $4.25
Microfishing Tenkara Line
There is a lot we can learn from what they do in Japan. I'm not sure how much we can learn from what they don't do. There are significant cultural differences. Building a better box is something they are very, very good at. Thinking outside the box, not so much. That the Japanese don't use flies with 6' rods for 6" fish, in all seriousness, might be because it has never even occurred to anyone.
It does work, though, depending on the fish you are after (or your degree of stealth). I have caught trout, largemouth bass and bluegills on flies with a 6'6" rod.
Although the Soyokaze rods will cast a size 2 tenkara line (on a dead calm day), the size 3 is probably a better choice overall. Also, not all microfishermen use the Soyokaze.
The size 2 line is bright pink fluorocarbon and the size 3 is my Hi-Vis fluorescent chartreuse fluorocarbon tenkara line.
Microfishing Tenkara Line, 10' - $3.50
Payment
Payment is through Paypal but you don't need to have a Paypal account. You can use your credit card. PayPal payments will be made to chris at tenkarabum dot com. Credit card statements will read CM Stewart.
Shipping
Domestic shipping is $3. Most small items can be shipped together for a flat $3 charge.
International shipping requires an additional $6 to Canada and $11 to other countries. Please click on the appropriate button below.
Return from Micro Fishing Line to TanagoBum
Return from Micro Fishing Line to TenkaraBum Home