Mexican Tide Pool Micros
by Alan Luecke
(Kansas City, MO)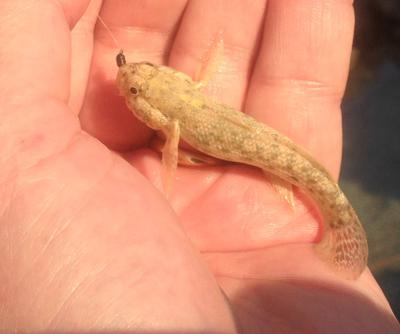 First Goby
For years my wife and I have been going with friends to Isle Mujeres, a small island off the coast of the Yucatan. Last year I finally noticed all the little fish hanging around the rocks on the windward shore. This year I brought some rods, flies and high hopes.

I caught fish (notice the plural) and discovered a wonderful way to watch the sun come up. I also discovered that this stuff is hard to do. Micros and reef fish in general have evolved very specific niches. They know exactly what they want to eat and I don't. The islands sandy, rocky soil is not worm country. Yes, I could have begged some raw shrimp from a restaurant, cut them up in tiny pieces and stashed them in the mini-fridge for the week. But no, I didn't want to sleep in a deck chair.

What I did was tie a size 20- 22 nymph on to my Soyokaze 27 and throw it at some little fish. The result was this little goby. I also caught a bluegill sized surfperch on a modified white and red killer bugger. The perch flipped off my hook and out of my hand before I could get a picture.

I also brought a Kiyotaki 18 and my Diawa Kiyose 43MF. I was hoping to find a cut between the rocks and a lagoon where I could cast the Kiyose to some real fish but I never found a good spot. The Kiyotaki worked well and its' shorter length would have been easier in the small tide pools, but I got started with the Soyokaze and just stayed with it.

Besides picky fish the big challenges were the constant trade winds and difficult visibility. Basically you just cast down wind and deal with the wind. The visibility issue was a surprise. I had good glasses, the worlds clearest water and bright sun. I frequently couldn't find the line let alone the fly. The wind makes the clear water break and sparkle enough to obscure everything. It is very pretty.

This was big fun and great therapy. Simply standing very still and watching all the different fish go about their business was worth the trip. Each species does its' own thing. The gobies will chase everything as the sun comes up but then head for the rocks. The perch and other reef fish don't really get going until the sun is higher.

The medium plastic rod case held all three rods (we don't need no stinking cork!) safely in the bottom of my suitcase. I also discovered that a Fugi rod cap can float out of your pocket in the surf, Chris I'll be in touch.

We're going back next year and I'll bring at least one small rod and perhaps a small, tightly sealed, opaque container for the back of the fridge.

Walk softly and carry a long stick. - Teddy Roosevelt (almost)

Tenkara has no strict rules. Enjoy tenkara in your own way.
- Eiji Yamakawa
"The bitterness of poor quality remains long after the sweetness of low price is forgotten" – Benjamin Franklin