20/20 Magnetic Tippet Threader
The 20/20 Magnetic Tippet Threader is a wonderful invention and just the thing for anyone who has ever had trouble threading tippet through a small hook eye in the fading light. For those with fading vision, threading the tippet through a hook eye even in broad daylight can be a chore.
There is an ongoing debate about the origin of the word "tenkara." The general consensus is that it does not really mean "from heaven." I'll tell you, though, this tippet threader really is from heaven. It is a godsend for those of us who no longer have eagle eyes. It truly does make threading the tippet through a hook eye easy. Easier than you can imagine.
All you do is place the fly the little depression, perpendicular to the groove. It is held in place by a strong magnet, so it won't fall off and won't blow away. Slide the tippet down the groove and it goes through the hook eye as if by magic. Actually, you don't even have to "place" the fly in the right spot. The magnet is so strong if you get the fly even close, it will pull the fly into the right spot.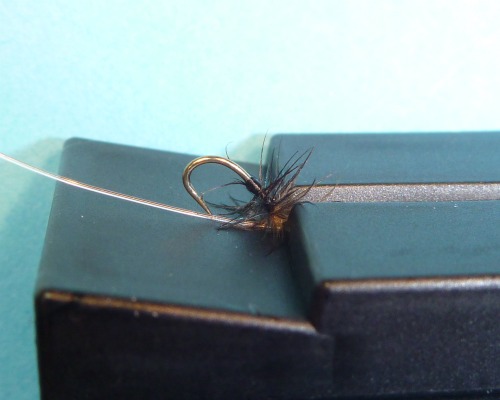 It really is that easy. And it gets it right every time - well, at least it did the first time I played around with it. I wanted to really put it to the test, so I took a much thicker than normal tippet on a smaller than normal fly (4x fluorocarbon and a size 18, if I recall). It really did work every single time. Later on, after I had already decided this little thing is actually better than sliced bread, and tried it on stream with my normal size 14 and 6x limp nylon, it got it right a lot of the time, but not nearly every time.
There are two limitations that I've noticed. (1) It works a lot better with stiffer tippet (you are kind of pushing on a string), and (2) The hook eye needs to be completely open - you can't have a knot of tippet from the last time you used the fly or stray fibers that didn't quite get clipped closely enough when you tied the fly. If it is a bushy hackled dry and the hackle blocks the slot down which you push the tippet, the tippet isn't going to push though. Still, if the eye is clear and the tippet is not the limpest you can find, the Magnetic Tippet Threader works pretty well.
A lot of the attraction of tenkara is the simplicity, that and getting away from having a vest weighed down by all the latest gizmos and gadgets. That's all well and good, but I tell you, there is nothing simple about trying to tie on a fly in fading light, or in the wind, or in fading light in the wind. This "gizmo" will simplify your life.
It comes with a removable D ring so you can put it on a zinger where it will be handy when you need it, out of the way when you don't and so can't drop it in the stream.
The 20/20 Magnetic Tippet Threader is $10. I think the guy who told me about it said it was the best $10 he'd ever spent. Add a double zinger to hold it, handy but out of the way, for another $5.

Magnetic Tippet Threader - $10

Add a double zinger to hold your threader $5
Payment
Payment is through PayPal but you don't need to have a PayPal account. You can use your credit card. PayPal payments will be made to chris at tenkarabum dot com. Credit card statements will read CM Stewart.
Shipping
Domestic shipping is $3. International shipments will require an additional $2. Please click the button below for international shipments.
Return from 20/20 Magnetic Tippet Threader to Tenkara Accessories
Return from 20/20 Magnetic Tippet Threader to TenkaraBum Home