Kiyotaki 18, 21, and 24
---
If you are looking for the Kiyotaki 27, it is here.
---
The Kiyotaki rods are the ones I have found to replace the 6'6" and 7'8" Soyokaze rods, which are no longer available. They are a bit of a departure for me in that are not made by Daiwa, but by a smaller company called Shimotsuke. Shimotsuke seems to be completely unknown here in the US but it is not unknown in Japan. Noted tenkara master Amano san fishes with a rod made by Shimotsuke. "Kiyotaki" is the model name.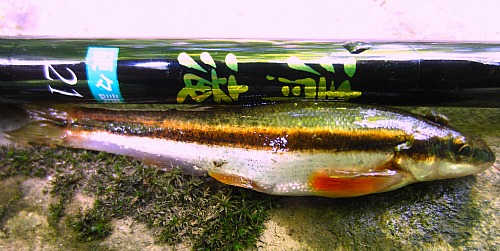 I will carry the rods in three lengths. The Kiyotaki 18 is 1.8m, right at 6'. The Kiyotaki 21 is 7' and the Kiyotaki 24 is 7'10". I think the shorter two rods will be ideal for micro fishing. I have used the 7' rod for tenkara and have caught trout with it. It did seem a bit short, though. I think a stream would have to be very narrow and brushy indeed for a 7' rod to be needed. When I was fishing, I found the rod to be very effective at placing a fly in spots that were too tight for a standard length tenkara rod to make the cast. However, I kept feeling that maybe one more foot would be nice.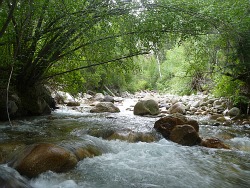 The longer, 7'10" rods could be used for either micro fishing or tenkara style fishing on small streams. A rod of that length does put an extreme emphasis on stealth, but some streams are just too overgrown for even a 9'3" tenkara rod. On wider streams, where you might normally use a 12 footer, there may be a number of spots that are too tight for the longer rod. More and more, on streams I often fish, I notice spots that I've always had to pass up because they were just too tight. Now I'm taking fish in spots where before I couldn't fish.
The standard tenkara approach for narrow, brushy, overgrown streams is to collapse a section and choke up on the rod. With a section collapsed the rod rattles when you cast and the sensitivity that allows you to feel the slightest tick on the line is gone. If you frequently fish tight overgrown streams, you would appreciate a shorter rod.
| | |
| --- | --- |
| | |
| Creek Chub | Blacknosed Dace and Golden Shiner |
For micro fishing, a longer rod is often a disadvantage. Much of your fishing will be sight fishing for fish that are not particularly skittish. Precise placement of the bait becomes more important than stealth. The six and seven foot rods should be very well suited for that.
If you are not certain of your catch, a micro fishing rod should be able to handle a 9" brookie when fishing for dace, or a 10" largemouth when fishing for 3" sunnies. I haven't caught any bass yet, but I have caught trout to 13" on the rods. If a stream is small enough that these are the rods you'd use, I'm confident that the rods would handle the fish you're likely to hook.
I was quite surprised to get the comment about the fish to 22" on the Kiyotaki 18. A guy I fish with says I always underestimate the capability of the rods. I guess that must be true, but I will still caution that these are not big fish rods.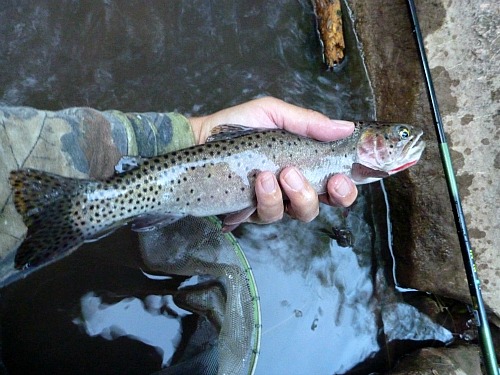 If a short rod is soft enough to protect a light tippet, it does not take a very large fish to bend it all the way to the grip. If a fish is strong enough to pull even further you run out of bend. At that point the rod straightens out and the tippet pops. Because you will occasionally hook larger (or even much larger) fish than expected, to make certain it is the tippet that breaks I would limit myself to 6X tippet when fishing with these rods. When fishing for micros, even 6X is much stronger than necessary.

One thing that may take a bit of getting used to is the extreme narrowness of the grips. There isn't much flare from the diameter of the blank itself. The photo to the right shows the three rods with a ruler for scale.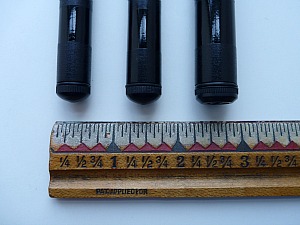 Keep in mind, though, that the rods are almost unbelievably light. The 6' rod weighs just .6 ounce. The 7 footer weighs .7 ounce and the 7'10" rod is a whopping 1.0 ounce. When I fished with the 7' and 7'10" rods, the narrow grip really wasn't a problem. You grip the rod with your finger tips rather than with your fist.
In addition to their light weight, the rods collapse to only 15 1/8", so they will easily fit completely within a modest daypack. A fishing rod doesn't get much more convenient than that. For a backpacking rod intended for larger trout, I would suggest the Shimano Kozuka. For a go-anywhere rod intended for micros, or at least relatively small fish, I would suggest the Kiyotaki.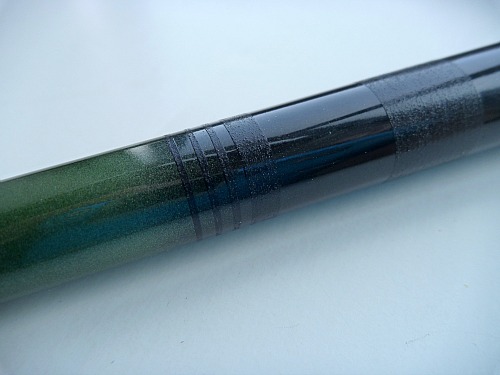 The nonskid on the grip is also quite a bit different than on the Daiwa rods. For the Kiyotaki it is applied in bands that give the impression of the thread wraps used to provide a nonskid finish on traditional bamboo tanago rods.

The lillian is attached by the same type of swivel mechanism found on the high end Daiwa tenkara rods. The rods are small, but they are not lacking in features.

These rods are very light weight and very compact, and should be very well suited for micro fishing. The longest of the three, at 7'10" also can be used for tenkara fishing for modest trout on even more modest streams. Anglers for whom the necessary extreme stealth is but an added challenge would also find the rod fun for pocket water in slightly larger streams, and for hitting those spots that are just too tight for a longer rod.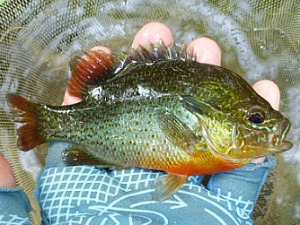 Kiyotaki 18 (6' rod) - $60

Kiyotaki 21 (7' rod) - $70
Kiyotaki 24 (7'10" rod) - $80

Payment
Payment is through Paypal but you don't need to have a Paypal account. You can use your credit card. PayPal payments will be made to chris at tenkarabum dot com. Credit card statements will read CM Stewart.
Shipping
Domestic shipping is $6 via priority mail 2-3 day delivery.
International shipping requires an additional $5 to Canada or $7 to other countries for the rod alone. Additional items add weight to the order and may thus require additional postage.
Return from Kiyotaki to TanagoBum

Return from Kiyotaki to TenkaraBum Home