Kiyotaki 24 and 27
The Kiyotaki 27 is the rod I've chosen to replace the popular but discontinued Soyokaze 27. It isn't exactly like the Soyokaze, but I think it will be well received. I am sure it will prove to be very effective for tenkara fishing in thousands of really small streams where a longer rod just won't work. It will also work in spots in larger streams where it is just too tight for a longer rod.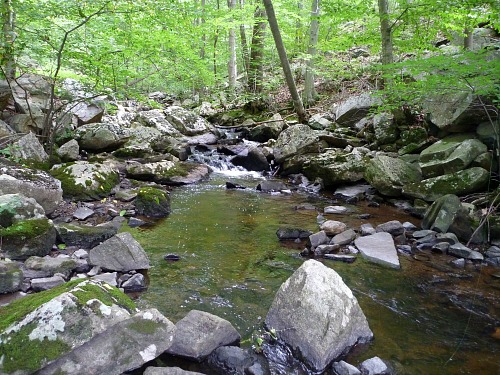 The Kiyotaki 24 is 7'10" and the Kiyotaki 27 is 8'10". Rods of that length do put an extreme emphasis on stealth, but some streams are just too overgrown for a standard tenkara rod.
Some tenkara advocates suggest that on narrow, brushy, overgrown streams you can collapse a section and choke up on the rod. With a section collapsed the rod rattles when you cast and the sensitivity that allows you to feel the slightest tick on the line is gone. If you frequently fish tight overgrown streams, you would appreciate a shorter rod.  I still maintain you should use the longest rod you can get away with, but face it, for some streams the longest rod you can get away with is shorter than any tenkara rod.

If you have ever wondered whether those brush-choked little streams hold fish, or if is worth even trying to fish them, watch the following video shot by Tom Davis of Teton Tenkara.

Even on wider streams, where you might normally use a 12 footer, there may be a number of spots that are too tight for the longer rod. More and more, on streams I often fish, I notice spots that I've always had to pass up because they were just too tight. With a shorter rod in my backpack, now I'm taking fish in spots where before I couldn't even cast.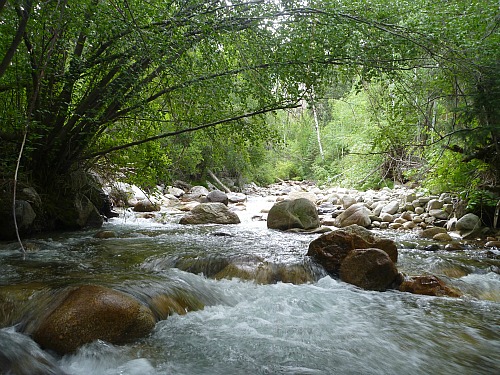 A well respected blogger admits to just walking past all those spots that are too tight for his tenkara rods. The thing is, though, those spots that no one can fish often hold fish. If you did want to fish where no one else can fish, and catch fish that no one else can catch, these rods will allow you to.
I have offered the shorter Kiyotaki rods as micro fishing rods for some time and they have been well received. The 7'10" Kiyotaki 24 is getting to the length where it is useful for tenkara fishing on extremely small and very tight streams. It is the rod that I include in the very popular Kids Tenkara Kit. Despite its short length, it is a surprisingly capable rod.  The largest fish I have ever caught while tenkara fishing, a 20 1/2" smallmouth bass, was caught with that rod.
One thing that Tom Davis has learned from his fishing in tight streams - they are full of sticks and snags and you need a rod with sufficient backbone to keep hooked fish away from them. These little Kiyotaki rods are stiff enough to do that without being so stiff that you can' effectively cast them.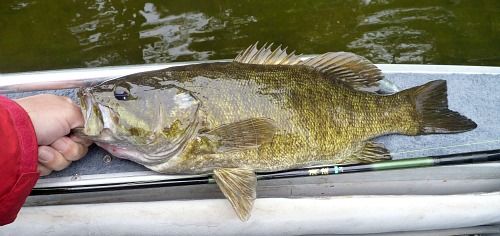 At 8'10", the Kiyotaki 27 is a full foot longer than the 24, and is a more capable rod. For streams that are brush choked or have a low canopy that you just can't fish with a longer rod, it will prove to be very useful.
People have reported catches of 15" and 16" trout on the Soyokaze 27. Based on the penny ratings, the Kiyotaki 27 should be a more capable rod than the Soyokaze. The Soyokaze 27 is a 17.5 penny rod. The Kiyotaki 27 is a 20 penny rod - which puts it right between the Shimano LLS33NX at 19 pennies and Shimano LLS36NX at 21. Pretty good company, I'd say.
The Kiyotaki 24 is a 15 penny rod, but not because it is softer than the 27. It is just shorter and the additional stiff section of the Kiyotaki 27 makes it the more capable rod.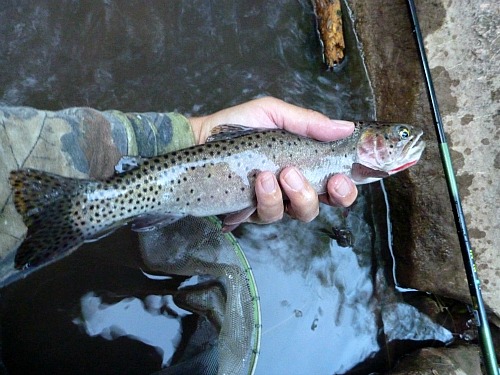 13" cutthroat caught on a Kiyotaki 24

Kiyotaki 24 and 27 Features
The Kiyotaki 24 and 27 share features with the shorter Kiyotaki rods. The 24 is extremely light at just 1 ounce, and the Kiyotaki 24 is only a little heavier at 1.3 ounces. Both pack down to only 15 1/8". The extended rods may be a bit short to be a backpacker's "go to" rod, unless of course he goes to really small streams, in which case these rods deserve serious consideration.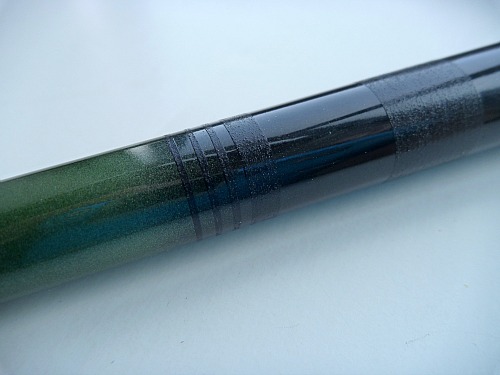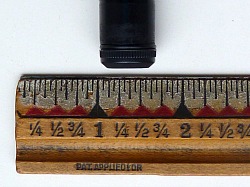 The grip is basically the blank itself with some non-skid bands. It is fairly narrow at just under 3/4" but I have not found that to be a problem - at least not in the spring, summer or fall, when you don't have to fish wearing gloves. If it seems small, you could always do what they do in Japan when they use rods that don't have cork grips for tenkara fishing (which they do!), which is to add some tennis racquet grip wrap.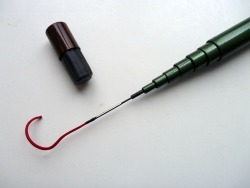 The lillian is held on with a swivel, a feature found in the high end Daiwa tenkara rods. The grip screw cap has a rubber insert to keep the rod quiet when collapsed, a rubber "O" ring to prevent it from working loose, and a ventilation hole - also features found on expensive rods.
Kiyotaki 24
Length extended: 7'10"
Length collapsed: 15 1/8"
Weight: 1.0 ounces
Sections: 8
Recommended tippet: 5X
Pennies: 15

Kiyotaki 24 - $80
Kiyotaki 27
Length extended: 8'10"
Length collapsed: 15 1/8"
Weight: 1.3 ounces
Sections: 9
Recommended tippet: 5X
Pennies: 20

Kiyotaki 27 - $90
Out of stock.
Rods made in Korea.
---
Payment
Payment is through PayPal but you don't need to have a PayPal account. You can use your credit card. 
Domestic Shipping
Domestic shipping is $6 via USPS Priority Mail (2-3 day delivery).The charge will be added to your order automatically
.
International Shipping

International shipping is via USPS International First Class mail and requires an additional $5 to Canada or $11 to other countries. The charge is not added automatically, so please click on the button below. If you do not add the international postage now it will delay your order.

---
TenkaraBum Home > Tenkara Rods > Kiyotaki 27

Tenkara has no strict rules. Enjoy tenkara in your own way.
- Eiji Yamakawa