Karasu
The Discover Tenkara Karasu 360 and 400 were designed by Paul Gaskell and John Pearson to be the best tenkara rods you can own. Unlike most of the rods offered by Western companies, the Karasu rods are made in Japan.

Paul and John became tired of what they called the "watered-down" tenkara. The methods in the West and equipment (at least in the UK) did not deliver the same exhilaration that they found in the best of Japanese tenkara. They also became tired of the reject rate for the Chinese-manufactured rods that they had carried before.
Their primary motivation for developing their own rods was clearly expressed on the Discover Tenkara website: You deserve a completely different and better opportunity: where technique comes first AND you have the finest equipment that 100% supports your skill (rather than an adequate imitation of that experience).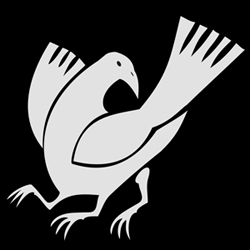 They fully recognize that saying that will probably ruffle some feathers (pun intended) in the tenkara and fly fishing industry… and that's actually something they deliberately mark by choosing the name "KARASU."
The crow god "Yata-garasu" appears in the folklore of many Eastern cultures. In Japan, he was sent from the heavens to guide Emperor Jimmu to victory. Often drawn with three legs, the Yatagarasu or "eight-span crow" image also represents fearlessness.
This is the inspiration behind the performance and the look of Discover Tenkara's first Japanese-made rods:
Bold, smart, formidable…
When it stands alone, the word "Garasu" is pronounced "Karasu"; which means birds of the crow family. Today, these birds can violently divide opinion. Some folks enjoy their smart, bad-boy reputation. Others are irritated by them – or even hate the crows' association with death on the battlefield (an idea probably partly imported from the West).
Paul and John believe it is better to be hated for what they are than loved for what they are not; so perhaps KARASU is the perfect name.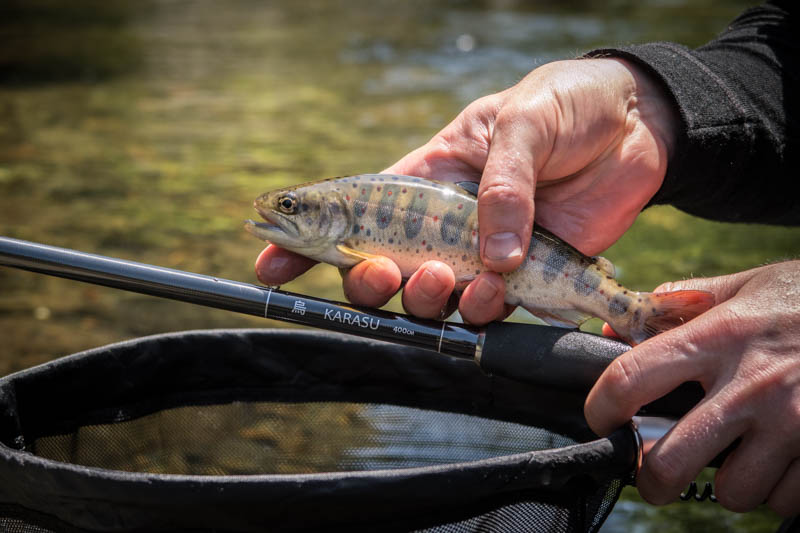 From the Discover Tenkara website: A truly great tenkara rod is the result of correctly balancing the following vital performance factors:
Tip-recovery without "wobble" when casting… v. Tip-recovery without "kick-back" (so you can place your fly with pinpoint accuracy)
Easy-loading with the lightest tenkara level-lines…v. Hook-set power (so you can hold casting line off the water at greater range YET still hook and land as many fish as rods that are too stiff to cast light lines)
Overall lightness..v. the correct balance-point to avoid forearm strain when fishing (so you can forget you are holding a rod and just immerse yourself in the placement and control of your fly)
On top of making the right choices to balance those forces, an exceptional tenkara rod must also:
Have great "rotational" recovery (not just linear recovery) if it is going to be used for any casting techniques other than a straight overhead stroke
Be manufactured to truly excellent standards of precision to ensure durability and fishing performance
Offer sensitive feedback to your hand through the handle for both casting control and letting you feel right down the line to your fly
Have smooth, progressive taper that maintains great strength through flexibility (while providing the power to cast longer, heavier lines when you force a deeper bend into the blank)
It is only because of the incredible advances in carbon fiber cloth technology and unparalleled Japanese manufacturing excellence that the Karasu can meet these demands with a rod that will:
Cast the infamous #3 NYLON level line (equivalent to casting a #1.75 fluorocarbon line)…
Also cast 9-m+ of #4 level line, 2-m of tippet and a big, soft-hackle kebari with ease
Deliver a fantastic hook-set to landed fish ratio
Hold its form when side-casting under obstacles – so you have perfect control of your casting loops (a hurdle that stops some of the very best-loved elite Japanese light-line tenkara rods)
Feel as good as it looks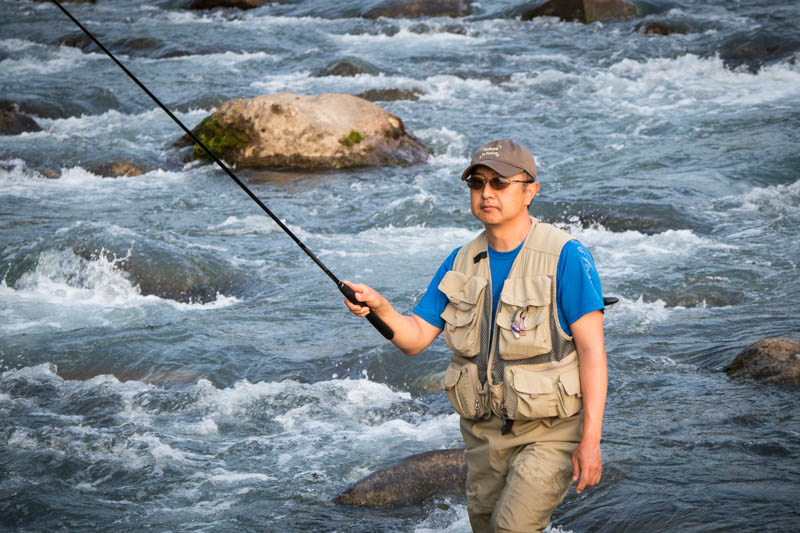 Paul and John drew from their extensive contacts within the Japanese tenkara community. The direct testing and feedback they received - and also the dramatic increase in their own tenkara abilities - resulted in a list of demands for what it would take for a tenkara rod to be considered truly exceptional.
That list of demands meant they could not get their rod manufactured in China. They needed to find a specialized Japanese manufacturer for their rod - not an easy task, but one which meant every component is personally checked as it is produced.
It also meant that the price would not be comparable to Chinese-made rods. I have never sourced rods in China, but Paul and John say their production costs are three to six times what others pay Chinese manufacturers for their rods.
Quality costs money. Paul and John did not set out to make the cheapest rod. They set out to make the best rod.
---
Video
It is difficult to get a sense for a rod without trying it yourself. We understand that. Here are three short video clips of people who have tried the Karasu rods.

---
A Brief Rod Comparison

I fully recognize that asking people to pay over $400 for a rod that virtually no one outside of Japan has yet seen is asking for a leap of faith. All I can do is ask you to have faith in Paul and John. They have fished with a lot of the most experienced tenkara anglers in Japan, and have gradually determined what they wanted in a tenkara rod.
They have produced a rod that a lot of people are going to like.
It is not quite like any other rod.

If you have been lucky enough to fish with a lot of rods, you might get a sense of the Karasu 360 when I say start with a TenkaraBum 36, add a little Nissin Zerosum 7:3, throw in a fair amount of a Tanuki 375 and maybe a pinch of Oni I. The rod defies a 6:4 or 7:3 label. I would not use those terms, which are misleading at best.
The Karasu 360 has a firmer midsection than most tenkara rods, and a slightly softer tip. That may sound quite a lot like a TenkaraBum 36, but I don't think it is quite as fast as the TenkaraBum 36. I was quite surprised when I did the penny measurement. I was confident that it would have a substantially higher penny rating than the TenkaraBum 36, yet it came in 1/2 cent lower. I think the longer, thicker grip, together with the higher overall weight give the Kurasu the feel of a beefier rod. A very sensitive beefier rod, to be sure, but a beefier rod nonetheless.

John and Paul wanted the rod to cast a very light line, and were drawn to the size 3 nylon line that some Japanese anglers use when they want the most delicate presentation (reserved for still days only!). However, the rods the Japanese anglers use for the size 3 nylon are quite soft, making it hard to get good hook sets. The softer tip sections of the Karasu allow it to cast the light line, but the firmer midsection allows good hook sets.
You can indeed cast a very light line with the Karasu 360, which many of the premium Japanese rods from Daiwa, Shimano and Nissin will do also. You can indeed get good hook sets, which some of the premium Daiwa rods will give you, but not the same ones that can easily cast a light line! The new Discover Tenkara Karasu 360 gives you both. I do like the way it casts!

Not the largest fish of the day, but the best photo of the Karasu 400.
The Karasu 400 is like the Karasu 360 only more so - much more so! I had thought the Karasu 360 felt more substantial than the TenkaraBum 36. The Karasu 400 feels much more substantial than the TenkaraBum 40.
I took the Karasu 400 to a stream in Pennsylvania that has some big fish. The guy I was fishing with started the day with his Daiwa Enshou LT39SF - which is a premium rod by any account. After hooking (but not netting) about 6 very impressive fish, the guy said "the fish are too big." I let him use the Karasu 400 and he pretty quickly put two fish in the net.

When I asked him how he would describe the Karasu 400, he said it's a big fish rod. He was impressed with the leverage - which is the result of the firmer midsection relative to many 400 length tenkara rods.
I had thought the Karasu 360 would show a higher penny rating than the TenkaraBum 36 and was surprised when it didn't. The Karasu 400 held no surprise in that regard. It feels firmer and it is, measuring 21 pennies.
There are tenkara rods that have higher penny ratings, most notably the Daiwa Enshou LT and Expert LT rods, but they will not give you the light line capability.
The only thing I can think of that people might complain about is that the rod is not light at 3.4 ounces (without the tip plug). Others, though, would say the overall weight is not nearly as important as the balance and how the rod feels in the hand. As with the 360, I suspect a lot of the weight compared to other 400 length rods is in the grip, which actually brings the center of gravity closer to the your hand - particularly if you grip the rod on the front hump of the two hump "camel" grip.

---
Early "social" media reaction

It seems the Discover Tenkara Karasu has triggered a bit of a firestorm on the Discover Tenkara Facebook page. I have spent very little time on Facebook lately - I've been too busy, and as even the discussion of the Karasu shows, Facebook is becoming more antisocial media than social media. One of questions that does deserve an answer, though, is what do you get for the $420 or $450 - which is a relatively high price for a tenkara rod.
What you get is the result of Paul and John's multiple trips to Japan and their dedication to learn everything they can about tenkara - not reading about it on a website but actually going to Japan and learning from some of the best tenkara anglers in the world. They have fished with a lot of premium tenkara rods and found aspects of each they liked, and aspects they didn't like as much.
Based on that, and starting from a clean slate, they set out to produce what they felt was the best tenkara rod in the world. To make sure it was produced to the highest standard, they are having it made in Japan. They've had experience with Chinese manufacture and were sure it would not give them the quality and consistency they wanted.

People obviously have different opinions and have different tastes - otherwise, there would only be one flavor of ice cream! Different rods, even different premium rods, are quite different. The Tenryu rods, for example, are also quite expensive and are absolutely wonderful rods, but they are very, very different from the Karasu. The Karasu reflects what Paul and John decided they wanted in a tenkara rod.

In the Karasu, you get a rod that is expertly made from top quality materials in very low production runs. It is made in Japan, which is not an inexpensive place to make things. The reason the rod costs so much for you to buy is that it costs so much for them to make. Having been in the rod business for a few years now, I can assure you they are not going to get rich doing this. They are pursuing a passion and hoping to not go broke in the process.
Plus, of course, you do get a rod that will cast a very light line and give you good hook sets - which is exactly what Paul and John set out to produce.

There are people who believe that tenkara should be not only simple but also cheap. That is fine as long as it is their own tenkara. It is not fine if it tries to define your tenkara. Some people derive great pleasure from the fact that their equipment did not cost much. Some people derive great pleasure from the fact that their equipment is of the highest possible quality. Some people derive great pleasure from the fact that they love the way their equipment performs, and the way it allows them to fish exactly how they want to fish (whether the price was high or low). All three are equally valid, and none should affect how you derive your pleasure when fishing. Fish your way. Let others fish theirs.

---
Karasu Features

The Karasu grip is hard foam, which I truly believe will be the grip of choice for more and more rods in the future. Seriously, even poor quality cork is expensive, and it is much better for the money to go into the blank than into the grip.

The grip is longer and fatter than the TenkaraBum 36 and 40 grips (which addresses the only two complaints I have gotten about the TenkaraBum grips). It has the common "two hump" shape, but the shaping is very subtle.

The graphic design is subtle as well, and continues the crow theme. The blank is a dark gray, fading to black at the joints, which have just a narrow silver ring as a highlight.



The name, just above the grip, says "Karasu" in Japanese and English on one side, with the Discover Tenkara logo and Made in Japan on the other.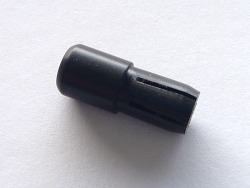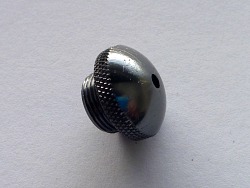 The Tip Plug is plastic, and will be familiar to tenkara anglers who have a seiryu rod, a TenkaraBum 36 or 40, or a Shimotsuke Ten or Mai. The Grip Screw Cap is metal, is knurled for easy tightening and removal, and has a hole for ventilation. It will be very familiar to anglers who have a Nissin Air Stage Fujiryu tenkara rod.


As could be expected on a Japanese-made rod, the lillian glue joint is perfect and will pass through the #2 section easily.

Karasu 360

Length extended - 11'10"
Length collapsed - 22 1/8"
Weight without tip plug - 3.0 oz
Grip - Shaped EVA foam
Sections - 8
Tippet - 6X recommended, no more than 5X (5lb breaking strength)
Pennies - 18
Karasu 400

Length extended - 13'4"
Length collapsed - 22 1/4"
Weight without tip plug - 3.4 oz
Grip - Shaped EVA foam
Sections - 9
Tippet - 6X recommended, no more than 5X (5lb breaking strength)
Pennies - 21
Sales
If you live in the UK or Europe, or if you wish to purchase a Karasu 360, purchase the Karasu directly from the Discover Tenkara website.
TenkaraBum has the Discover Tenkara Karasu 400 for customers in the US and countries outside of Europe. If you live outside of the US, you must add additional postage in the Shipping section below.

Discover Tenkara
Karasu 360
I do not have any of the 360 rods left in stock and am not sure when or even if I will have more. I would suggest buying the rod directly from Discover Tenkara.

Discover Tenkara
Karasu 400 - $490
Replacement Parts

Replacements are available for all parts. I have replacements for all Karasu 400 parts and for the Karasu 360 parts other than tip plug, grip section and grip screw cap. Those parts must be purchased from Discover Tenkara directly.

---
Shipping
A shipping charge of $10 will be added to all orders.
If you live outside the US, you must add more postage!

---
Where do you live?


Add this amount for shipping


---

USA


---

No additional postage required.
(Total charge $10)

---

Canada or Mexico


---

Additional $23 postage required. (Total Charge $33)

---

Other Countries


---

Additional $39 postage required. (Total Charge $49)
---
Payment
Payment is processed by PayPal but you don't need to have a PayPal account. You can use your credit card.
---
---
"The bitterness of poor quality remains long after the sweetness of low price is forgotten" – Benjamin Franklin
"Study to be quiet." - Izaak Walton 1653

"Be sure in casting, that your fly fall first into the water, for if the line fall first, it scares or frightens the fish..." Col. Robert Venables 1662

---
Warning:
The hooks are sharp.
The coffee's hot.
The fish are slippery when wet.
Beware of the Dogma

---