jd_smith's Tenkara Flies
jd_smith's tenkara flies are the ones that got the ball rolling. He's the guy who got me started carrying other tenkara anglers' flies. Even though Kiwi's flies were the first to actually be available, it was jd_smith's idea.
The flies are $7.50 for three. Purchases of one dozen or more flies will be shipped in the Minimalist Fly Box. Please note that international shipments will require additional postage (see Shipping section below).
---
Kawa Kebari

The Kawa Kebari is a slightly larger kebari, tied in the sakasa style, for when you want to get a bit deeper or when the water is slightly off colored. It is tied on a size 8 barbless heavy wire nymph hook, so it will naturally fish a bit deeper than the other large kebari flies you can buy - which are tied on lighter hooks. However, it is not too large or too heavy to fish well with 5X tippet.

The peacock Ice Dub thorax provides a color contrast with the tapered tan thread body and the traditional hen pheasant hackle, while also adding a subtle flash - which should help any time the water isn't low and clear.

Give these a try. I think you will be very happy with the results. So much so perhaps that you may not want to limit their use to high water or off-colored water conditions.
Kawa Kebari - $7.30 for three flies

---
Mino Gujo
Traditionally tied with neck hackle and "cotton of the flowering fern" or silk for the body, the Mino Gujo is a simple and very effective design.
Mine are tied with neck hackle and pheasant tail with an added reverse wrapped copper rib for a segmented body and to add durability. I use the Tiemco 2488 hook in a size 12. It has a straight eye, 3x wide gape and 2x short shank designed for easier and more positive hook sets.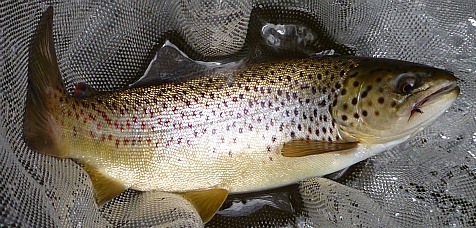 TenkaraBum tested. Fish approved.

It can be fished on top as a dry during a visible hatch or just under the surface as an emerger when you see trout that are rising but aren't actually breaking the surface. Tied on Size 12 Tiemco 2488.
Mino Gujo - $7.50 for three flies

---
Pale Morning Dun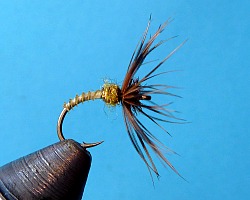 The Pale Morning Dun (PMD) are small light colored mayflies. They are generally light yellow/olive in color. Often they hatch mid to late morning, but hatches are known to last till late afternoon. This gives anglers, even the lazy angler who would rather sleep-in than rise early, a great opportunity at some active trout.
The advantage of the tenkara fishing style, (e.g. a tight line with a direct drag free connection to your fly) allows the angler to fish this pattern low in the water column, or high in the surface film. An angler can cover varying life stages and conditions with just one fly.
The PMD Sakasa has a finely segmented quill body and an enlarged abdomen with a touch of flash in it. The enlarged lively hen pheasant hackles give the flies their irresistible action, which resembles a struggling insect.
The PMD Sakasa is tied on the TFS 2500 hook, in size #12. It has a straight eye, 2x wide gape, 2x short, 2x heavy shank. This hook sets easily and stays put. It's a very strong hook that will bring your fish to the net.
PMD Sakasa Kebari - $7.50 for three

---
CDC & Elk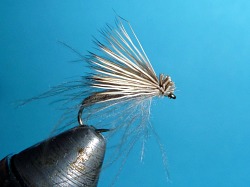 I asked jd_smith to tie the CDC & Elk flies for me and I am happy to announce that he has accepted. The CDC & Elk is the only dry fly I tie and fish. It was developed by Hans Weilenmann to be an improvement to Al Troth's elk hair caddis. Although the pattern was designed to be a caddis imitation, Mr. Weilenmann fishes it with great success during mayfly hatches. It is also his standard searching pattern for use when nothing is hatching. I haven't tried it during a heavy mayfly hatch, but I can attest that it is an excellent searching pattern.
I think it may just be the perfect dry fly for use when tenkara fishing. It really is an excellent caddis imitation, and caddis flies are common in most of our trout streams. What makes it even more valuable to the tenkara angler is that it works so well when there are no insects visible on the water. And not only does it float well, the delta shape makes it much easier to cast on a light line than some of the other high floating flies like a Humpy or a Wulff. Since to me tenkara is all about using the lightest line possible, a fly that is aerodynamic as well as high floating is a major plus.
---
TenkaraBum Home > Tenkara Flies > jd_smith's Tenkara Flies

Walk softly and carry a long stick. - Teddy Roosevelt (almost)

Tenkara has no strict rules. Enjoy tenkara in your own way.
- Eiji Yamakawa
"The bitterness of poor quality remains long after the sweetness of low price is forgotten" – Benjamin Franklin