Hip Waders
Hip waders, like tenkara, are made for small streams. Many if not most small streams are shallow enough to fish the entire stream with just a pair of hippers. A lot of small streams also require a hike in, and a pair of light weight stocking foot hippers are light enough and roll up tight enough to be put in a backpack.

Many small stream fishermen would argue that you should fish without wading at all. It does reduce the risk of scaring the fish, and if you can fish from the bank it's not a bad option. On most of the tree and brush-lined streams in the Eastern US, however, if you don't wade you will find very few spots where you can access the water with sufficient room to cast a fly.
The main question in my mind is not whether to wade, it is whether to use hip waders, chest waders or waist high waders. It just seems to me that if you aren't going to wade in water deeper than your waist, there is no point getting chest waders. If you aren't going to wade in water deeper than your hips, there is no point getting waist high waders.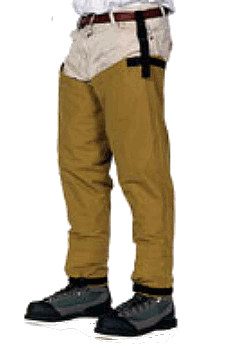 Besides the lighter weight and easier packing of hippers, there are other advantages that I find significant. When wearing hippers, it is infinitely easier to, uh, recycle the morning coffee. I also find it extremely convenient to just slide the tenkara rod into the top of my hippers while I'm changing flies or replacing tippet. It's almost like having a third hand.
Although I've fished in hip waders pretty much since I started fly fishing over 40 years ago, up until a few years ago I always had the heavy rubberized canvas hippers. After I sold my car, a lot of my fishing was "hike in" (from the nearest commuter train station), and heavy rubber hippers were too bulky and too heavy.
I often now rent cars so I can get a bit further afield, but I still pack my hippers or waders in a backpack (it's still a hike or a subway ride to the car rental place).
Dan Bailey Breathable Hippers
I've had Dan Bailey Breathable Hippers for a several seasons now and I'm pretty happy with them. Perhaps their best feature is that they have a foot-shaped bootie so that there isn't bunched up neoprene in your boot. They also have built-in gravel guards with velcro closure to keep them snug.
There is also a velcro strap to tighten the top of the hipper against your leg, but unless you have pretty skinny legs you won't need to tighten them. Besides, one of the best features of hippers is that you can slide the grip of your rod into your hippers, leaving both hands free to remove the hook from your fish, replace your fly or tippet or get your camera.
The buckle that closes the belt loop is not a one-hander, but I haven't found that to be a problem. When you put on or take off your hippers, you have both hands free. The material is the same four layer breathable fabric as the Dan Bailey light weight breathable waders. They pretty much have all the features you'd want in a pair of hippers. For the price I'd say they're a pretty good value. I really like mine.
I don't sell the Dan Bailey Breathable Hippers but I have an affiliate relationship with the North Platte River Fly Shop in Wyoming that does. They offer free shipping on all (domestic) orders over $75. I'll get a small commission if you buy anything in their shop after clicking on the link.

---
TenkaraBum Home > Tenkara Accessories > Hip Waders

---
"The bitterness of poor quality remains long after the sweetness of low price is forgotten" – Benjamin Franklin
"Study to be quiet." - Izaak Walton 1653

"Be sure in casting, that your fly fall first into the water, for if the line fall first, it scares or frightens the fish..." Col. Robert Venables 1662

---
Warning:
The hooks are sharp.
The coffee's hot.
The fish are slippery when wet.
Beware of the Dogma

---