Headwaters Rods
From time to time a forum post will ask for headwaters rods. I guess they're a bit like the little headwaters streams themselves. They're really not all that hard to find if you know where to look. There are a few very nice rods that are particularly well suited for the smallest of streams. This article will outline some of the better ones.
---
Nissin Zerosum 320

This is the top of the line when it comes to headwaters rods. It is available in a 6:4 and a 7:3 and both are very light, very sensitive rods that are extremely well suited to narrow brushy headwaters streams and the small wild trout that live there. The 7:3 has enough backbone in the mid and butt sections to land larger fish than you're likely to find in the headwaters. If you like rods with cork grips, you will not find a better headwaters tenkara rod than the Zerosum 320.

---
Nissin Pro Spec 360

The name says 360, but the Pro Spec is a 2-way rod (what Shimano and most Americans call a Zoom rod). It can be fished at a 360 length, but also at a headwaters-friendly 310 length. At the shorter length it makes a dandy headwaters rod. Because it is a 360 rod, it does weigh a bit more than the Zerosum. However, when fished at the shorter 310 length, the collapsed section improves the balance by moving the center of gravity further back. It doesn't feel at all heavy. The Pro Spec also comes in 6:4 and 7:3. Even though the rods are relatively soft, they have the ability to land nice fish and protect light tippets.
And if you fish streams other than headwaters, the 360 length definitely will come in handy. The 2-way function, which allows you to fish the rod at just over 10 feet or just under 12 feet, makes this a very versatile rod.

---
Nissin Pro Square 320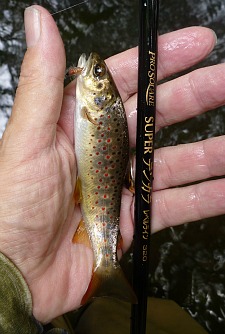 The Pro Square 320 comes in 7:3, 6:4 and "Level Line" which is effectively a 5:5. The guy who wanted a headwaters rod also asked for a soft rod. The Pro Square 320 Level Line is a soft, wonderfully light little rod that level line aficionados could really love.
Interestingly, the 6:4 rod isn't any stiffer that the Level Line rod - it's just a little less "full flex." The 7:3 rod is also a very light and relatively soft rod, but it allows you to put just a bit more snap into a cast. These are three very reasonably priced cork-gripped tenkara rods.

---
Nissin Air Stage 290

The Nissin Air Stage 290 is a seiryu rod, used in Japan for smaller fish and generally in more placid water. If you are fishing in small brushy streams, though, and if you are catching 4-8" wild trout, this is a just a delightful rod. On the Common Cents penny scale, it rates exactly the same as the Nissin Pro Square 320 Level Line rod. It is fully capable of landing the fish you are likely to catch in the headwaters, and is also fully capable of casting the lightest line you are likely to find. One of the things I love about this rod is that it weighs only .8 ounce! The collapsed length is a bit long for a backpacking rod, but it is so light and so much fun to fish with.
For very small, very overgrown streams, Nissin makes the Air Stage in a 240 length (about 7'8"). This is about as short as you would want to go for tenkara fishing in all but the tiniest, most overgrown streams (for which there is an Air Stage 190). Stealth is definitely necessary because you have to get close to the fish. There are streams - very worth your while to find and fish - that are too small for the 9'8" Air Stage 290, though, so keep this rod in mind.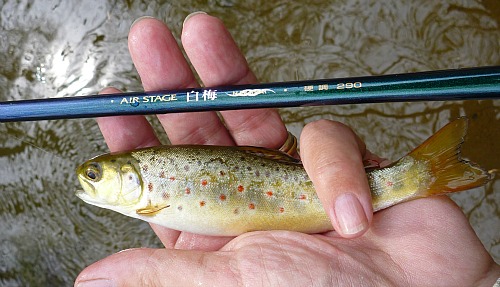 ---
Suntech Kurenai HM30R

Last November I got in a shipment of the Suntech HM30 to offer as a headwaters rod. Before I even got a chance to write the page for them I took them to the Intenational Fly Tying Symposium, where I sold every last one of them. At the show, all we had to do is put one in someone's hand (and watch as their eyes got wide, their jaw dropped and they said "Wow!"),  then put a line on the rod, have them making beautiful casts in just a couple minutes, and then write up another sale. They really are that nice. This rod will spoil you. If you aren't already addicted to finding and following the little blue lines, after you start fishing with this rod you will be. Like the Air Stage, the Kurenai is a seiryu rod, but if you don't believe that a .9 ounce rod needs a cork grip, this is the headwaters rod you've been waiting for.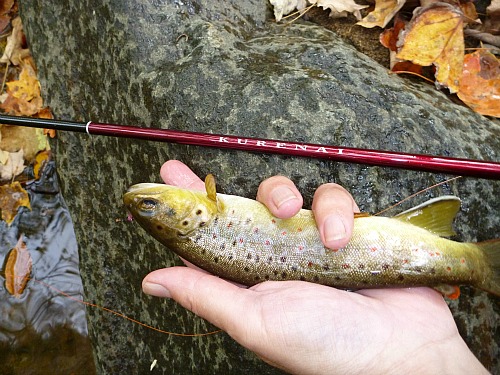 ---
If you have noticed that four out of the five headwaters rods highlighted above are made by Nissin, it is no accident. Nissin has been making tenkara rods for decades and is not constrained by some notion that tenkara rods must be longer than 11 feet. Nissin also makes an extensive selection of softer rods.

The Nissin Air Stage seiryu rods, which are truly excellent for small stream tenkara fishing, are made in even shorter lengths for anglers who fish very small overgrown streams.
The Kurenai HM30R is  Suntech's shortest rod, but it really is a winner and worthy of serious consideration if you are looking for a softer, shorter rod for the headwaters.

---
Headwaters Rods - Comparison

---
TenkaraBum Home > Tenkara Rods > Headwaters Rods


Speak softly and carry a long stick. - Teddy Roosevelt (almost)

Tenkara has no strict rules. Enjoy tenkara in your own way.
- Eiji Yamakawa