Had fun with my new 5' Daiwa today
by Tim Homesley
(Cassville, MO)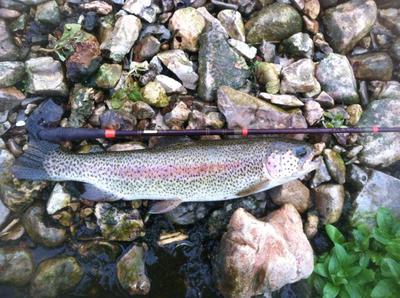 Had a few minutes today to try my new Hinata 5' rod, had a blast. I went out to catch some chubs, but wound up trout fishing. I know this rod isn't intended for fish of this size, but it handled this trout just fine.

I'm glad it was a small pool. I hooked several trout, landed 3, and had 3 more come off while I was playing them. I was very happy with how the rod protected my 8X tippet. I used a 7' furled leader and 3 feet of 8X frog hair tippet, and a #22 unweighted pheasant tail nymph.
Walk softly and carry a long stick. - Teddy Roosevelt (almost)

"The bitterness of poor quality remains long after the sweetness of low price is forgotten" – Benjamin Franklin
---
Warning:
The hooks are sharp.
The coffee's hot.
The fish are slippery when wet.

---