Gamakatsu Amago + Mummy Worms
by Les Albjerg
(Caldwell, Idaho)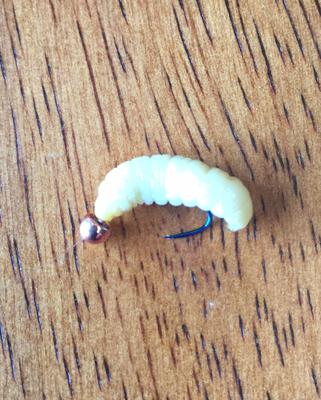 Beadhead Gamakatsu Amago + Mummy Worm
The last time I went to Wilson Springs, I used a beadhead with a 3x 12 hook. I had two trout swallow the whole works. They were good eating. However, it wasn't a "many" day.

I tied up some beadhead Gamakatsu Amago 7.5 hooks. I snelled some 7x tippet and then tied the beadhead on. This morning I caught nine nice trout, all in the lip at Wilson Springs!

These are wonderful hooks. I have tied some flies on them, but they are Keiryu hooks, so why not fish them they way they were intended?
Walk softly and carry a long stick. - Teddy Roosevelt (almost)

"The bitterness of poor quality remains long after the sweetness of low price is forgotten" – Benjamin Franklin
---
Warning:
The hooks are sharp.
The coffee's hot.
The fish are slippery when wet.

---