Fly Tying Vise and Tools

A fly tying vise and tools, along with a few materials, allow you to tie your own flies. You might or might not save money, but you will have a hobby to take you through the long, cold winter.
There are dozens of fly tying vises, and hundreds of different tools. In the spirit of tenkara, I've tried to simplify things a bit and will only offer few choices that I think will serve you well.
Fly Tying Vise

The vise I have chosen to carry is the HMH SX pedestal vise. It is very simple but very high quality. I cannot urge strongly enough to buy a good quality vise. A cheap one will just have to be replaced when it no longer holds a hook. This vise is guaranteed for life.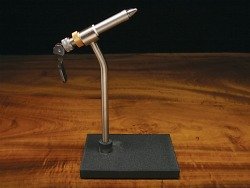 The SX is HMH's newest vise. It is a full rotary vise that is built on a fixed-angle frame, giving much better access to the back of the hook than you'd get with in-line rotating vises. The standard jaws will accommodate any hook you'd want to use for tenkara flies, but you also get the added versatility of the HMH interchangeable jaw system.
To provide stability when tying flies, the base is very heavy. The vise will be sent via priority mail flat rate box (2-3 day delivery time to US addresses). The domestic shipping charge for the flat rate box is $12.
International shipments will require additional postage. Please request a quote before ordering.
HMH SX Pedestal Vise - $145
Now that I am carrying midge hooks, and with the increased interest in fly fishing for micros, it only makes sense to have the micro jaws for the HMH SX vise. Holds size 20-32 hooks securely. They also fit the HMH Spartan and Standard models.

HMH Micro Jaws - $40
---
Fly Tying Tools

For fly tying tools, I have chosen very basic scissors, hackle pliers, bobbin holder and hair stacker. You could go crazy with all the different choices, but these are simple and will serve you well. I have chosen (for now) not to carry a whip finishing tool. I have never used one, and find a hand-tied whip finish to be all I have ever needed.
Dr. Slick all purpose micro tip 4" straight scissors - $21

Choice of tying scissors is as personal as choice of fly, line or rod. These may be my all time favorites. Easy to pick up, very fine points, and sharp!

Dr. Slick Spring Scissors - $12

Dr. Slick Titanium Bobbin - $17.50


Dr. Slick Stainless Steel Hackle Pliers - $6.00

The rubber jaw holds more securely and is less likely to cut the hackle than the English Hackle Pliers.


I find a bodkin to be indespensible for fly tying. I use it to position the last wrap of my hand-tied whip finish. (When you get to the last wrap, transfer the thread from your finger to the bodkin, which you can position exactly where you want the thread wrap to go, then tighten and slip the thread off the tip of the bodkin.) I also use it to apply head cement because it is much more precise than a brush. I then wipe it clean to use again for the next whip finish.

This bodkin also has a hollow tip to use as a half hitch tool. Two tools in one. - $3.00
If you don't tie the CDC & Elk you might not need a hair stacker. If you do, you will. This is the Griffin medium hair stacker (on the right side in the photo). It is about as simple as they come, and just as effective. - $10

Stonfo Small Magnetic Hook Box - $15

Convenient way to hold 10 different hook sizes/shapes. Much better than a bunch of loose packages or small boxes. Use the pointy end of the stylus to maneuver a hook onto the plastic step and then the magnetic end to pick it up.

---
Payment

Payment is through PayPal but you don't need to have a PayPal account. You can use your credit card.
Domestic Shipping

Domestic shipping for the tools is via USPS First Class mail. A $3 shipping charge will be added to your order automatically.
Domestic shipping for the vise is $11. The vise is mailed via USPS priority mail (2-3 day delivery). No additional postage is required for tools if purchased with the vise.
International Shipping

International shipments for the tools will require an additional $5 to Canada or $7 to other countries. The charge is not added to your order automatically, so please click on the button below.
Because of the very heavy weight, international shipping for the vise would be very expensive. Please request a quote before ordering.

---
Return from  to TenkaraBum Home > Fly Tying > Fly Tying Vise and Tools

Walk softly and carry a long stick. - Teddy Roosevelt (almost)

Tenkara has no strict rules. Enjoy tenkara in your own way.
- Eiji Yamakawa
"The bitterness of poor quality remains long after the sweetness of low price is forgotten" – Benjamin Franklin